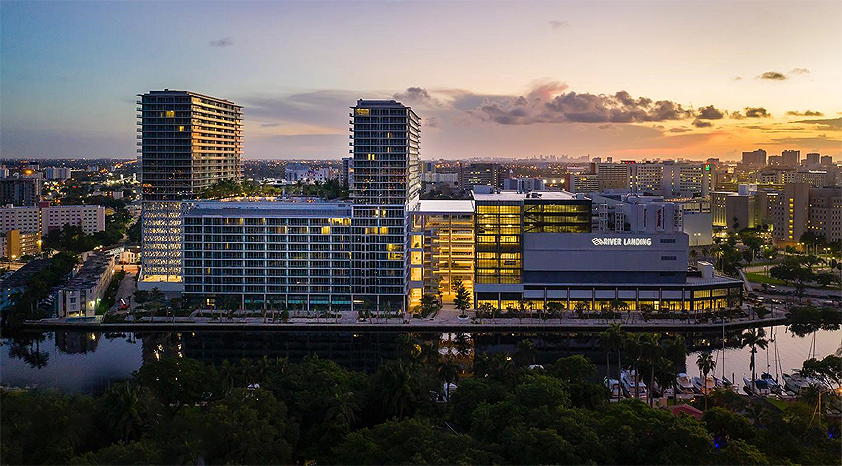 Making Magic City
Since 2006, Urban-X Group has been transforming the South Florida landscape with its modern brand of real estate development, property construction and asset management. Led by Co-Principals Andrew Hellinger and Coralee Penabad, the company has assembled a proven track record of success in ground-up development, as well as distressed asset consulting to banks, investors and developers of high-end residential, commercial land, and mixed-use properties.
Having forged a reputation for high-quality, contemporary projects that not only meet investors' desire for growth and value, but also serve, enrich and enhance communities, Urban-X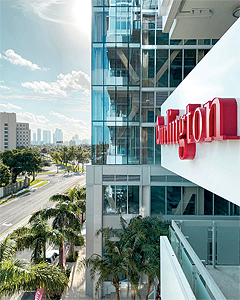 Group just completed construction of its latest, and greatest, development – River Landing Shops & Residences on the scenic Miami River west of downtown Miami.
Offering two million square feet of retail, office and residences on 8.14 acres along the river, River Landing Shops & Residences has become Urban-X Group's signature project, and a defining development for one of Miami's oldest neighbourhoods in the urban core. Designed to transform one of the region's most densely populated employment centers into a thriving full-service community with a host of retail, dining and entertainment options, River Landing Shops & Residences is widely considered to be South Florida's most exciting new developments.
Construction of River Landing Shops & Residences was completed in September 2020 and soon after, the project welcomed its first retail tenants. In October, the first residential tenants moved in. Demand for market-rate apartments has been such that more than 60 per cent of the project's apartments are now already occupied. Speaking to Construction Today, Andrew provides an update on progress at River Landing Shops & Residences as Urban-X Group turns its attentions to securing restaurant leases for the remaining vacant space along the river.
"Due to Covid-19, we had to put the leasing of restaurants on hold, but work in that area started to pick back up again at the end of 2020," he reveals. "We have some fast-casual outlets that will be opening at River Landing Shops & Residences in 2021, including Lime Fresh Mexican Grill and Ficelle Boulangerie & Patisserie. Later this year, we will also be welcoming Tanuki, a sit-down, fine dining, Pan-Asian sushi restaurant."
Serving an extensive array of Japanese and Chinese food, Tanuki will occupy 3300 square feet of space and provide guests with a unique Asian culinary experience complete with seasonally updated sushi, sashimi, dim sum and signature hot and cold Asian fusion dishes. The latest of more than 70 sites around the world, Tanuki's location at River Landing Shops & Residences will be its second restaurant in Miami-Dade.
As Tanuki joins Chick-fil-A and a growing number of eateries slated to open at River Landing Shops & Residences, Andrew believes that this is just the beginning for the project's Restaurant Row. "We envision River Landing Shops & Residences becoming a cornerstone dining destination in Miami where visitors will be able to dine and relax right alongside the scenic Miami River," he states. "Bringing in a renowned upscale establishment like Tanuki, which has already found success in Miami Beach, is an important step in bringing our vision to fruition. As the restaurant industry starts to recover from the pandemic, we are seeing a growing interest from restauranteur operators who are bullish about the Miami market. We expect to make further announcements about our fine dining offerings in the coming weeks."
The opening of River Landing Shops & Residences follows a long line of success for Urban-X Group. Its first key project was completed in 2007 in the form of 151 at Biscayne Bay. A residential condominium development on a 193-acre site in North Miami, the scheme consists of two towers of 373 two- and three-bedroom condos. In 2008, the project was affected by economic collapse in the US, but after the developer lost the partially sold condo towers, Andrew Hellinger was appointed receiver of the homeowners' association and of the 160 unsold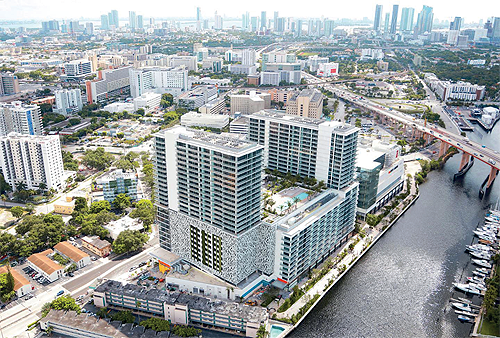 units. In that role, Andrew, as part of Urban-X Group, has been managing the condominium association and overseeing the development of the amenities for the towers ever since.
Building on the positive reviews garnered by its inaugural project, Urban-X Group next worked closely with the City of Miami, Miami-Dade County, Miami-Dade Aviation Authority and the Federal Aviation Administration to deliver the second tallest residential tower in the county. Completed in 2009, Marquis Condominium and Hotel is a 67-story tower consisting of 310 residential units, a 57-room hotel, six townhouses, a 12,000 square foot spa and a 17,000 square foot retail space.
Until River Landing Shops & Residences, Urban-X Group's most groundbreaking development was a 47-story, luxury waterfront condominium project at Paramount Bay. Located on the edge of Biscayne Bay and a public park, the 347-unit condominium tower was delivered in 2010. Similar to 151 at Biscayne Bay, Andrew Hellinger was appointed as a receiver of the development during a recession. Urban-X Group became responsible for repairing problems with the construction and maintenance of the building, completing unfinished amenities and common areas, obtaining a certificate of occupancy and creating a condominium association. Despite the challenges, the company successfully sold out the building, while managing any litigation dating back to before the company was in control of the site. It was an example of how Urban-X Group's ability to tackle difficult issues and challenges head on.
Like with all businesses, the Covid-19 pandemic posed as a significant challenge for Urban-X Group and River Landing Shops & Residences. Considered an essential business during the Covid-19 pandemic due to its position in the construction sector, the construction of River Landing Shops & Residences continued to work unimpeded throughout 2020. Thanks to the flexibility of its workforce, the firm adapted to the changes it faced and quickly instigated the appropriate processes and protocols. While many staff worked remotely, Urban-X Group introduced social distancing measures, mandatory mask-wearing, and sanitization stations to help keep its on-site workforce safe. The hard work paid off and the company recorded positive results in the face of a difficult global crisis.
"It required a lot more management in the field to make sure that our people were following the CDC guidelines established for construction, but we made it work," Andrew reports. "If you weren't following the rules and you had an inspection, you ran the risk of being closed down. We needed to stay open and complete our work on time. In the end, 2020 was a highly productive year and it has helped set us up for the months and years ahead."
The impact of Covid-19 will be felt across the world for many years. In the US, the virus has already acted as a catalyst for Americans to up sticks and relocate to states with less Covid-19 restrictions, lower taxes, and healthier, more stable lifestyles. Lured by warm weather and greater affordability, US citizens are turning their backs on New York, Illinois and California, and fleeing south to Georgia, Texas and Florida. According to Andrew, this Covid-19-triggered migration is in full swing in Miami.
"Miami is on fire for multi-family property at the moment," he declares. "People are flocking here from all over the world and it's putting a lot of pressure on real estate pricing. Rental rates are up, the condo market is coming back, single-family home prices have increased dramatically and we are running the risk of becoming a more expensive market with a workforce that can't keep up with the cost of living. It's possible that we could have a situation where people can't afford to live here. As a city, we run the risk of not being able to provide a basic service to blue-collar workers or low-level white-collar workers.
"At Urban-X Group, we are doing everything we can to address these issues," Andrew continues. "Most prominently, we are trying to joint venture with people that already own land at a lower cost – this is the only way that makes sense. You can't build a nice project and overpay for land. People overpaying for land is a risk in the marketplace because the quality of the project or the quality of the architecture is going to suffer. We ensure that this won't happen at Urban-X Group. Our hands-on approach and reputation for quality is unmatched."
In 2021, Urban-X hopes to complete the leasing of River Landing Shops & Residences, as well as acquire more real estate with a view towards developing a similar major project in the future. Though there is undoubtedly an exciting summer ahead as Miami makes up for time lost to Covid-19, Andrew and Urban-X Group already have eyes on the company's long-term future.
"We would like to see three or four more major mixed projects under our belt similar to River Landing, which really reshaped a community," Andrew asserts. "I would like us to be defined as a development company that reshapes regions for the better.
"In development, our best quality is problem solving. We take difficult opportunities and find effective solutions. We are really good at planning and zoning – working through the challenges of what programming should be, or could be, built on a piece of land in a particular community. That is what sets us apart and that capability will remain at our core going forward."
Urban-X Group
www.Urbanxco.com
Services: Asset and property management, real estate development and construction management