Two projects that best demonstrate JD Beam's exceptional work in North Carolina
Structurally SOUND
JD Beam has been operating for over 40 years, and during this time, the company has evolved exceptionally. "I am the third owner of the company," begins Tom Antoine, the company's President and COO. He, along with Chris Kelly, the Vice President, and Gabe Everhart, the Project Manager, share how
JD Beam began exclusively in the hospitality industry, but has since expanded into a myriad of sectors including industrial, office buildings, and mixed-used as well as apartment and multi-family apartments. "We have also spent some time developing community centers and country clubs. Many of our customers have been with us since the inception of the company, and the same is true for our subcontractors, who have been partners and friends of ours since we started."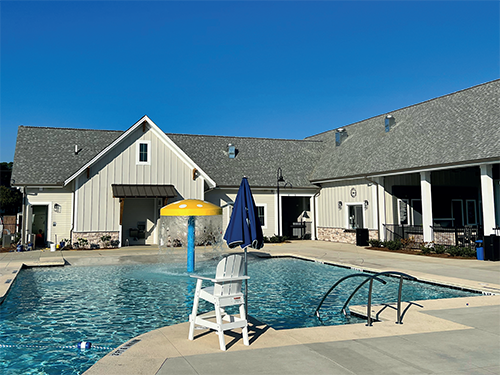 When it comes to traits that separate the business from its competitors, JD Beam, which specializes in pre-construction, general contracting, construction management, and full design-build, prides itself on its relationships. The leaders share examples of the projects in which the company has excelled, and that best demonstrate how it works with its clients. "We do a lot of work that is classified as negotiated work. For instance, when a client comes to us with a construction project and a series of challenges that they want us to help overcome, we work tirelessly to exceed their expectations, and the two projects we'll discuss, the Bentwinds and the Rogers Building, really typify that process," says Chris.
The gentlemen are pleased to share that both contracts succeeded because they were tailored to customer needs. "Bentwinds approached us, which really speaks to the relationship we have within our community and in North Carolina, specifically. I believe that those connections have helped us push through some very challenging times, including a hyper inflationary period, and product scarcity. As a result of this, partnerships have become even more important than they have ever been in the past and have helped these projects excel," shares Chris.
The Bentwinds project began as an existing country club in North Carolina. The plot initially consisted of a pool, an old pool house and pump room. "Our scope was to remove everything and build a brand-new larger pool to bring it up to competition spec, with six swim lanes, and improve the overall aesthetic of the building. The pool house started with a larger, more ambitious design, and was set to include a fitness center and locker room," he says. In addition, the company also rebuilt the tennis courts and created a tennis pavilion. "It was a beautiful site once we had completed the work," Tom adds.
The completion of the overall project did come with its challenges, as we hear from Gabe Everhart. "Supply chain was probably the biggest issue of all, alongside labor shortages, which unfortunately hasn't eased. On top of this, we started this in a post-Covid-19 environment. Although we kept working, our ability to operate got progressively harder. While the owners worked through their finances to get ahead of schedule, I helped them identify some long-lead items that we needed to get released. Through communicative collaboration, we were able to mitigate some problems, and ensure that the project remained as close to the scheduled completion date as possible."
We then go on to discuss the Rogers Building, which Tom highlights is also a client the company has worked with previously. "We started with original budgets in 2019. One of the challenges that came up in 2021, when they were ready to start building, was that cost had increased by 25 percent. We helped the client with value engineering,and we identified some areas where they could potentially save, which involved changes to their design. Again, this level of communication proved invaluable to ensuring that the project was completed on time," shares Tom.
As the project's start date began at the height of the pandemic's subsequent supply chain challenges, JD Beam had to put its ability to pivot to the test. On this project, Chris explains the extent of the issues the company faced, and how the team worked to mitigate them. "We pre-ordered the steel roof and the air conditioning, for example, even though we were far from needing these items. This guaranteed that we would not have to wait when the time came to install them.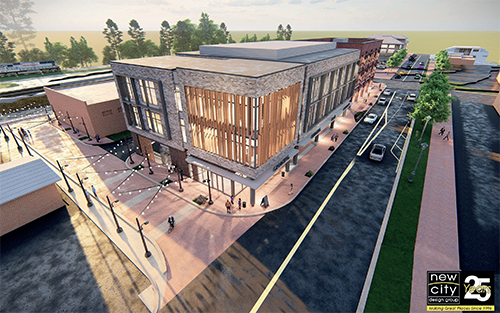 "Another challenge presented by that project was the soil, which wasn't in the best condition. To solve this issue, we established a timber pile system that helped to stabilize the ground. The building is essentially two towers that are three-stories-tall each, and share a common atrium that ties them together. We went about driving 365 piles for that project to support the building, and currently, we have installed the roof, deck, and about three quarters of the building's steel. We are working on the final quarter, where we have also started the plumbing. The HVC is ordered and the roofing is going on now, with a projected finish sometime in the summer of 2023. All in all, I can confidently say that the team has done a fantastic job so far, and I am very proud of everyone who has been part of it," expresses Chris.
It is clear from what these leaders have shared that the work JD Beam completes is exemplary, and there is also a great sense of gratitude from each of them for the team with which they work. The conversation then comes to a close on the topic of the future, and while they are excited about projects in the pipeline, these leaders are more focused on what lies ahead. "Our plan is to grow. We have a five-year plan that involves a new space for offices, and we have an opportunity in Cary to establish a satellite office, which we are starting to put in place," says Tom.
"Another aspect we are focused on is the development of a self-performing contingent, and we augmented that through a recent acquisition. We recognize there are niche trades that are hard to come by, and we are assembling skilled craftsmen that handle things that other GCs don't offer or other sub-contractors are reluctant to do. We see a need for these specialty installations, and we are tackling that aggressively by hiring self-employed folks to fill roles that will help push the company to its full potential," Tom concludes. We look forward to catching up with JD Beam in a few years' time to see how these plans have come to fruition.
www.beamstrong.work