Leading tilt-up construction expert, T&T Construction, is enjoying success throughout the East Coast and beyond
Big business with a family touch
Known for dedicated craftsmanship and excellent service, T&T Construction (T&T) provides a variety of turnkey concrete solutions to customers across the commercial and industrial construction markets. Operating on a solid foundation of integrity, ethics and commitment, the company continually innovates at the leading edge of Tilt-up Wall construction.
Founded 1995, T&T soon grew into one of the largest concrete building solution experts in Central Florida. As company President, Jason Thomas, begins: "The company started out as a small concrete masonry operation, and very quickly moved into commercial concrete. In 1996, we hit one of our first major milestones, which was the construction of our first tilting wall project.
"We saw a lot of success throughout our early years, in part due to the property boom in central Florida. With the ever-increasing popularity of Disneyworld, there was high demand for more infrastructure in Central Florida, and that, combined with our specialist knowledge of tilt wall construction, really put a lot of jet fuel behind the company.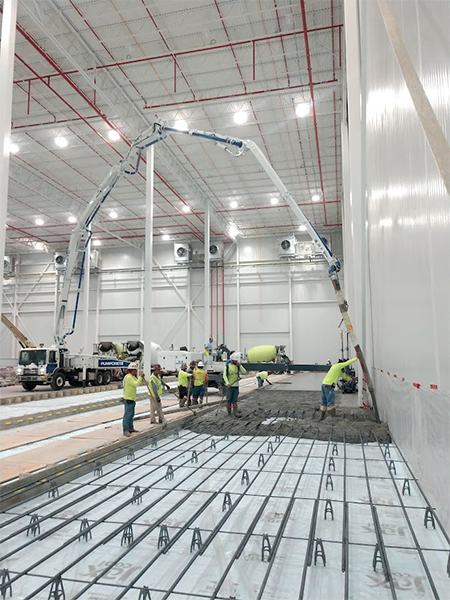 "We continued to see positive advancement throughout the Disney corridor of Central Florida. We started working on lots of different projects, including schools, hospitals, and shopping centers, and continued to see impressive growth."
The enduring success of T&T has been hard earned for Jason and his team, as the 2008 recession meant the company had to pivot into new areas. "The economy really slowed down after 2008, and it impacted us right up until around 2014. We went from doing 50 jobs at one time to only having two or three active projects. We knew that it was time to make a change, and so T&T started looking into defense work, particularly on military bases.
On a trip to visit family in Eastern Pennsylvania in 2013 Jason found a robust warehouse market quickly emerging from the 'Great Recession' and contacted developers he had relationships with down south and found they were building in the region. "A deal was soon in hand and so we decided to open new an office in Souderton, Pennsylvania. Eric Publicover, who is now our Senior Business Development Manager, was one of the first people we hired there. He's indigenous to the region and has been a very solid anchoring force ever since we started.
"The move proved to be one of the best decisions we ever made. We have formed great partnerships with the developers, contractors, and key suppliers here, and thanks to those relationships we have been able to work on assortment of projects we wouldn't have before," Jason asserts.
This change in territories opened a whole new chapter for T&T, as Eric Publicover, Senior Business Development Manager, enthuses: "The timing was ideal for us; there was a new wave of distribution development in the area, and tilt-up construction was also rapidly growing in use. We found a niche in the market that played to our existing strengths, and there was very strong demand for it, so that was a milestone moment for the company."
Today, T&T continues to thrive, as specialist experts in concrete solutions and tilt-up construction. This unique building method continues to prove a major asset for the company, as Jason details: "Tilt-up is a distinctive method for a couple of reasons. Not only does it come in at a very competitive price point compared to other walling systems, but it's very versatile. You can enhance the finished finishes with wood, steel, or even stucco, and thanks to the nature of the design, it's also very efficient. With a strong history and experience of the Central Florida headquarters we are pursuing a variety of project opportunities from Florida to New England.
"Tilt-up can be constructed to an incredibly high standard in much less time than more traditional walls construction. This means that architects have a lot more freedom and leeway when it comes to last minute revisions to designs. You can revise design elements on a tilt wall right up until the last minute. With pre-cast, you require the design finalized weeks in advance, if not a longer, prior to construction. It is more challenging to adjust to late changes requested from the warehouse tenants, though."
"Being a tilt-up contractor also requires T&T to have many more specialized skills than our competitors. Because of its fast-paced nature, tilt wall construction requires a lot of coordination, which falls under our remit. We must be organized, detail-orientated and most of all adaptable, to maintain the high level of quality and scheduling requirements our customers expect.
"In addition, tilt wall panels are incredibly durable. Because the panels are made on site and not transported, they can be built much larger while still allowing for natural expansion and contraction. For the same price point, other wall systems are far less reliable, so it's a very strong investment all around."
"Incorporating less joints also reduces the need for long-term maintenance. On many of our projects, we are constructing leased properties for long-term tenants. Owners often want to make changes to a warehouse once they've leased the building and the flexibility of tilt-up enables us to adjust quickly with tenant requested changes during construction at a much lower cost than, for example, masonry or pre-cast walls systems. This serves the client in the long run, because offering that flexibility is a beneficial selling point to their prospective tenants," Eric adds.
A few notable projects recently completed by T&T Construction include the following:
Eli Lilly's 600,000 sf insulin manufacturing facility in Durham, NC. The structure included deep foundation walls, Ducilcrete expanded joint slabs, slabs on metal deck and composite insulated tilt walls.
A Preferred Freezer Warehouse in Jacksonville, FL requiring super-flat slab finishes to facilitate high shelf racking.
A Rockefeller Group cold storage warehouse in Edison, NJ that incorporated composite insulated tilt walls with 2" deep architectural form liner.
•
Trammell- Crowe's Innovation Park in East Windsor, NJ – two warehouses with architectural tilt wall panels.
As the tilt wall construction method grows into new markets, T&T is well-positioned to lead the way. "Tilt-up has evolved considerably over the years, and now it's in just about every construction sector there is available. The traditional tilt-up was historically heavily associated with warehouse design, but it's since grown in its utilization. One can now find tilt walls in housing, hospitals, office buildings, and schools, especially in the South. We also see great opportunities with the growing demand for cold/frozen storage facilities with ever increasing wall height requirements.
"We have been blessed with the opportunity to work with some very talented architects and panel engineers, who are infusing innovation at the cutting-edge of tilt wall construction. There are increasingly creative uses in courthouses, blast-proof buildings, data centers, cultural spaces. It's everywhere now, which is exciting," Jason confirms.
T&T also ensures its services are delivered reliably and on-time, through a strong focus on preconstruction services, safety and company culture. "We have a network of safety specialists across all our regions, and overseeing that entire operation is our Safety Director, Tracy McIntosh. We've made investments in protecting our people consistently over the years, and we've found that having local specialists and management level staff dedicated to risk assessment education has helped weave that value into the fabric of our company culture.
"I think, at the end of the day, safety is relationship-based. It's about looking out for the people around you, whilst also valuing your own personal wellbeing. We try to foster helpful-minded team members, because we know how important it is that people have empathy for one another while remaining solutions-orientated. Solve the problem, help the people. That's what's important," affirms Jason.
"We're trying to create a worker experience that is team-orientated and personal at the same time. We want people to watch out for themselves and their buddies. What it comes down to is cherishing one-another, and protecting the sense of family that's so important to us," elaborates Cat Markel, Marketing Assistant at T&T.
Today, T&T enjoys ongoing success, and strong partnerships with leading warehousing and logistics general contractors and developers. "We have a solid backlog of work on the books thru mid-2023, including several high-profile projects with customers like DHL, FedEx and Amazon. Recent inflationary conditions have created new financial risks in the market, so we must keep our hand to the plough, servicing our clients, and continuing to provide high quality production," Jason reveals.
With key upcoming projects and plans for further expansion in the Carolinas and Georgia, it's clear that T&T Construction has a bright future. As Eric concludes: "In the long-term, T&T will be looking for more projects in the South and Mid-Atlantic regions. We will build stronger relationships with existing clients while serving new customers in those markets as we have done from our Florida and Pennsylvania operations, enabling the company to better serve our clients along the East Coast."
T&T Construction of Central Fla
ttcfl.com
Services: Concrete services for large-scale commercial and industrial projects