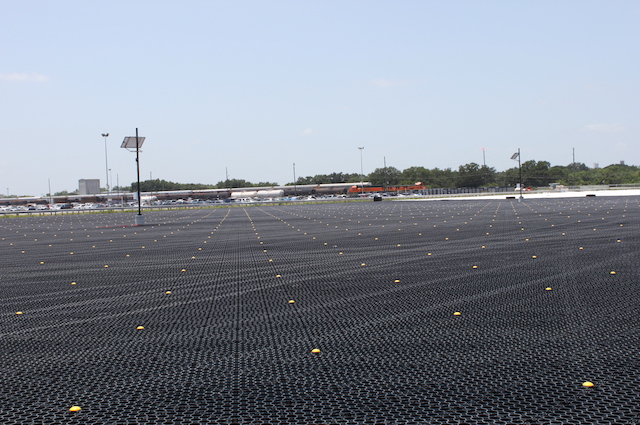 TrueGrid Pavers save both money and the environment.
A decade ago, Barry Stiles traveled to Europe, where he saw a system of permeable pavers. A plastics engineer, Stiles had started a plastics injection molding company in 2000. His factory in the Houston area produced medical devices, rebar, construction materials and other items. "It was successful but my heart and soul weren't in it," Stiles says. "In the early part of my career I had developed different product lines, which I liked."
Meanwhile, Stiles' four-year-old son was diagnosed with cancer (his son is now 12 and healthy). Due to these challenges in his work and personal lives, Stiles decided to reevaluate his priorities. "At that point I was, what can I do?" Stiles says. "I am not satisfied with my purpose."
So, when he saw the permeable pavers overseas, they caught his attention. "I thought I could do better," Stiles says. "I could do not just walkways but pavers for industrial and commercial use and driving 18-wheelers on. There was more and more real estate development going on and we had issues with flooding and drainage."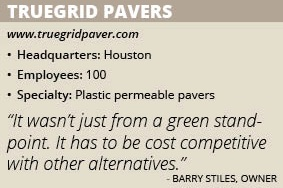 Concrete and asphalt are of course impermeable. Rainwater accumulates on the surface, which can lead to flooding. In addition, with concrete or asphalt roads, vehicle pollutants stay on the surface instead of being absorbed into the ground and filtered.
Stiles developed permeable prototypes and installed the pavers in a truck parking lot in east Texas. "It worked great," he recalls. "There were some massive rains that year but there were trucks moving on the lot and the water was draining."
Stiles divested his contract molding business and in 2014 started TrueGrid Pavers in Houston.
The Process
The process to use TrueGrid pavers is straightforward. It starts with grading the site, putting down a filter fabric on top of the soil and then a rock base of about eight inches. Interlocking two-by-two-foot TrueGrid Pavers are installed on top of the rock base and compacted along with the rock fill.
"It goes in really quick," Stiles says. "If you are a paving contractor, you can save money on labor and equipment. Not only that, it provides a pervious paving option for areas where impervious cover is restricted and added stormwater detention is needed."
A second option is available for industrial sites. "If you just want to stabilize a muddy lot or need to stop dust, you can just lay the TrueGrid Pavers on top of the surface," Stiles says.
Cost and Ecology
TrueGrid Pavers have two advantages. One is cost. "It wasn't just from a green standpoint," Stiles says. "That's great but no one is going to pay more money. It has to be cost-competitive with other alternatives." To do that, TrueGrid ships factory-direct to customers rather than through distributors. "The customer gets a better price due to the lack of a middleman," Stiles says. "Generally, we cost 20 percent less than concrete."
In addition, by reducing the amount of impervious surface, TrueGrid Pavers can save land for its clients' use. Government entities typically require that new construction of impervious surface is offset with land dedicated to storm-water retention. That's good for the environment but a challenge for the developer or business.
"It's a pain to build and they can't use the land," Stiles says. "We reduce impervious surface. We can save you land, which is a big deal."
Stiles gives an example of a 653,000-square-foot automobile auction lot he recently covered with TrueGrid Pavers. "Close to four acres were going to be [stormwater] detention land. They got an increase in the number of cars they could park in the lot, which is money to them."
The second advantage is environmental. First, there is "the capacity to contain stormwater and slow it down and not let it overwhelm businesses and homes," Stiles says. "You get more and more permeable surface so you get less of a flood issue. Also, when stormwater goes through soil and rock, it's effective at removing pollutants before the water gets to an aquifer."
Second, TrueGrid Pavers are made of post-consumer recycled plastic bottles. TrueGrid buys the material and injection-molds it into pavers. "It will last as long or longer than concrete – 25-plus years – and longer than asphalt, which lasts 15 years," Stiles says.
An "eco calculator" on the company website shows how the use of its permeable pavers improves the environment. The company also sends a note to customers after each paving project to spell out the benefits. "You kept so many bottles out of oceans and landfills, cut carbon dioxide emissions [from cement manufacturing] and the amount of increased stormwater detention capacity," Stiles says. "It really has an effect, ecologically. If we can do more and more of these, we will have less flooding and damage."
Educate, Don't Sell
The challenge for TrueGrid is letting people know about its product. "Creating awareness and getting away from same old, same old," Stiles says.
To do that, TrueGrid takes a different approach. "We don't try to sell, we try to educate," Stiles says. "Grid on the ground leads to more grid. We get lots of referrals from clients or contractors who have installed or seen TrueGrid sites. Seeing is believing."
People on the East and West Coasts are most familiar with TrueGrid. "We reach municipalities and try to get word to them," Stiles says. "We have engineers that can help with reviewing your site. Our sweet spot is parking lots but new communities are looking at it for roadways."