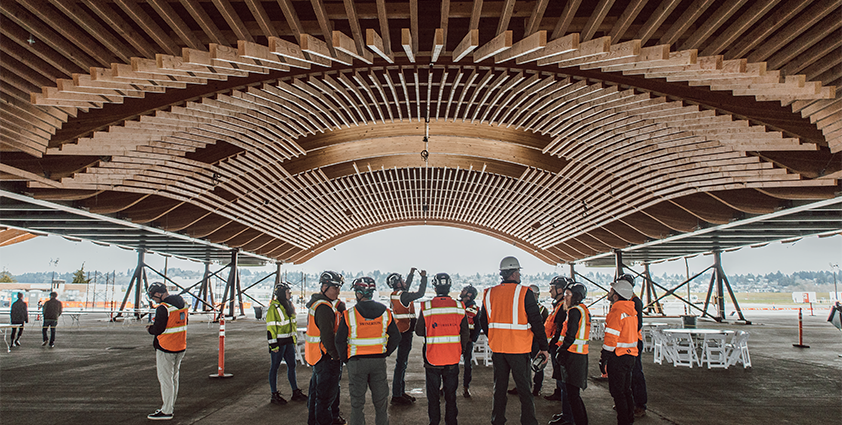 Sustainable skylines
With nearly half-a-million-square-feet of mass timber already built, Timberlab is accelerating the mainstream adoption of more renewable materials in the construction industry
Timberlab is a young company with a wealth of industry knowledge. Born from Swinerton Builders, a commercial construction company with more than a century's worth of experience, the off-shoot progeny is now recognized as a leader within the US mass timber market.
"Though we're young, our history makes us feel much older," begins Chris Evans, President at Timberlab. "Right now, more and more mass timber projects are being started, and the renewable material has increased its market share. As the industry grows, so do we. In this innovative field where much of our work is precedent-setting, our philosophy is to provide our team with the autonomy and resources they need to be well-rounded and open-minded problem solvers.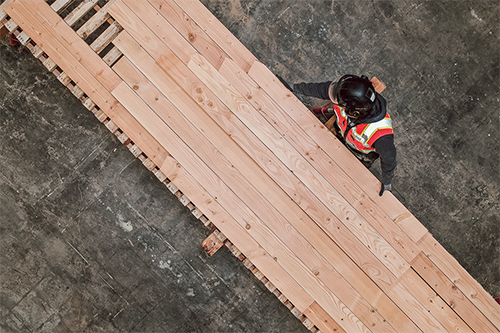 "That's the backbone of our company: helping people become strong, independent thinkers with myriad skillsets," he adds. "The newness of this industry means its fraught with challenges. Solving them is really exciting! Each day, there's a new challenge to face. Whether it's concerning a mammoth high-rise or a small office building, issues crop up everywhere. Right now, for example, one challenge we face is the fact that, owing to supply chain issues, demand will soon outpace supply. In turn, we must continue to evolve so that we can make sure the entire industry is scaling to meet the demand. To that end, we have opened a fabrication facility in Portland to provide more CNC capacity, free up the supply chain, and help regional glulam manufacturers become large-scale industry players. By overcoming these challenges, Timberlab is directly facilitating the adoption and utilization of mass timber within the US construction industry.
"We've set up our business to address major pinch-points in the supply chain, mitigating potential risks by taking ownership of services that aren't widely available on the marketplace," says Erica Spiritos, VP and Director of Preconstruction at Timberlab. "As such, we've become more vertically integrated, establishing in-house timber engineering, virtual design construction (also known as detailing), and fabrication and installation services. By having control over schedule, quality, and cost at each step, we've created an incredible feedback loop to utilize across all our projects. By applying this regimented business structure, Timberlab will continue to make progress in the mass timber industry."
Recently, Timberlab has experienced tremendous growth thanks to its holistic view on construction. The full-service mass timber builder has set itself apart from competitors by offering solutions that harmoniously integrate the timber with other building systems, including the mechanical system, the façade, and any non-timber lateral systems. In doing so, Timberlab is recognized as a partner to both architects and general contractors in the success of the entire project.
Progress, indeed: Portland International Airport, First Tech Federal Credit Union, Beaverton Public Safety Center, Hidden Creek Community Center – these names are among Timberlab's long list of completed projects. From preconstruction to installation, the construction company is sustainably shaping US skylines with its low carbon construction methods and materials, sequestering over 50,000 tons of carbon already in the process (data taken from WoodWorks' 'Carbon Calculator').
Topping that list, however, is a project unlike any other. At 284 feet, Ascent certainly lives up to its name. Consisting of 230 apartments spread across 19 stories of timber, the Milwaukee-based luxury apartment building utilizes over 273,000-square-feet of mass timber, making it the world's tallest hybrid mass timber structure in the world. The project also received a US Forest Service Wood Innovation Grant for its unprecedented use of timber in high-rise construction, bolstering Timberlab's status as a trailblazer.
Erica, who was recently named by ThinkWood as one of six key women innovating in architecture, engineering, and construction, expertly breaks down the processes behind the mammoth tower: "The Ascent project is a huge testament to what is possible with mass timber. Timberlab was hired in 2019 to support the design of the building, guiding it down a path that was not only cost-effective but also constructible. To refine the structure, we worked alongside the project team on necessary design changes, including the reorientation of beams and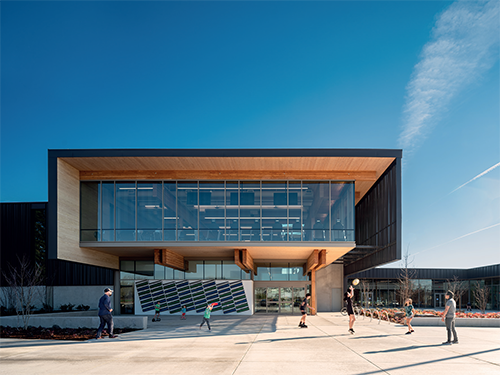 the strategic encapsulation of glulam columns, as well as reducing overall costs associated with the structure, especially in places where materials didn't add to the visual impact of the building.
"A major aspect of our design work was optimizing timber connections," she continues. "This might, for example, mean reducing the amount of steel in beam-to-column and column-to-column joints. Another important aspect of our work was fire testing. In the first test of its kind to take place, Timberlab facilitated the testing of glulam columns and received a three-hour fire-resistance rating. By using three different wood species, we could establish the char rating of columns in a simulated three-hour fire event. We also conducted two-hour fire testing for CLT floor panels, ensuring they met all fire and life safety requirements for high-rise construction."
Additionally, Timberlab established a robust procurement strategy for the Ascent project, empowering designers and architects to meet their aesthetic and budgetary goals with ease – no easy feat given the supply chain and logistics hurdles brought about by the pandemic at the time. In fact, during the height of the Covid-19 crisis, Timberlab was still able to procure 1150 glulam columns, 1320 glulam beams, and 1273 CLT panels for the giant build.
"With projects like Ascent, success depends on the amount of effort the team puts in," comments Erica. "There were so many hurdles to overcome – both code-wise and cost-wise – on that project. At certain points, it was unclear whether or not the tower would even be built. We took a leap of faith and invested everything we had to bring that building to life.
"Our team operates under a shared belief that we're trying to drive the industry forward," she adds. "If something has not been done before, then that's even more reason to do it. Each time we realize this vision in our timber buildings, we learn more about the industry and ourselves."
In 2021, the International Building Code (IBC) was updated to include new provisions for tall wood buildings, signaling a bigger and brighter future for Timberlab and the mass timber industry as a whole. Several states, including Washington, Oregon, and California have already adopted the new provisions. Others are keen to follow suit.
As Erica indicates, this will dramatically change the industry – and the world – for the better: "These provisions establish three new construction types with increasing height and fire performance requirements: type 4C permits eight-story, fully exposed timber structures; type 4B permits partially exposed 12-story timber structures, but this could be updated in 2024 to become fully exposed; and type 4A permits a staggering 18 stories and requires the same fire and life safety rating as a type 1, non-combustible structure (which would typically be made from less sustainable materials such as concrete and steel.)
"The result of this exciting evolution is that Timberlab will be better able to break into new markets and compete with less sustainable construction methods," she concludes. "We're reshaping urban skylines with renewable materials and creating a lighter carbon footprint in the process. Looking towards the future, we're less focused on where we will be in five years, and more focused on where the industry will be in that time. If we continue to uplift the industry and drive progress forward for both construction and the planet, we'll be just fine."
Timberlab
https://timberlab.com/
Services: Mass timber construction