Thrive Companies has an extensive history of residential development and construction within the central Ohio region
Experts in remediation
Now, the state's premier brownfield site developer discusses its latest community project: Quarry Trails
For three generations, the Wagenbrenner name has been a cornerstone of real-estate development in Columbus, Ohio. The family began building schools and churches in the 1940s, before the launch of Wagenbrenner Brothers in 1960.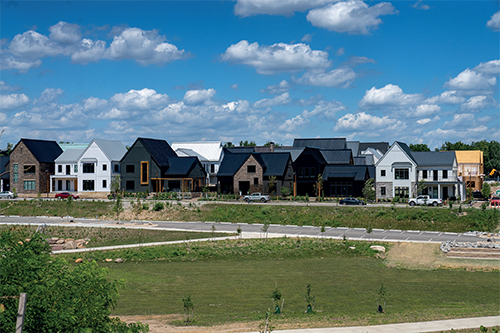 In the early 2000s, Mark and Eric Wagenbrenner sought to pursue their own path, and launched Wagenbrenner Development. Together, the brothers decided to strategically tackle large, complex brownfield projects, and they quickly amassed a sizeable land position in the Columbus market. Joined by Kevin Zeppernick in 2018, the company took its most recent step, evolving into a fully, vertically integrated, mixed-use developer, under a new brand: Thrive Companies (Thrive).
Located primarily in urban or suburban-urban locations, the majority of brownfield sites consist of former industrial or manufacturing sites. As a result, Thrive's projects are typically large, with significant economies of scale. Developing its sites as so-called 'urban resorts', Thrive's focus is on amenities, including central greens, a Thrive-owned and operated wellness center, coffee shops and bars, and programming/events.
"When we rebranded as Thrive, it was to better reflect our cultural priority of helping people to thrive every day of their lives," says Kevin, CEO of Thrive. "By people, we mean our internal employees, our business partners, and the residents in our communities. We work hard to develop communities where people can happily live, work, and play."
Since its initial inception, Thrive – including its time as Wagenbrenner Development – has completed more brownfield projects than any other developer in Ohio. It's a success that's built, in part, on a unique approach to development. As Kevin puts it, Thrive is a "financial company" as much as it is a real estate developer.
"The type of projects we take on are extremely complex," he elaborates. "Brownfield remediations are costly, time-consuming, risky, and as a result they typically come with significant up-front costs. To fund the expensive remediation process, we seek both local and state 'brownfield' grants as well as negotiate complex incentive packages from municipalities – most often in the form of real estate tax abatements and tax increment financing (TIFs). We utilize the abatements and TIFs by carefully determining the types of assets we plan to develop and over what time period, and then calculate the tax benefits from the abatement/TIFs usually over a 25-to-30- year period. We then bond the present day 'horsepower' of the abatements/TIFs, allowing us to capture millions of dollars up front to get the project off the ground."
To further support its execution in the field, Thrive has been investing heavily in back-end technology. "We've spent a lot of time going out and finding the right technology partners to help drive our company forward," Kevin indicates. "I always want to stay as lean as possible with regards to our internal head count by intelligently utilizing technology to drive efficiencies and on-demand transparency to our activity.
"Through that, we have found a couple of different platforms that actually work in tandem with each other, and we've been able to streamline our business," he develops. "Most companies our size will have an accounts payable team of around ten people, for example. At Thrive, we only need three. At the same time, the software ensures that if I want a report on a construction project, I don't have to wait a week for somebody to pull out a report. I have direct access to the system, and I can go in and check whether it's on schedule and within budget 24/7, 365 days a year. Our technology platform has also allowed us to go paperless, giving us the ability to pay all of our vendors and contractors every two weeks, with no 'paper' exchanging hands."
One of the key drivers behind the company's vision, Mark Wagenbrenner is an expert in brownfield sites, equipped with the financial background required to formulate Thrive's complex deal structures. Kevin, meanwhile, is an expert in land acquisitions, construction, general operations, and culture. They're supported by an accomplished team of three additional Principals – Eric Wagenbrenner, Joel Lilly, and Steve Bollinger -and 10 Senior Vice Presidents/Department Leads.
"Our entire leadership team has deep experience in our industry and is also well traveled," Kevin reflects. "We pull inspiration from strong land planning, architecture, and amenities from all over the world. We often travel together to other markets with the sole intent of exploring and learning. At the beginning of every project, a significant amount of time is spent shaping the 'vision' for the new community."
One such community is Quarry Trails. Thrive's largest project to-date, the 660-acre site was purchased in 2018, with the unique goal of creating an urban resort inside an adventure park. To create the park, a strategic partnership was formed with the Columbus and Franklin County Metro Parks (Metro Parks), an independent, non-profit organization in Central Ohio with the mission of preserving meaningful land as parks.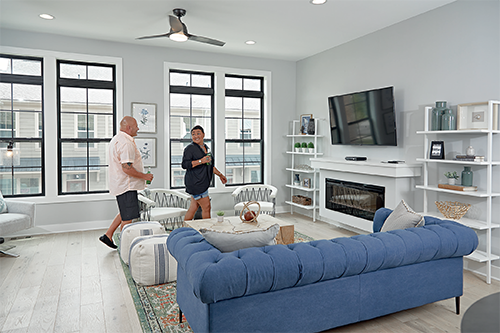 "The necessary coordination between Thrive and Metro Parks has been substantial," Kevin insists. In phase one of Quarry Trails, more than 1000 rental units, more than 500 units for sale, more than 40,000-square-feet of office space, and more than 18,000 square-feet of retail and amenities will be built, including the park, kayak runs, rock climbing, and mountain biking tracks.
"The northern part of the quarry is still being actively mined for rock aggregate," Kevin adds. "Thrive is in the process of helping the mining company relocate to a new location, which will free up hundreds of additional acres for phase two of the project. As a former unregulated landfill, we utilized a process called dynamic compaction over the entire site. That process involves dropping a 20-tonne weight on every inch of the site multiple times over and over again, in order to create rigid soils known as a 'cap'. The cap both serves as a barrier to any contaminants that may still remain below and supports the foundations of the new structures being constructed."
The work on Quarry Trails follows another recent brownfield site project, Grandview Crossing – a 55-acre mixed-use development located on the former Dublin Road Landfill, within the cities of Columbus and Grandview Heights. Thrive's work on the project will see the development of premium office space, apartment units, retail, parking garages, and a hotel, with phase one of the project already complete.
"We purchased Grandview Crossing about ten years ago and went through a number of variations of what we were going to construct," Kevin reflects. "The remediation process took a couple of years because of the amount of dirt from other projects required to help level the site, using the same dynamic compaction process deployed at Quarry Trails.
"We're also in the process of completing another sizeable heavy mixed-use project, including approximately 250,000 square foot of office space, along with 1400 apartments, and retail space," Kevin notes. "Perhaps the most unique component of that project will be a three-acre central park, which is set to be heavily programmed with concerts and outdoor events. We'll also be using that site to launch a new food market concept, featuring 11 unique restaurant vendors serving up different cuisines alongside a central bar serving alcohol to diners and park-goers."
Across all its projects, the company is working hard to deliver the optimum residential experience. "One of our new concepts is called ThriveCard," Kevin notes. "ThriveCard is given to all of our residents and office users for free and provides special discounts and offers cultivated by the Thrive team in collaboration with local retail partners. Additionally, we're also curating volunteer opportunities for all of our residents and office users via another technology: PointApp. The events side of our business is also taking off. In our Jeffrey Park community, we're now holding regular events like a farmers' market open to all residents and neighbors."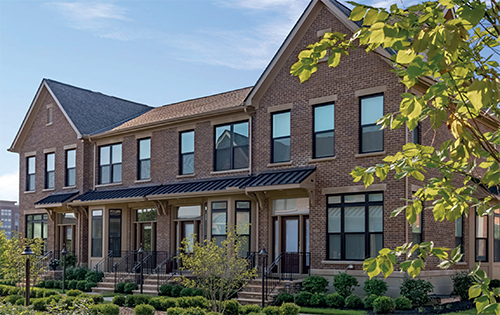 Although Thrive continues to push the envelope in terms of brownfield site developments, it does so amid a challenging time for the construction industry, as material shortages and delays, labor shortages, and rising prices threaten to place projects on hold. Responding to this difficult climate, Kevin emphasizes the company's commitment to remaining focused on the areas it can control.
"We're always looking for opportunities where we can increase our operational efficiency by one percent. A thousand one percent improvements quickly add up over time," he states. "Our priority every day is to ensure tight alignment and communication within our entire team. Likewise, with our vendor and trade partners, we maintain a constant focus on operational improvement and discipline, and we'll often meet with them to assess the health of their business, and whether there's anything we can do to help.
"The biggest challenge facing our industry is the labor pool," he goes on. "We need to work together to create a new image for being in the trades – one of pride, a strong pipeline of work, strong salaries, and strong upward mobility. But not only is a career in construction extremely lucrative, its rewarding. You get to build meaningful assets for your community that will impact the generations to come. We need to do a better job in this country of selling those types of positions. Additionally, many of our strongest trades are immigrant workers. We need a more progressive immigration policy to help bring more talent into the industry."
Before we conclude, Kevin is keen to reiterate the importance of company culture. "We always ask ourselves how the action or decision we're weighing up will impact our people," he confirms. "We first and foremost take this approach because it is simply the right thing to do, but it is also amazing how making your people your priority results in a healthier business and stronger profits. The arrival of Covid-19 only reinforced this core principle. Throughout the pandemic, we were proud of the fact that not only did we not lay off a single person, or cut a single dollar in compensation or bonus, but we actually grew significantly.
"Similarly, having each and every person within your company – regardless of title or rank – fully aligned with the company's vision and endeavors is invaluable," he continues. "We hold an 'All-Hands' Meeting at the completion of every single quarter to review all of our successes over the past three months and to discuss what's next. We also regularly hold quarterly preferred vendor meetings where, again, we discuss our recent successes and what's next for Thrive. Keeping everyone completely informed provides people a greater sense of ownership and pride in the company, and truly makes them feel a part of something greater than the role they perform."
For the remainder of 2022, the team at Thrive intends to continue working hard to bring its active, large mixed-use projects to fruition. Work remains afoot at a number of communities, including Jeffrey Park, Grant Park, 4th & 5th, Founders Park, Grandview Crossing, Trace Quarters, and Quarry Trails. The company also continues to work on its next round of substantial developments.
"Over the next five years, I'd like to see Thrive become one of the top developers in the country: tackling unique projects, best-in-class land planning, best-in-class architecture, best-in-class delivery of experience, and more," Kevin reveals. "Most importantly, we truly want to make our entire Central Ohio Region stronger and more prosperous. We spend a lot of time investing ourselves in causes often outside our business endeavors. For example, we are heavily engaged in a new non-profit called RAPID5 (www.rapid5.org), which strives to create the greatest, inter-connected city park system in the country.
"We are committing a lot of time and money to RAPID5 because, quite simply, it will make Columbus a better place to live for all," Kevin insists. "That ultimately is our end-goal – for the first thing people say when they hear the Thrive name, to be: 'that's a company that truly cares about its people and its community.'"
Thrive Companies
www.thrivecos.com
Services: Real Estate Development