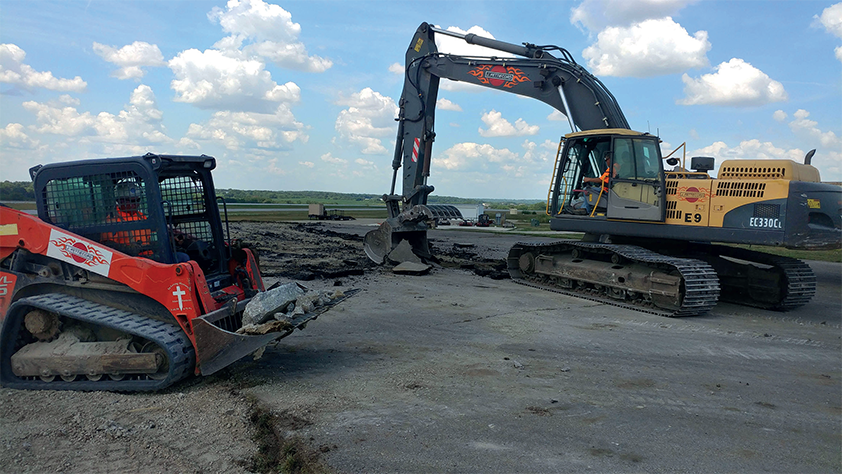 If you asked the average person which industries they would associate with tech prowess, it's not likely they would immediately offer up construction. But the truth is that the construction industry has the capacity to lead the way in technological advancement as companies find new ways to prioritize productivity, efficiency and safety.
This is something J. Pettiecord, Inc. has learned firsthand. As one of the Midwest's top contractors in a competitive market, the organization has grown at a fast clip since its founding in 1981, starting with a single truck and backhoe. Now, over 40 years later, J. Pettiecord found itself losing momentum to speed bumps in its management processes as it scaled, especially when it came to its fleet of more than 260 assets.
Adam Bliss, the IT and safety manager for J. Pettiecord, Inc, saw an opportunity to employ better technology to solve some of the issues the company was facing, from costly breakdowns and maintenance delays to decentralized data and technology gaps among the staff. By making the switch to a more advanced fleet management software, Bliss and J. Pettiecord were able to automate manual data entry processes, centralize their fleet data in a single system, and streamline the entire maintenance operation for the fleet.
Bliss broke down the five biggest benefits of switching to a more advanced fleet management software:
1. Staying ahead of the curve
In order to pull ahead of its competition, J. Pettiecord, Inc. needed a software solution that would enable it to work faster and better in order to secure more jobs than its competitors. But with over 65 employees handing in paper inspections and other manual reporting, a lot of managers' time was spent hunting down information and repeating data entry processes that took too long to complete in the first place.
Bliss knew the organization needed an overhaul of its current systems so that employees could focus more on their job roles, and that freeing them up of some time-consuming manual tasks would allow them to use the skills they were hired for more effectively. That's why Bliss chose to onboard Fleetio, a fleet management platform that had the capacity to automate and digitize more fleet processes than their older, outdated software could handle.
"Shop managers can focus on their job, which is managing the shop – not entering paperwork or chasing down the guys when they wrote something that we can't read," Bliss said.
2. Avoiding costly breakdowns
As a prominent construction company in the Des Moines area, J. Pettiecord, Inc. has worked on many projects that create a positive impact in their community, with a heavy focus on environmental and public infrastructure. But being a part of a community means being prepared when pressing emergencies come along, whether it's clearing debris from storm damage or disposing of contaminated soils.
"We need to be able to respond quickly to emergency incidents," Bliss said. "If we have equipment down, we can't service those customers."
In order to stay ready for whatever work comes along, J. Pettiecord, Inc. uses fleet management software to keep a well-maintained fleet with automated preventive maintenance schedules to prevent any potential breakdowns. And when breakdowns do occur, it uses digitized work orders and communication systems. In-house technicians can manage their day with set PM schedules and notifications, while also being able to quickly respond in-app to any issues reported by operators.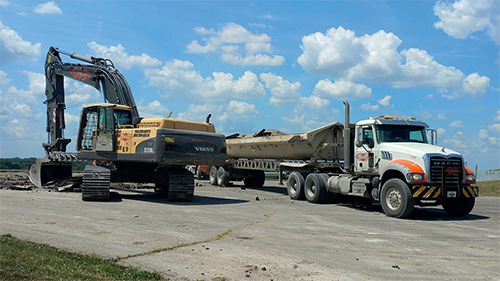 3. Managing third-party vendors
While J. Pettiecord, Inc. does have its own team of technicians, its workload can often outweigh its staffing. Having reliable partnerships with outsourced maintenance shops and being able to communicate with them without any games of phone tag is vital to ensuring its external maintenance efforts run just as smoothly as its in-house operation.
Because J. Pettiecord, Inc. uses Fleetio for its fleet management, the company is able to utilize maintenance shop integrations to connect with a partner of its choice and easily see service updates, manage payment and billing processes and even compare discounts from different shops.
"Having a fleet solution that lets us identify problems quickly, getting that information to our mechanics and our shop manager is absolutely essential," Bliss said.
4. Getting everyone on one platform
As an IT manager, Bliss understands the importance of choosing the right technology solutions to fit an organization and everyone in it. He worked diligently to find a software that had a user-friendly mobile platform that would be accessible to everyone that would need to use it, regardless of their experience or comfort level with technology.
"Some are better with technology than others," Bliss said. "When you have guys used to doing things for a long time, you have to teach them a little bit how to use these new tools. Fortunately for us, Fleetio makes it pretty obvious what they need to do."
Fleetio allows drivers and technicians at J. Pettiecord, Inc. to access and complete inspections, work orders and other important fleet information from their phones or tablets, ensuring ease of use and consistent adoption.
5. Centralizing fleet data with automation
As fleets try to become more tech-forward, it can quickly become difficult to balance all the different tech solutions that are intended to make life easier. In order to avoid getting lost in a jumble of data and dashboards, Bliss made sure to look for a fleet management solution that could easily integrate with other platforms to unite fleet data in a single location, as well as offer a level of customization to ensure the right information was available in their platform.
Bliss especially takes advantage of Fleetio's open API; from an IT perspective, an open API gives him more flexibility to instantly import the data that's most significant to his fleet. This allows him to make sure that their Fleetio dashboard always reflects what they need now, rather than being stuck with an outdated software that can't scale with the organization.
"It's nice when [software] have their own integrations, but the advantage of an open API is that I can build my own as necessary," Bliss said. "That's what can end up saving us a lot of time – the ability to automate lots of things."
Peyton Panik is a content marketing specialist for Fleetio, a fleet management software company that helps organizations track, analyze and improve their fleet operations. For more info, visit www.fleetio.com