Sunshine State specialists
Family owned and operated for over 60 years, The Kearney Companies provides a complete scope of site construction and development services across West Florida
A business with humble beginnings…for The Kearney Companies (TKC), everything started with a single bulldozer. In 1956, the year Bing Kearney was born, his father, Wes, purchased a TD9 International bulldozer and began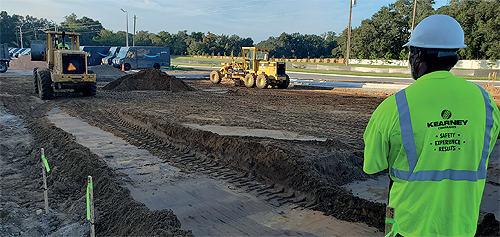 operating as a small land clearing and earthmoving business. After some early success, Wes added more equipment as he could afford and as demand grew. By the time Bing was a sophomore in high school in 1971, the Kearney family hired its first external employee to work alongside the family.
Today, in 2020, nearly 65 years later, The Kearney Companies remains as a third-generation family business with Bing Kearney's son, Chase Kearney as the owner. However, much has changed in terms of Kearney's original capabilities as the firm evolved into a site contractor capable of providing a full line of services, including site clearing, excavation, earthwork, clearing and grubbing, sanitary sewer, storm sewer, water and fire lines, underdrains, and soil stabilization, along with curb, base and pavement operations.
Though the company has performed a number of governmental projects over the many years, Kearney presently operates mainly in the private sector, which includes national homebuilders, commercial and industrial developers, as well as multi-family developers amongst its key clients. Primarily working within a 75-mile radius of its Riverview, Florida office, Kearney has built a solid reputation for its technical expertise and expeditious performance without compromising either cost, efficiency, or safety practices. "A lot of the success we have had at The Kearney Companies can be attributed to being able to self-perform the majority of the portions of the work that we used to subcontract out to our competitors," Bing explains. "These companies would take forever and a year to finish the work, to the point where no one would want to hire us for new projects because the job would take so long! As a result, the Company evolved into the curb and base business, as well as the asphalt and surveying business. By 2005, we had over 120 dump trucks, a survey company, a fuel distribution company, a soil cement road base manufacturing company, as well as multiple other companies under our corporate banner. Business was solid and steady up until 2009, which was a horrible year for our industry as we lost most of our major competitors in the Tampa Bay area. We were able to keep most of our key personnel through the down time years and rebuilt the business back up as the economy dictated and allowed."
Demand for Kearney's services remains consistently high and, in recent years, the company has worked on a diverse range of projects. These include developments such as Triple Creek, a community south of Riverview, where the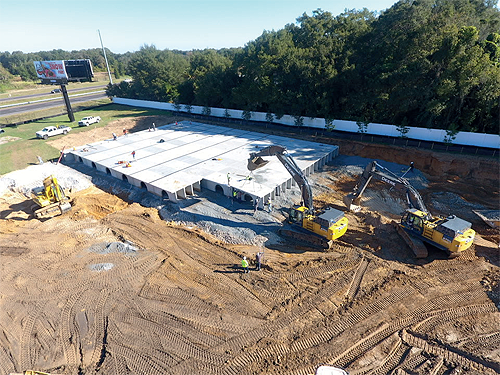 company has been involved for over the last four years.
"We have been working on various phases of development at Triple Creek, primarily earthwork and roadway infrastructure," Bing reveals. "Since we got in there, it has been one additional phase after another, to the point where Triple Creek has become – on a consolidated basis – one of the larger overall projects which we have recently done.
"Belmont, another developer near Triple Creek, recently spun off and sold a number of its parcels to a couple of large home builders and we have retained the majority of those projects as well. Success in this market seems to breed more success and so TKC is currently working on a 12 plus million-dollar project for Amazon, which is also in close proximity to our corporate headquarters."
Of course, Kearney's impressive growth journey has faced obstacles in 2020, namely the Covid-19 pandemic, which has forced businesses all over the world over to adapt and reassess their ways of working. Nevertheless, Kearney was designated as a 'critical industry' qualification earlier in the year, and has been able to continue operating throughout the crisis. For the Kearney Companies, the most important objective in 2020 has been to keep Kearney's employees safe.
"Since Covid, we initiated the taking of temperatures and oxygen levels of all of our office employees every day in order to do our best to keep the virus away from our people," Bing explains. "In the field, we have provided non-contact forehead thermometers to do the same testing and we also have some ultra-strict protocols in place, whereby all of our equipment operators are required to daily clean their equipment. We have provided gloves, masks, handwashing stations and other gear across all of our projects in order to make them as safe as possible. A lot of our scope of work lends itself to working individually (i.e. equipment operators), but we also have multiple pipe crews and road crews which tend to work in a closer proximity; so we have been diligent in trying to keep all of our employees very aware of implementing the safety protocols which we have in place."
As we approach the end of 2020, the Kearney's are keen to praise the company's workforce for their dedication and resolve in a year unlike any other. A tight and experienced team of professionals, Kearney's employees have been the driving factor behind the company's success in recent years and the Kearney's hope is that the firm can continue to hire and train effectively into many years to come.
"One of things the company does well is retraining new employees and getting them educated and stabilized in their job roles, as well as understanding how the Kearney Companies performs," Bing says. "You are looking at unskilled laborers which we train to use various pieces of heavy equipment. We place a real emphasis on getting people vertically trained, so it means that we can provide additional support available across the business. We have done a good job in cross-training and up-training our employees this year, particularly at a time when acquiring highly skilled labor is extremely challenging to find within our industry. Our policy is to not take on a bad employee just to add to our number of employees, but we will take on as many good people as we can find that become available. For example, we recently hired a couple of estimators, which we think will add to our annual revenue volume going up in the next year or two, just by being able to bid additional projects."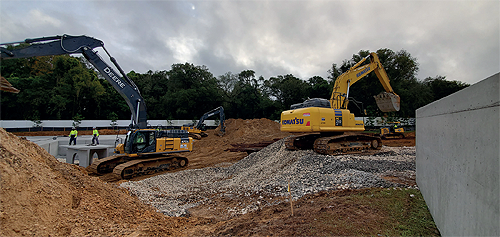 As Bing suggests, all eyes at Kearney are already looking to the future and alongside its new hires, the company has also added computer technology into its estimating department, as well as some heavy equipment that could help increase efficiency in the New Year. As more and more Americans look for alternatives to living and working in big metropolitan areas, such as New York or Los Angeles, Florida is a state with increasing demand, which, unsurprisingly, fills Kearney with great hope for the years ahead. "Project wise, we typically find out about a new development around six months before it is fully permitted. A main barometer we rely on is the National Homebuilders goal to increase the number of homes in the US," Bing asserts. "For instance, one of the largest builders in the Tampa Bay area did 3,200 homes in 2020, and they are projecting 3,800 in 2021, so that is a large percent increase. These statistics are a few of the factors which we measure our decisions and corporate expectations moving forward. "
One area of focus for Kearney going forward will be finding and hiring passionate, capable staff to fill the void left by those who plan on retiring in the future. To combat this challenge, the firm implemented an Employee Reward and Incentive Program for existing staff referrals – an initiative that is proving to be a success.
"In this type of construction market, especially in Florida, the turnover rate for unskilled labor is generally quite high, but we have a successful initiative where we provide bonuses to employees that secure friends, relatives, or neighbors that have industry knowledge or desire to be trained in our company," Bing states. "The longer they remain here, the higher the bonus is as well; so, that incentive has helped to improve longevity, which is very important to us. Our growth is primarily not limited by our equipment or ability resources, but how successful we are at finding new employees with a great work ethic who will get the job done well and on time."
The Kearney Companies
www.thekearneycompanies.com
Services: Excavation, earthworks and a variety of similar construction services