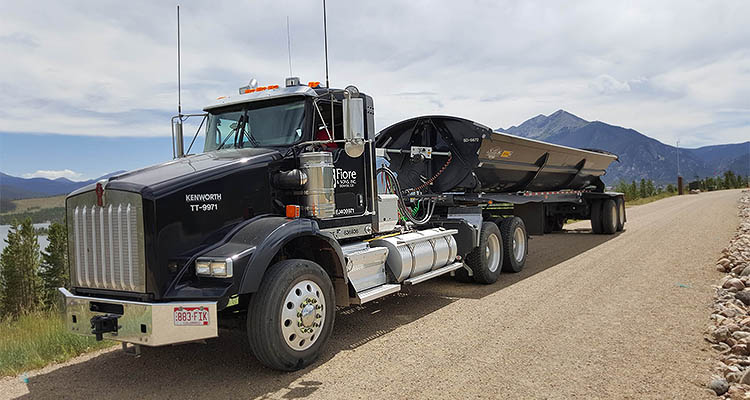 The Fiore family has grown and adapted in every way imaginable 
The Fiore family history has woven a rich tapestry of hard work, commitment, and success since the late 19th century. Ed Fiore's parents worked on the land, growing celery during his younger years, until he decided to move away from the volatile nature of agricultural work to establish Ed Fiore Trucking, with a single truck, in 1959.  
Gaps in the market 
The business grew its fleet to seven trucks during the 1960s and evolved into the 70s by performing small grading projects and landscaping. It was then given an opportunity to work with general contractors on commercial warehouses and retail malls. By this time, the business was in Ed's son's capable hands, and Larry recognized this as a great opportunity for the company and sought a new direction for what had become Fiore & Sons Excavating. "My father began looking into new ways of working in the construction industry, such as bidding on grading work as a subcontractor to larger general contractors," opens Larry (Butch) Fiore Jr, President. "That really took off in the late 70s and into the early 1980s, when Colorado's economy took a deep dive.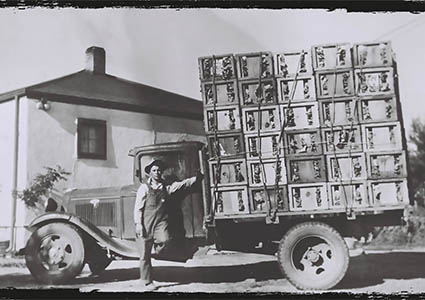 "We still managed to complete our first legacy building project that decade: the basement of the Cash Register Building downtown. Unfortunately, we struggled to sustain financially, and the poor economic climate just ate us up, leaving us almost at the point of liquidation. It was at that point that my parents decided it was time to take over from my grandfather; they purchased the company from him and enlisted their four boys, Mike, Tony, David, and I, to support the venture.  
"We were just teenagers at the time, and my youngest brother was 11, but my uncle and cousins got on board too. By the year 2000, we'd grown the company to 79 employees, when my parents transferred the ownership to the brothers, and we've continued to expand Fiore & Sons (F&S) up to a team of nearly 400, today." 
Expanded operations 
Over this period, the company moved from growing ingredients to transporting them, then on to trucking and grading operations working alongside utility installation, asphalt, concrete, and landscape contractors. Shifting from farming to construction required regular interaction with all of these construction disciplines, which revealed clear gaps in the civil construction process. 
"While working with these organizations," Butch continues, "we would learn about the transitional phases between our work and theirs, and came to realize that this model was riddled with huge inefficiencies. We discovered that we could eliminate these transitions, and the resultant arguments between contractors and different teams, by offering mass earthwork and utilities services ourselves.  
"So, we started out in mass earthwork projects, in which we would move sometimes up to several million cubic yards of dirt, instead of just grading it. We also began subcontracting asphalt and concrete work, alongside utilities, and bound all the elements together as a single package for our clients. This is what we call our Civil Construction Management (CCM) process.  
"We introduced it as a tool to partner with our customers," he adds, "not to compete against them. We want to do all of the outside work for the building, so that they can focus their efforts on the inside. In doing so, we can offer them one point of contact instead of ten. We've managed to cut months off schedules for owners such as Amazon, working to get a new facility online as quickly as possible, and you can only imagine the extra millions that they stand to make, by getting things moving that much earlier." 
Technological advancements 
Despite the company's rich heritage, F&S has a steadfast mentality to modernizing its operations. Besides the current COO's efforts to introduce Lean Six Sigma's principles of improvement, the organization has also been utilizing drone technology and AI for some time now. 
"Drones have arguably been one of the most beneficial technologies that we've brought onboard," Butch explains. "Our old surveying method would take almost a week on a single project, as we would have to walk the entire space and mark out a grid system with wooden stakes every 50 feet. Even when we transitioned from that to GPS, we still required feet on the ground to gather hundreds of elevation points. 
"Today, what used to take two or three days to establish, can be completed in just a couple of hours. Furthermore, when we're working on a large-scale removal project, between 15,000 and 20,000 cubic yards per day, we can use the drone to take volume measurements at the end of each day to get a precise idea of how much material we have moved. We continue to look at other technological advancements such as AI and have recently been delving into the world of ChatGPT, to support the production of SOPs and other documentation. Once the software has mapped out the bare bones of what we need to say, it's so much faster to then personalize it ourselves afterwards. We can build in just a couple of hours, what would usually take us days to write." 
Family legacy 
Another challenge that inherently comes with being such a long-standing, family-run enterprise, which has grown in size and operations to such a degree, is coming to terms with the shift that is inevitably created between employees and senior leaders.  
"We have always prided ourselves on our employee relations," Butch states. "I for one was always proud that I could remember every single employee's name in the company. This has been challenged, however, by our growth and new size, and I can't do it as well today. In the space of a week, we can potentially say goodbye to two or three people whilst employing a new four or five, and that rotation is really hard to keep up with.  
"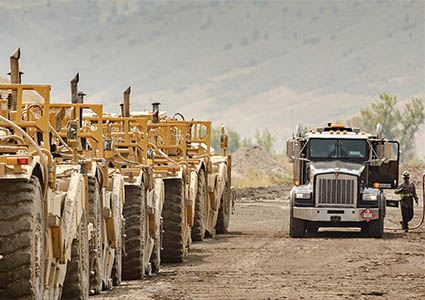 At first glance, this kind of turnover isn't something that you would associate with a family-run operation, but actually, it's exactly what families do, they care. As a family, in reality, the right thing to do is the responsible thing. If somebody isn't happy working for F&S, I want them to find their happiness working where they can be happy, that's the ultimate goal, right?  
Several years ago, F&S established a committee to define its working culture. This followed a stream of mixed answers from staff, when a new recruiter interviewed a number of employees to try and gauge what makes somebody a good fit for the enterprise. 
"When you get such a range of answers to such a simple question, you know it's time to take action," Butch exclaims. "The recruiter said that she wouldn't be able to work for us, until we had fully determined what our culture includes. So, we built a committee comprised of people from all over the organization; operators, laborers, mechanics, administrative staff, and we asked them, what is F&S for you?  
"After much consideration, the team decided that family came in at number one, which was closely followed by innovation, opportunity, and respect. In fact, they created our Fiore Pride acronym, which continues with environment, partnerships, responsibility, integrity, devotion, and excellence. Once we had this in place, we added it to our safety vests, and began offering brass pins to employees, who are voted for by their peers in recognition of their exemplary representation of what the specific letter stands for. As a result, these days, most of our team members are walking around with their vests weighted down with success. 
"Besides being a significant turning point in the organization's culture, the exercise has created an environment in which people speak up, listen, and create safe spaces for one another to share concerns. We love to hear about the positive occurrences around the business, but truly cherish the culture of openness and willingness to share that everybody now practices. 
Butch concludes: "Our future is filled with immense possibility. As we continue to build upon our experiences, we are working to determine our next generation of ownership. However, I'm confident that it will be owned and operated by wonderful, professional people, who will proudly carry on the legacy of the Fiore family for many years."