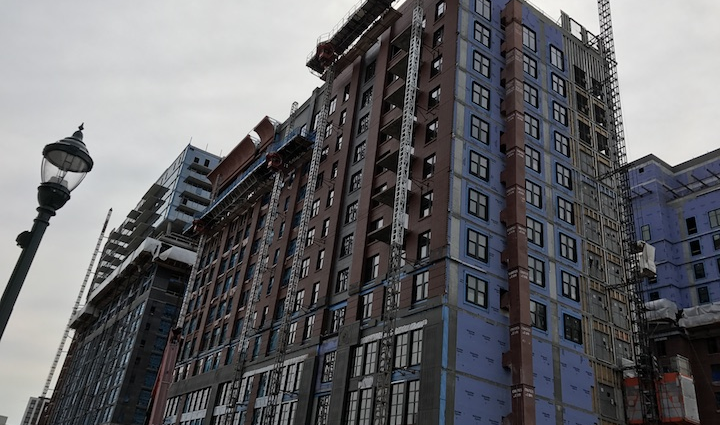 Telligent Masonry's portfolio blossoms with the addition of various intricate and challenging projects.
It contains more than 900,000 oversized Norwegian bricks, 130,000 concrete masonry units (CMUs) and covers an entire city block. Aside from its sheer size and intricate facades, this award-winning project featured a myriad of logistical challenges.
But the folks at Telligent Masonry – a leading masonry construction firm based in Rockville, Md. – enjoy tackling challenges. The Signature at Reston Town Center luxury apartment complex in Reston, Va., is a demonstration of the firm's ability to maneuver around difficult tasks.
"The Signature proved to not only test the limits of masonry construction, but also served to be a safe, on-budget and on-time successful project for Telligent Masonry," Vice President Mike Pappas says.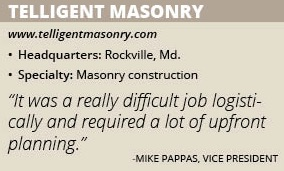 The project – which consisted of two, 23-story towers with townhouses and a six-story garage – had to be run simultaneously, requiring three different exterior masonry crews and two different scaffold crews to stay on schedule.
"It was a really difficult job logistically and required a lot of upfront planning," Pappas says.
Scaling Scaffolds
Due to the project's complexity, Telligent had an on-site safety manager and six different foremen running the project: one on each tower, one running the garage interior and façade, one swing stage foreman, one Fraco foreman and a lead foreman.
But the scaffolding proved to be one of the biggest challenges. In order to access multiple facades, a mix of Fraco, heavyweight multipoint swings and traditional tube scaffolding had to be used.
Since one of the towers was setback on top of a six-story garage and townhouses, Telligent had to use swings to surround the tower in order to set Fraco on most of the elevations.
The manual swings had to be physically pumped to move up the building due to the weight requirements for masonry construction. In addition, since masonry was ongoing during the concrete phase, the steel beams for the swings had to be jumped up to three times as new concrete floors became available.
"Coordinating these three scaffold systems is very difficult due to the many different pieces of equipment that had to be on-site," Pappas adds. "In addition, these systems required us to have separate crews to physically build each of them, causing more managerial oversight and logistical planning."
Telligent self-performed 100 percent of the masonry scope of the project, including scaffold erection and wash-down. "By self-performing we have more control over our safety and quality," Pappas says. "I think self-performing and a strong emphasis on customer service is what separates us."
In the end, Telligent delivered the project ahead of schedule – which was an impressive feat considering the size of the project and the number of bricks involved. "Our schedule duration was one week per floor for the veneer – and that's going both towers at the same time," Pappas notes.
The project won the 2018 ABC Metro-Washington's Masonry Excellence in Construction Award, WBC 2019 Craftsmanship Award, WBC 2019 Star Award for Excellence in the Face of Adversity and the 2018 ABC Eagle award.
Unique Masonry
Another gem in Telligent's portfolio is a 13-story, multifamily mixed-use apartment complex in North Bethesda, Md. Completed in spring 2018, The Henri at Pyke and Rose consists of 264 high-end apartments, fitness area, rooftop pool, retail and two levels of below grade parking.
Aside from its luxurious amenities, the building's beauty comes alive through its intricate designs and masonry characteristics.
It features a variety of brick jack arches, 37 varieties of special-shaped bricks, recessed/corbelled brick, architectural ground face block, cast stone and glass fiber reinforced concrete (GFRC).
"Not only is every aspect of masonry contained in the project, but also these different masonry features are exemplified to the extreme by unique specific details within the brickwork," Pappas says.
For instance, the building's large GFRC panels feature a distinctive floral pattern – which required each piece to be installed on-site and in a specific order. Furthermore, the GFRC pieces were huge and required multiple cranes to be installed.
Other logistical challenges included keeping track of where each of the 37 varieties of special-shaped bricks was to be laid. "These shapes had to be laid out in the garage and sorted through to keep track of where everything went to make sure they were in the right place and nothing got damaged," Pappas says.
The cast stone around the project contains detailed characteristics that follow the brickwork making the design flow naturally and also adding another step in the coordination between all the different masonry features.
The project also called for multiple scaffolding systems and using the Halfen rod system to complete the jack arches around the building, which required the brick detail to be exact and in a precise location above the windows.
"Pretty much every floor of every elevation of this project contained something abnormal to standard masonry causing logistics to be extremely difficult and preplanning a crucial step to the success of the project," Pappas says. "But all of these logistical difficulties and the detailed work within the masonry truly make The Henri a step above all other masonry projects."
Over the years, Telligent has worked on a number of challenging and high-profile projects for clients like Walt Disney World, Four Seasons Hotels, the Mandarin Oriental Hotel in Washington, Miami International Airport, Walmart and the Bowie Baysox Stadium.