Talking construction and beautiful apartments with The Bainbridge Companies
Exceptional LIVING
The Bainbridge Companies (Bainbridge) started out as a small and local southeast Florida multifamily development company in 1997, with a single office in Wellington and just four employees. But fast forward nearly a quarter of a century and the situation has changed. Today, the company has transformed, growing into a fully integrated multifamily owned and operated organization with a total of nine offices and more than 650 associates throughout the Mid-Atlantic, Southeast, Southwest, and Florida regions of the US. With in-house development, construction, renovation, and asset and property management divisions, Bainbridge is now recognized by the National Multifamily Housing Council (NMHC) as the tenth largest developer and twelfth largest builder in the US apartment industry.
Recently, we sat down with some of the team to talk all things construction, development, and how people will always be the bottom line to success. "We are a company made up of passionate professionals who strive to develop best-in-class apartment communities that our residents will always be proud to call home," begins Kevin Keane, COO at Bainbridge. "To our partners, we work hard to provide superior investment opportunities for portfolios considered to be blue-chip investments and we deliver above-market returns for our limited partners and co-investors.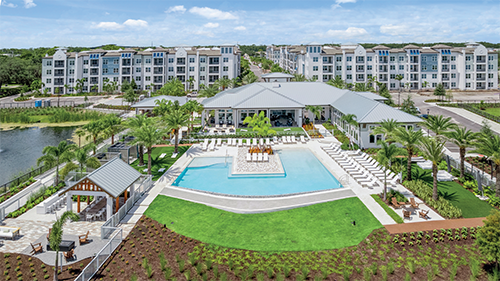 "We are honored to be featured in this edition of Construction Today," he goes on. "We have excellent relationships with the various service providers that we work with throughout all phases of development and construction in our communities; we remain incredibly appreciative of our national partnerships, which allow us to build and deliver exceptional assets to the marketplace."
Bainbridge manages, develops, and invests in apartment communities that the firm labels as complete experiences; that is to say, spaces that allow people to pursue better, more fulfilling lives. In Florida, Georgia, North Carolina, Texas, Maryland and Virginia, these communities say: 'Come home and be inspired.'
More recently, the firm has made investments in existing value-added and core-plus acquisitions in Florida and the Carolinas throughout 2022. As Kevin explains, Bainbridge's acquisitions and capital markets teams have been working tirelessly to identify new opportunities for company growth, either off-market or through a broker offering.
"When we believe there is a measurable opportunity for our company to acquire a property, we leverage our property management division to increase rents, instill more efficient systems, implement policies and procedures to increase rents, establish property-wide Wi-Fi services, ensure appropriate resident portals are created for communication, and reduce overall expenses to enhance our bottom line," he notes. "Upon acquisition of an existing asset, we typically utilize our renovation division and allow them to develop a program of updating common area amenities, unit interiors, building exteriors, and adding new sustainable elements to the property relating to energy efficiency."
When it comes to new project development, Bainbridge draws inspiration from both current market trends and industry insights that are provided by the NMHC and the National Apartment Association (NAA). Bob Thollander, President of Development at Bainbridge, tells us more: "Additionally, we rely on our on-site associates to gather customer-based inquiries and requests for inspiration. We always look for ways to provide unique unit layouts and both accessible and useable amenities that are not yet seen in the local marketplaces where we develop. On top of all that, our team consistently looks at what is happening in the local housing market to recognize trends that easily translate into a new customer want within the luxury rental market."
As the conversation moves onto recent project developments, including Mission Pointe in Orlando, Bob is keen to shed some further light on the processes that generate the company's success. "We are very pleased with how Mission Pointe is coming together," he details. "We have carefully – and creatively – designed it for future residents. The location is unique in that it is one of the few remaining lakefront apartment communities in the metropolitan Orlando area, and the incredible views of Lake Whippoorwill are destined to at once inspire and evoke calm in those living there.
"We wanted to make use of the waterfront as much as possible, so we incorporated a large walking trail along the entire waterline, as well as a boat ramp and fishing pier," Bob reveals. "Mission Pointe is a true resort-style community and one of the most premier lakefront apartment communities that has ever been built in the metropolitan Orlando area."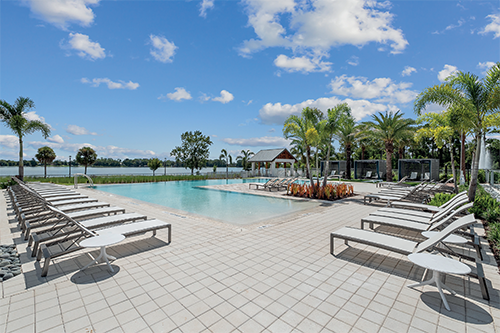 Mission Pointe is the third Bainbridge apartment community that has been developed on Lake Whippoorwill, following in the footsteps of Bainbridge Nona Place and Bainbridge Narcoossee Cove. With Lake Nona Medical City, excellent schools, and abundant dining and entertainment options nearby, this most recent development will ensure future residents have access to a premium living experience.
One of the biggest challenges faced by the construction industry in the past few years has been the pandemic. At this point, that goes without saying. But, as Alex Panzeri, President of Construction at Bainbridge, points out, it goes much deeper than that. "Covid-19 brought with it an abundance of uncertainty, and consequently the market was affected," he says. "Supply chain constraints, a lack of materials, labor shortages, and therefore a reduced output of finished products – these became the new normal. Our material suppliers play an important role in our success, and throughout the pandemic we relied on national agreements to deliver quality products on-time at the most competitive prices.
"Before the pandemic, construction risks were mostly related to unknown site conditions or vertical construction material availability and cost increases," he goes on. "However, Covid-19 and its effects on the global economy have taken a huge toll on the availability of construction materials, labor, and costs. Nevertheless, we remain in constant communication with our subcontractors and suppliers on their supply chain issues and cost variances, and we are utilizing advance ordering and bulk purchasing to mitigate delays. Better planning, more open communication, and early execution are key tenets that we are building our future upon."
Speaking of the future, Bainbridge looks forward to a very active remainder of 2022. Plenty of developments are in the pipeline. It seems the dust of the pandemic is settling. "We are in the process of designing new communities, while also renovating existing ones with more remote workspaces and outdoor areas with active recreation amenities," says Kevin. "Our acquisition business, moreover, is incredibly robust – five properties have been purchased in the past twelve months alone.
"The construction industry continues to consolidate," he concludes. "With the introduction of Real Estate Investment Trusts (REITs) and crowd funding, coupled with the attractiveness and stability of real estate as an investment alternative, there is no shortage of capital flowing into the development of apartment communities. We are not striving to be the largest full-service firm in the industry, but we are striving to be the best. Our people truly are our greatest asset; we recognize their strengths, and the ways in which they bring value to every discipline within the company – from on-site teams and corporate support associates to each of our divisions (construction, development, capital markets, asset management and property management). At the end of the day, it is our team that truly makes the difference. Through them, we can be the best and create exceptional living spaces."
www.bainbridgecompanies.com