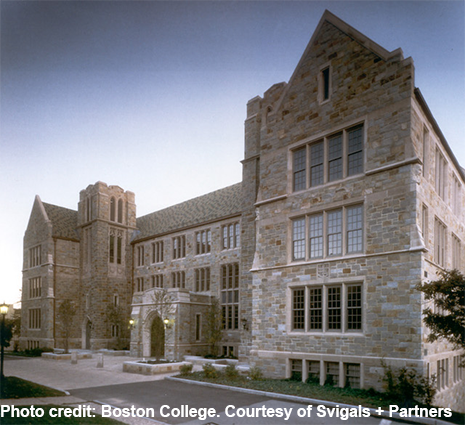 Svigals + Partners has helped build successful communities for 35 years with its collaborative approach to architectural design.
One of the great side benefits of being a construction or architecture firm is the ability to point to a beautiful building and declare with satisfaction, "I did that." That's certainly the case for New Haven, Conn.-based Svigals + Partners, an architectural firm that for 35 years has been amassing a portfolio of significant buildings in the Northeast and elsewhere that would be the pride of any firm.
But Svigals can take pride in something else, too, that isn't made of brick and mortar or steel and glass, but which has a profound impact on society's future: the design of education facilities that provide inspiring, productive and safe learning environments for young people. Its work for the past three-and-a-half decades has shaped structures ranging from safe and welcoming K-12 schools to sophisticated academic buildings for prestigious universities, as well as other major client institutions.
What do its buildings have in common, aside from helping to prepare new generations of innovators and leaders? "Inspirational integrated artwork that reflects the unique mission and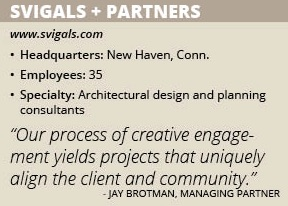 vison of the occupants and the community," explains Managing Partner Jay Brotman, AIA. "It brings delight to our clients and hopefully brings delight to everyone who uses and sees the building."
That delight has been realized in scores of buildings for clients that have included Yale University, Yale New Haven Hospital, and the Metropolitan Museum of Art, as well as local school districts. But it first became evident in a project for Boston College in the early 1990s that set the mold for every project to follow in terms of Svigals + Partners' collaborative approach and elegant architectural solutions.
'Wonderful Project'
Barry Svigals had founded his namesake firm nearly a decade earlier, and Svigals + Partners faced some of the same challenges of any young, growing firm, including finding its voice and navigating through economic downturns. But that would soon change.
"Right about that time we landed a wonderful project at Boston College called Fulton Hall, which was their school of management," Brotman recalls. "This was an incredible project for us. It was a major academic addition and renovation in the center of a vibrant, growing campus."
Completed in 1995, the 120,000-square-foot building demonstrated many of the firm's best attributes, including its collaborative approach with clients and its in-house talent in incorporating and sculpting artful elements into its work. In this case, Svigals + Partners created a technologically modern building with many gothic architectural elements that made the facility a good neighbor on its campus.
Brotman says the firm's work enabled the total "transformation of an existing building and bringing it into modern usage to meet the needs of today's students." The firm's educational clients, he notes, are "addressing a different type of student body than there was 30 years ago."
It is vital that Svigals + Partners is on top of those evolving client needs. That is why everyone at the firm, including Brotman's partners Robert Skolozdra, AIA, LEED AP, and Christopher Bockstael, AIA, work "very collaboratively with our clients as well as our consultants from the very beginning on every project. We really try to understand what the goals of the project are for the client and work with that client to align those goals with the surrounding community."
Svigals + Partners strives to "make sure the building improves the community in which it resides," Brotman says. That goal, and "understanding the environment that the building sits in, are key to our success and carrying out the design itself."
A Culmination
Svigals + Partners' approach might have reached its highest expression thus far when it was tasked with creating a new, nurturing and yet secure building to replace the Sandy Hook School in Newtown, Conn. The new 86,800-square-foot school, completed in 2016, not only presents a great setting for children to learn in, but the community engagement process helped this community heal itself after that terrible tragedy.
"The Sandy Hook School was really the culmination of all of years of working very closely with community groups and expressing the desires, goals and wishes of those groups," Brotman notes.
The new school incorporates many elements that are both aesthetically pleasing and subtly utilitarian. Outside, for instance, a rainwater-fed garden ravine that spans across the front of the school provides a living laboratory to teach children about nature and the water cycle, but also serves as a protective barrier against intruders. Brotman calls the facility "a model for a safe and secure school that is an inspirational, open, and inviting building for the community and a wonderful place for children to learn. It looks and feels like a normal school and the enhanced security elements are mostly invisible. We were also really proud of the way we brought the natural environment of the community into the school grounds."
Brotman says the Sandy Hook project benefited greatly from Svigals + Partners' collaboration with the construction team, but the firm doesn't collaborate with just grownups. The project incorporated Svigals + Partners' Kids Build! program. "We educate the children who will occupy these schools, bringing them in on the design and gaining ideas from them," he describes. ", We also include construction trades in the program so as the building is being constructed, the children learn about these trades as well as have an appreciation for what their takes to build a building."
Designing schools necessarily requires an architect to think of the future, and Svigals + Partners is mindful of its own future as well. "We want to make sure people [here] are doing what they feel is rewarding, and with the changing of the workforce with the millennial generation, we have embraced that [idea] so it's not a top-down organization."
Brotman describes the ongoing strategic initiatives at Svigals + Partners that are led by mid- and junior-level staff. "These strategic initiatives are really defining the goals and aspirations of the office as well as looking for ways to do things more efficiently with future technology in play," he says.
This approach ought to serve the firm well as it grows, with new offices recently opened in Washington, D.C., and Fort Lauderdale, Fla. It also should help as it strives to continue to meet its mission, which Brotman says is "to build prosperous, sustainable communities."