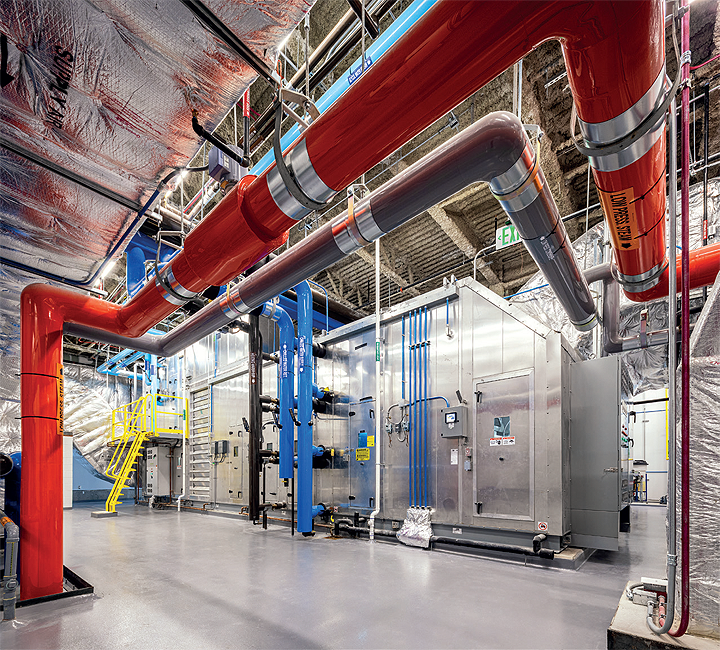 Continuing the legacy
Family-owned business, SPC Mechanical, believes in upholding the values engrained into its company culture and ethos by its founding member
C. Buren Williford was a pipefitter and welder turned tobacco burner salesman, before he began what was then known as Southern Piping Company. With the help of his dependable friends Thomas Cox Powell, a consulting engineer, and L.L. Vaughn, an engineering professor, Buren was able to prepare for the state mechanical licensing exam and go on to become one of only 2,000 licensed mechanical contractors, initially providing mechanical expertise in central and eastern North Carolina. The company now specializes in a range of HVAC and plumbing services across a variety of sectors.
In 2015, as part of its 50th anniversary celebration, the company underwent a rebranding to improve its identity and subsequently became SPC Mechanical, following an agreement that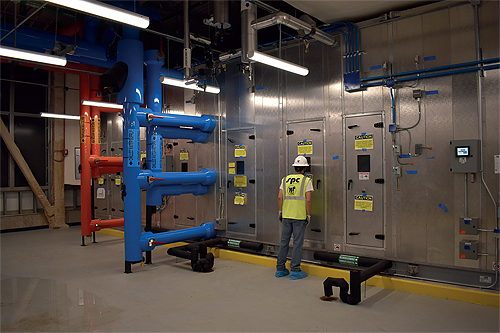 'mechanical' best described the company's specialties. Then, sadly, three years later Buren passed away, leaving a company that was determined to continue his legacy of providing a world-class service to the heating, ventilation and commercial air conditioning (HVAC) and plumbing industries. "We've brought full building information modeling (BIM) and prefabrication capabilities in-house. Our preconstruction group is very experienced and can provide detailed estimates from conceptual drawings to complete designs," says Chris Williford, President and son of Buren.
As this bold move indicates, Chris and his brother, Mark, who is the company's Executive Vice President, strongly believe in pursuing investments that assist the business in developing leading technology to keep up with the thriving construction market. "For example, we've been using Revit and Trimble Sysque software for a number of years now to help us create actual vendor piping, valves, hangers and other products in a 3D-collaborative environment to leverage our models for our prefabrication efforts," Mark shares with us, adding that the company has also started using the latest laser scanners to create point clouds. One particular customer even requested from the company an enhancement to its work by scanning areas on the job that would have otherwise taken significantly longer to discover in an analogue fashion.
Key drivers
Amongst its impressive technological advancements, SPC also boasts a 20,000 square-foot prefabrication facility, which, according to Chris, is being rapidly outgrown and forcing the team to investigate newer facilities, along with the technology and programs required to support its increasing prefabrication efforts. Investing into this level of infrastructure has additionally allowed the business to expand its facilities to include a new headquarters compound, which is set to be completed by July of this year.
Chris explains that this growing level of success for the company has encouraged the SPC team to be more strategic with the projects that it takes on, aiming for larger, all-rounded contracts. "We want to be on projects where we can be part of a construction team whose goal is giving the owner a quality project on time. We try to focus on more complicated projects that some of our competitors are less capable of managing. This allows for better margins and repeat clients," he elaborates. Examples of these projects, which have contributed to SPC's revenue growth include the Wake Forest Baptist Health Birth Center and Neonatal Intensive Care Unit project in Winston Salem, as well as ongoing contracts on the Charlotte Convention Center's renovation, and the Charlotte Douglas International Airport's main terminal lobby expansion.
He goes on to note that each of these measures to expand and strengthen the company have brought SPC Mechanical into the spotlight to secure numerous construction awards from the Associated Builders and Contractors trade association at both state and national level. Over the last six years, the business has successfully stacked up 15 awards, with the most recent addition being the Engineer News-Record southeast region's 'Specialty Contractor of the Year 2020'. This is an award given to a company that is able to demonstrate excellence in growth and expansion, an outstanding safety culture, progressive thinking and planning, innovative use of technology, quality control, size of projects, complexity of projects, being family-owned and encouraging a family and team atmosphere with a trustworthy reputation and philanthropic endeavors. "Of course, we are extremely proud of this recognition. It also provides motivation for us to continue to grow and excel in execution of mechanical and plumbing projects. We want to be the 'go-to' mechanical contractor," Chris iterates.
Undoubtedly, one of the key drivers to SPC's impressive achievements is its team of devoted and highly motivated staff. The importance of its workforce is paramount to what the team does and how each job can be effectively completed. "If you look at winning teams like ours, you see both consistency and change. The consistency of our team speaks to our culture. We work hard and we do good work and that is something we take pride in. As owners, our people see that we are involved and accessible. Although we may have different day-to-day responsibilities than they do, each of us supports the entire company, and I think that is the culture. We really care about our people and I think they care about us and the continued success of SPC," Chris highlights. He further stipulates that a few core values are maintained throughout everyone's work ethic to ensure that each person is supported in the most beneficial ways the company can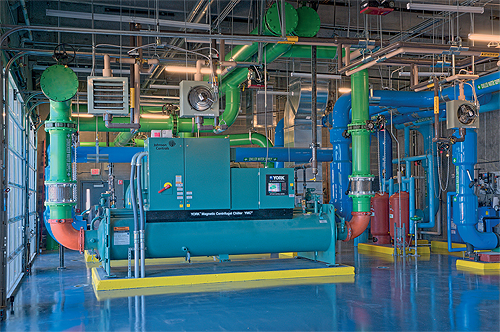 offer. "We strive to communicate with our staff openly and often. We limit our involvement in their jobs, but we have high expectations of their performance. This means that we give them the responsibility to get the job done, and wherever possible we aim to promote and make promotion something that everyone can work towards," he explains.
Pandemic strategy
Even during the Covid-19 pandemic, the SPC team was able to succeed in sustaining a demanding level of business owing to the safety measures put in place by management. On the technology side, Mark notes that it was already providing many opportunities for its managers to work remotely, while it had other measures in place that allowed employees to login to their desktops remotely. "This was quite helpful for our BIM folks. It was much more productive for them to be able to manipulate their models remotely. However, because of the bandwidth inequities in most employees' home internet connection, we had a bit of work to do in our IT department, but overall it wasn't the worst thing that could happen to us," he elaborates.
The trickier task was implementing measures to protect its employees who were integral in the business's field work. "We had to pivot pretty quickly to put safety measures in place to protect our folks. We spent a lot of hours in our executive meetings trying to sort out how to continue to be effective with our labor and keep them safe from other hazards at the same time. We began to communicate to our entire group on a weekly, sometimes even a daily basis. We followed the CDC closely to conform to the most recent guidelines, and also spent several hundred thousand dollars on personal equipment for our employees along with training to help them work in this new trying environment," says Chris.
Exemplary team
To complement its commitment to stay leading in the mechanical industry, SPC is equally as dedicated to giving back to its community as it is to ensuring the success of its name. In October 2019, the business hosted its third annual charity golf tournament, which has benefited children's backpack-buddy programs across North Carolina – a personal choice of Chris and Mark. All donations made were split evenly between the programs across the five counties where SPC offices are located, namely Chew Inc in Wilson County, Inter-Faith Food Shuttle in Wake County, Second Harvest Food Bank Metrolina in Mecklenburg County, Nourish NC in New Hanover County, and Second Harvest Food Bank Northwest in Forsyth County. Each of the five received a check of approximately $6,633 to help feed the children in their care.
Since the company's rebrand, the last few years have seen the business promote a goal of controlled growth and provide the resources pivotal to supporting its expansions. These achievements, and the ones that the business has collected since its inception, would not have been possible without its exemplary leadership and the enthusiastic staff who are passionate about their work. "We are fortunate to have team members who grew into positions to support this growth while we added a few excellent leaders," Chris notes. SPC Mechanical appears to be well on its way to continuing the legacy that Buren worked incredibly hard to engrain into its culture.
SPC Mechanical
www.spcmechanical.com
Services: HVAC and plumbing contractors