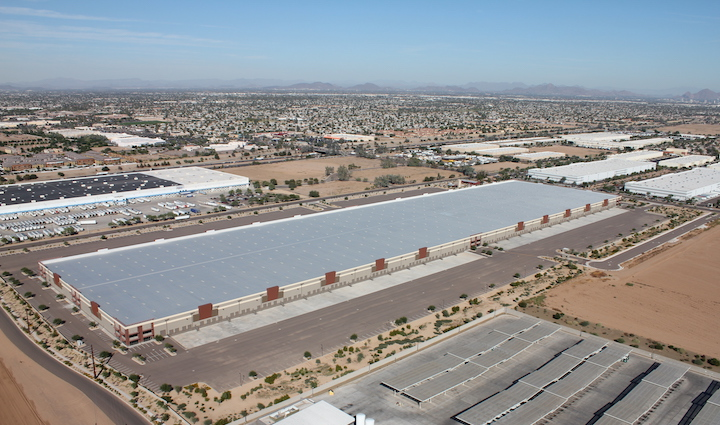 Span Construction & Engineering Inc.
Span Construction & Engineering Inc. becomes an ESOP and strengthens the company culture that has been the foundation upon which it has built its success.
For nearly four decades, Span Construction & Engineering Inc.'s (SPAN) success has been rooted in the culture upon which it was founded. Having completed more than 180 million square feet of buildings on (4) continents around the world, SPAN has grown to become the No. 1 steel building construction firm because of its unwavering dedication to keeping its commitments at any cost and providing the best service, quality, schedule and value for its clients.
"We started out small and now perform $250 million in construction projects annually," President George Goddard says. "We primarily focus on industrial and commercial projects for national and multi-national clients that build in multiple locations. Approximately 85 to 90 percent of our work is negotiated and performed on a lump sum or open book basis."
King Husein founded the Madera, Calif.-based company in 1980 after working for a metal building systems manufacturer in Massachusetts and a building contractor in California. Husein realized he could do better. "I started developing principles in my mind," he remembers while working for another builder. "I would say quite often, 'If I was running this company I would do this differently. How to take care of clients, how to design buildings, how to develop relationships with a supplier and treat them as a partner.'"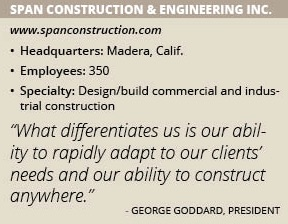 Eight years after its inception, Husein met with Doug Mulvanny, founder of MulvannyG2 Architects based in Seattle, which was responsible for a Rite Aid distribution center project in Northern California and also handled Costco. The Rite Aid building was 500,000 square feet and 52 feet high, and Mulvanny asked Husein how he would devise a bracing without any interior bracing that would restrict movement inside. "I said I would provide steel straps on top of the structure that would take all the forces to the outside walls," Husein remembered. "His eyes lit up and he ended up putting us on the bidding list. That was a game changer."
The opportunity to work with Costco came in October 1989 when Mulvanny asked Husein if he had problems putting up steel in winter, which led to SPAN's first Costco project in Redding, Calif. Since then, SPAN has completed in excess of 100 million square feet for Costco.
"What differentiates us is our ability to rapidly adapt to our clients' needs and our ability to construct anywhere," Goddard says. "We do a lot of international work and are currently working on four continents. As a design-build general contractor that self-performs building erection services we employ approximately 300 ironworkers, which allows us to tightly control safety, quality, cost and schedule."
Employee Ownership
In January 2018, 100 percent of the company's stock was sold to its employees through an Employee Stock Ownership Plan (ESOP). The transaction gives all eligible employees financial interest in the success of the business, uniting them all as co-owners. "Husein wanted to retire and felt that rolling the company over to an employee owned organization would allow for continuity of the business," Goddard says. "When you sell an organization to a third party and key people leave, you have nothing. This way, we are ensuring the continuity and legacy of the business."
Becoming an ESOP has ensured SPAN will retain its culture, values and leadership that have made it the leader in the steel building industry. ESOPs also increase retention, reward long-term employees, enhance services to clients and put the success and profitability of the company in the hands of its employees.
"An unintended benefit we've seen is in employee attitude," Goddard says. "Everyone is all in since their retirement is tied to the performance of the company. Everyone gives 100 percent. A second benefit is from a recruitment standpoint. I've been able to hire people in the last year-and-a-half that I don't think would have come aboard if we weren't an ESOP. They see huge potential because research shows the average ESOP outperforms the average 401(k) by a ratio of 2.5 to 1. Our earnings are solid and we are looking at 20 percent growth this calendar year."
In the past 60 days, SPAN has added 40 people to its staff, despite the tight labor market. "To be an employee owner, all you have to do is show up to work every day with zero financial contribution on the employee's part," Goddard explains. "It's a very good deal for our employees who work hard and should be rewarded accordingly."
"Selling the company to a third party really felt like I would have been pulling the rug out from underneath everyone," Husein says. "The final decision of transitioning to an ESOP offered an exciting alternative that really stands to benefit and empower employees who continue to invest in the company – because they are now investing directly into their future."
Vendor Partnerships
"The construction market is changing," Goddard says. "Quality construction services are in high demand and clients are now looking to partner with construction firms that have values aligned with their own. Looking downstream, I contribute our success to partnering with the right vendors who because of our partnership, offer us top quality construction products on accelerated time frames at volume driven discount pricing."
Successful Delivery
At SPAN, safety is more than a priority – it's an obsession. Its priorities put safety first, extending from the office to the field with no room for compromise. The company employs one director of safety and two in-house risk managers to develop and manage safety policies. "Being that we self-perform steel erection, one of the things we picked up from doing work in Japan was pre-work stretching exercises," Goddard says. "Our crews are undertaking a lot of physical activity at work, so stretching makes sense."
SPAN enjoys a .62 insurance modification rating, which Goddard says is well below the industry average. "Ironworking can be risky if not managed properly," he adds. "Our modification rating is low because we focus on safety."
The company's dedication to safety is just one of the ways it ensures the successful completion of projects and the reason more than 80 percent of its projects come from repeat clients. In addition to its ongoing work with Costco, SPAN recently completed a 260,000-square-foot design-build turn-key manufacturing facility in Detroit for Guardian Industries and its largest building to-date is a 1.267 million-square-foot distribution center for Amazon in Phoenix.
"Our clients come to us and we build anywhere they want, providing them with the safety, quality, value and schedule upon which SPAN has built its reputation," Goddard says.