Southwest Industrial Electric
Here to help
For many years now, Southwest Industrial Electric has been proud to serve Southern California and its industrial and commercial electrical needs. Now, in 2020, the company is eyeing further expansion, while maintaining its 'help' mentality
Founded in 1988, Southwest Industrial Electric has since been the leading solutions provider to electrical issues in Southern California. A commercial and industrial electrical contractor that predominantly works with businesses directly, Southwest Industrial Electric's services are tailored to any and all projects of various sizes. Said services include lighting repairs and new installations, control systems, power installations, emergency services, and machine repairs,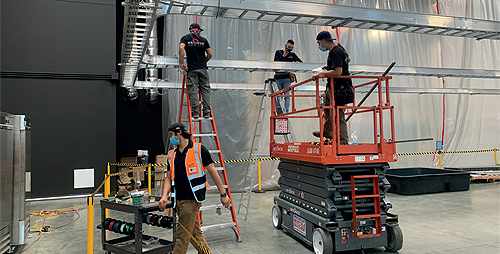 troubleshooting and maintenance. Completing thousands of electrical projects each year, these range from complete ground-up builds to underground electrical distribution.
The company's ambition is to be its customers' electrician for life. As such, it takes great pride in the relationships that it has built over the years. "A number of our customers have been with us for many years, for instance there is one large distribution company that we have worked with now for over 30 years, and we continue to service many of their locations throughout California to this day," explains Southwest Industrial Electric's Chief Executive Officer, Kristin Larson. "We make it our mission to support all of our customers. We exist to help and support our customers. We do everything we can to integrate ourselves into their respective operations in a way that is helpful to them and aids them in achieving their own goals. Therefore, if they ever have an emergency or an unexpected demand, we do whatever is required of us to get them serviced and make things right. Our customers know that they can depend upon us to show up on time and to deliver work that is above satisfactory."
A major contributing factor to the company's continued success is the work of its experienced electricians. Indeed, it is the level of professionalism, promptness and competence of its employees that qualifies Southwest Industrial Electric to solve its customers' electrical problem, no matter how big or small it may be. "As a business, we very much have a 'help' mentality running through every facet of our operations, including every member of our team," Kristin states. "When we bring people into the business, as well as considering past experience within the industry, we look for those individuals who display drive and spirit, and who share a mentality of wanting to help our customers. If they have this, as well as a clear willingness and desire to grow in terms of their own careers, then we feel that they will make a great addition to what is a business with a fun, team-spirited culture."
The list of clients that Southwest Industrial Electric has had the pleasure of working with over the years reads as a veritable who's who of well-known organizations, including Amazon, Pepsico, Tesla, FritoLay and Swinerton. "As previously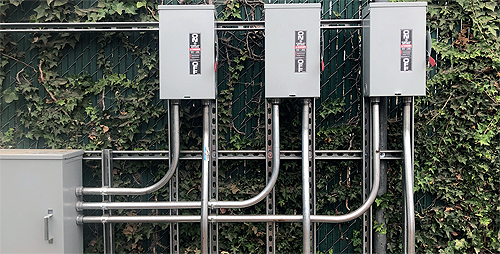 mentioned, a big area of business for us in recent years has been our work with distribution companies," Kristin continues. "During this time, we have built up a great deal of familiarity with conveyor systems and how they operate and, coupled with our understanding of controls and how power systems can be best utilized, this allows us to successfully support the build outs of large, new facilities for such clients. Typically, these are high pressure jobs in terms of schedule, and we take pride in meeting such challenges head on and delivering to our clients' specifications."
More recently, the company has been solidifying its position within the field of electric vehicle (EV) charging station installations. "As the demand for EV's increases and the technology powering them advances, so too does the need for a way of charging these vehicles," Kristin affirms. "Again, distribution companies are a good example of those that are investing more into their fleets of EV's, and we are working with them to put in place the infrastructure needed to power these fleets. Many of the sites that we have worked on to date are pilot sites, and our experiences thus far give us great reason to be excited about the future of this sector."
Each year, Inc. Magazine releases its list of America's fastest-growing private companies – the Inc. 5000 – and in 2020, Southwest Industrial Electric appeared on the list for a third consecutive year having achieved a three-year revenue growth of 145.17 per cent. Speaking at the time of the list being published, Kristin said; "We are honored to be a part of such an outstanding group of companies that have made the Inc. 5000 list, and making the list three years in a row is really a dream come true. We feel very lucky to have our customers, vendors, and team members that we get to work with every day. We would like to thank each and every one of them for their hard work and dedication to what they do. We look forward to continuing to build this company to be able to expand our services to our customers."
Southwest Industrial Electric's third consecutive listing on the Inc. 5000 comes during an unprecedented period of time, where the Covid-19 pandemic has had an impact across all walks of life. For the company, it was fortunate to have been considered an essential business from the offset, meaning that it was able to continue working with essential entities when many others shuttered operations for several months.
"We immediately set about implementing all of the necessary safety precautions in line with CDC guidelines in order to protect our people, and we had to adapt ourselves, adopting greater use of technologies such as Zoom to maintain
contact between our employees, wherever they may have been working from," Kristin adds. "While business levels did slow down, especially when compared to the mid-year periods we have experienced in past years, collectively we managed to push through this to the point where activity is now returning to near-normal levels, which we are very happy to see."
With this in mind, Kristin opens up about what she hopes the immediate and medium-term future will hold for Southwest Industrial Electric. "In terms of business opportunities, EV service station installation is definitely an area that will remain very exciting for us over the coming years, with several companies already working with us on devising projects that will hopefully come to fruition sooner rather than later," she enthuses. "We are also actively working towards becoming licensed in multiple states. Currently, we are licensed to operate in California, Arizona and Nevada, and we are now aiming to establish a location in Texas within the next 12-to-18 months. Once established here, our aim is to set ourselves up to operate in as many states as we can, so as to allow us to take on more projects on a national stage. This will again prove invaluable when it does come to working on EV charging station projects, as those companies that we are working with now have grand plans for a nationwide roll out, and aturally we want to ensure that Southwest Industrial Electric is as best prepared as possible to support and help our customers in making their plans become a reality."
Southwest Industrial Electric
www.southwestelectric.com
Services: Industrial and commercial electrical services