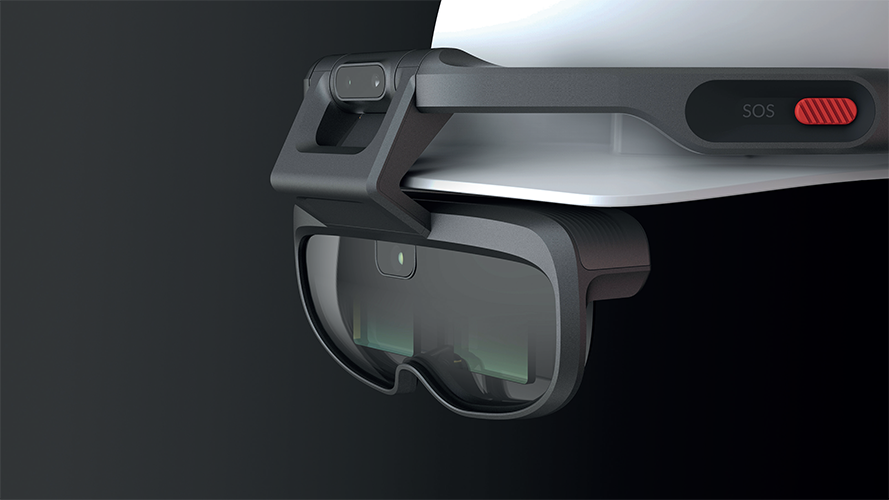 Imagine being on a construction site. You're inspecting an unfinished section of the building and have a concern about what you're seeing. You'd like to compare it against plans you don't have with you and share it with an engineer located across the country. With an augmented reality (AR) headset, you could.
According to a March 2020 study by Ernst & Young (EY), augmented and virtual reality (VR) solutions are among the technologies poised to disrupt the construction industry. By using digital headsets, stakeholders can visualize various aspects of construction, from design to post-project inspection.
At the time of EY's report, adoption of AR and VR in construction was expected grow 22 percent a year through 2025. Then the pandemic took hold, and construction companies looked for solutions that could keep workers safely on the job and reduce risky travel, while connecting teams to people and information in distant locations. As a result, demand for AR/VR solutions has surged.
AR as a multi-faceted construction tool
With VR, companies can create a digital world that exists separately from the real world. VR headsets might be worn in an office setting to visualize a building to be constructed elsewhere. With AR, however, construction companies generate a digital overlay for the real world, like a digital blueprint superimposed on an actual, physical space.
In the AR model, technology applications tend to be more varied, from project visualization, to real-time collaboration in the field, to two-way information sharing. It's this flexible nature of AR — and the fact it can easily connect people in various locations and environments — that make AR headsets ideal for construction.
Like a transparent computer screen in front of the wearer's eyes, AR headsets allow engineers, construction workers, designers, and others to visualize BIM models, project imagery, documents, and other information on-site, where it's needed. For instance, by comparing a digital version of the design displayed in an AR headset to the actual construction, they can identity issues early and take immediate action. Moreover, with a built-in camera and microphone, plus high-speed wireless internet access, they can take pictures from an AR headset for uploading or initiate a video call with remote experts and show those them exactly what they're looking at.
Of course, AR headsets for construction can't be the kind of consumer-grade AR/VR glasses people might play games with. Today's industrial-grade AR devices are built rugged and capable of being worn with safety helmets. They integrate new 5G wireless communications to ensure fast transmission of large amounts of visual data and can even include high-tech attachments, like temperature sensors for ensuring workers are healthy.
They also include advanced technology so that the video generated by AR headsets in the field is as sharp and steady as possible.
Why good, steady video is crucial
Going back to our hypothetical: You're at the construction site, wearing an AR headset that fits over your helmet and looking things over through a transparent display. You tap your glasses to record some video and start an online conference with an engineer back at headquarters to show her what you're seeing.
Needless to say, you're not a camera tripod. You move, shake, cough — all of which make the video you're capturing or transmitting impossible to view accurately. But with integrated video stabilization technology built into the glasses, what you're seeing is automatically steadied. What's more, the imagery is enhanced in the glasses to be sharper and clearer. Any motion blur that comes naturally when cameras move is reduced dynamically.
Video stabilization and optimization in AR glasses are important for several reasons. First, construction teams can't enjoy the many benefits of remote collaboration if the real-time video generated on-site isn't stable. Experts back in the office can't help on-site workers if they can't see what's going on — either because the video feed is too blurry or lacks detail. (Not to mention the potential nausea caused by looking closely at jumpy video.)
Second, companies can't maintain accurate visual records of site conditions if the video quality is poor, which could adversely affect inspection reports or other activity files. Having a camera built into an AR headset makes it incredibly easy to document progress, but if that documentation includes blurry images and video, it's useless.
Finally, using AR headsets, construction teams can effectively record real-world training material for use on similar projects. But again, this institutional knowledge — recorded in the field where it's most pertinent — needs to be clear, stable, and high quality. The AR headset isn't enough; an AR headset with built-in stabilization is key.
Real-world results
While EY experts say AR/VR in construction is in its infancy, they're encouraged by its potential. The technology 'allows stakeholders to obtain an improved understanding of what is to be built, along with visibility of spatial mapping,' they wrote. And it can help increase accuracy in projections, optimize training, identify risks and increase safety.'
We're seeing results today. In France, where a construction company is using AR headsets in the building of a new railway station, the ability to monitor progress remotely from video feeds generated on-site has reduced travel among the project team and saved millions of dollars. A construction firm in Chile uses AR headsets for safety training on-site and has virtually eliminated accidents.
The pandemic hastened the adoption of video collaboration among remote office workers to enhance productivity. With AR headsets and integrated video stabilization, construction companies can extend many of the same benefits to teams in the field, where toting a computer and webcam isn't practical. The ability to clearly, stably look at something on-site and capture what's seen; or to pull up information on a wearable display without a keyboard and mouse; or to place a steady, hands-free, high-quality video call while walking through an unfinished building are all powerful enablers of tomorrow's adaptive, responsive, digitally savvy construction firms. The future is now. 'See' you on site.


Johan Svensson is Chief Technology Officer of Imint and Liang Guan is General Manager at Rokid Corp. Imint is a Swedish senior software enterprise in intelligent sensor and data analysis, founded in 2007 and listed December 2015. Imint is the company behind Vidhance and has more than ten years of experience developing video enhancement software for the consumer and industrial market.
Established in 2014, Rokid specializes in the research and product development of Mixed Reality and Artificial Intelligence. With its mission of 'leave nobody behind', Rokid provides the extreme user experience, superior products, and robust enterprise solutions for development communities.
www.weareimint.com
www.rokid.ai