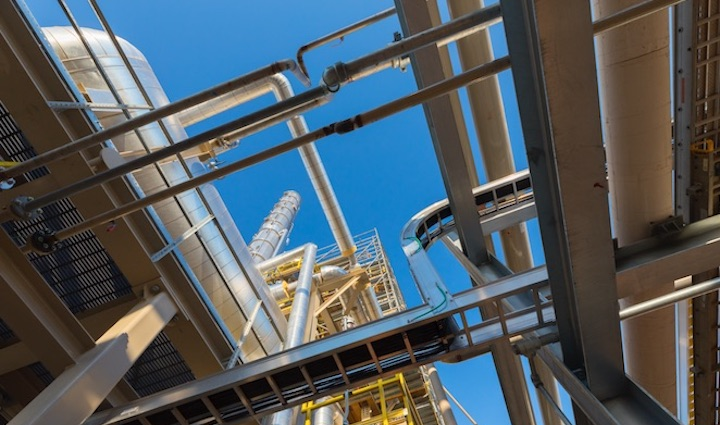 Extensive expertise, safety and partnerships help Saulsbury Industries succeeds with repeat clients.
Because it actively works in the rural areas of West Texas, Saulsbury Industries did not hesitate to donate $100,000 to the Texas Park and Wildlife Foundation's fund to repair the spring-fed pool at Balmorhea State Park. Not only is the pool a popular spot for locals, but Saulsbury's own workers enjoy time there when they are working in the region. Priding itself on professionalism, a can-do spirit and integrity in all it does, Saulsbury's support of the Balmorhea community is just one example of its focus on excellence.
"Saulsbury is a private, family-owned company, and what you would experience in a family atmosphere is how we want to run our business," Vice President of EPC – Construction Jeremy Nelson explains. "By taking care of our clients and employees, the rest falls into place. Our core values are safety, integrity, excellence, relationships and community, and we strive to live them out daily. When we say we will do something, we do our best to deliver. On this particular project, we were aligned with our client, Altus, since the beginning, which enabled the entire team to work through any challenges to reach the end goal."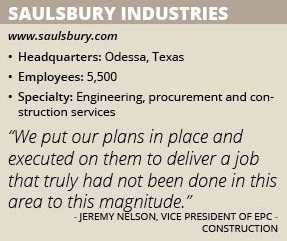 Based in Odessa, Texas, Saulsbury is a national leader in providing engineering, procurement, construction (EPC) services to heavy industrial clients. Serving customers in gas processing and treatment, refining, petroleum and petrochemicals, manufacturing and terminals/logistics, Saulsbury has completed 56 cryogenic processing plants since 2006, and in June 2018, it was selected to construct three cryogenic processing plants at Altus Midstream's Diamond processing facility. This aligned well with Saulsbury's focus on the Permian Basin, having at that time developed its personnel to surpass 5,500 employees.
"Being a producer, Apache aligned themselves with Altus to process their gas in the midstream market," Nelson says. "This was a 600 million cubic feet per day (MMSCFD) build out with infrastructure to support 1.2 billion cubic feet (BCF) of ultimate processing capability.
"We partnered with Altus on this project to provide them with speed to market of a large-scale project in the Permian Basin," he continues. "One of the biggest risks on a project of this size is going over schedule, but we've done over 50 of these projects which provided the confidence in execution. We mobilized in June 2018, and through our knowledge of the region, vendors in this space and midstream execution, we were able to beat that schedule. The third unit is finishing now – we did all of that in 14 months."
Expertise and Safety
Saulsbury's vast experience with this type of project was key in its execution of the Altus contract, but the company's culture also supported its efforts. With its headquarters in the heart of the Permian Basin, not only does Saulsbury have a full understanding of what these projects require, it also has the ability to recruit and retain personnel from the region. This is not an easy area in which to work, but Saulsbury succeeds with loyal, skilled people.
"From project management to superintendents to craft men and women, we have vast experience, technical expertise, and have a unique ability to staff a jobsite in the Permian that gives us a leg up on the competition," Nelson says. "This project peaked around 800 people on the job site, and there is so much work in the Permian that it can be hard to attract and retain that many people."
Not only was Saulsbury able to staff the project to its requirements, but in July 2019, the project achieved more than 1.3 million work hours without an OSHA recordable injury. The company explains safety is an integral part of everything it does every day, and it achieves this with tried-and-tested best practices. This provides clients with peace of mind on how projects are executed and reduces overall project costs.
"We operate projects on a daily basis across the USA," Nelson explains. "While our primary states are Texas, New Mexico and Oklahoma, we've gone as far north as North Dakota, east to South Carolina and west to California. As a result, there can be hundreds of projects going on across the nation, and it can be difficult to maintain a consistent safety culture – but we do it by making sure that the lessons we learn on a job in North Dakota we also apply to a job in Texas."
Over the years, however, Saulsbury developed its safety program to do just that. To start, the company expects its project teams to report every incident, no matter how minor, and that information is communicated to every project and executive in the company. All preventable incidents are rolled into a weekly report, and on Monday morning, the report is reviewed companywide.
"We communicate and review every incident from every project that is going on," Nelson says. "If a lesson is learned on one project, we try to make sure we apply those learning to every other job. Everything we do from a construction standpoint is dangerous – nearly every activity on these jobs are either hot, heavy or high – so we must put these measures in place because otherwise we could be taking chances we don't want to take. This is part of our core values."
An Established Reputation
Saulsbury takes pride in being a supporter of the Balmorhea State Park with its donation to help repair the spring-fed pool, but that was not the only way the company enhanced the local community during its work on the Altus project. The location was in a remote rural area, Nelson explains, and Saulsbury required 800 employees to be on site six days a week. These personnel had to live in the area during the project, so the company made sure they would be accommodated.
"This was in the very southern tip of the Delaware basin, which had not seen the level of oilfield activity that has taken place further north," Nelson says. "The amount of housing, RV parks and infrastructure to hold this number of people just wasn't there, but we didn't want our employees to drive an hour or two to work each day. The community was in the process of building out more RV spaces – journeymen construction workers usually have their own RVs – so we partnered with some to expand their facilities."
Saulsbury partnered with several local owners of RV parks to enhance or expand their capacity and guaranteed the company would fill the parks. As a result, Saulsbury employees had a safe and clean place to stay, and local business owners were left with expanded facilities to rent out to other customers.
With its focus on excellence and safety, Nelson notes Saulsbury works with numerous repeat customers who appreciate all of the effort it puts into its work. By working with Altus as a partner, he says, the project team was able to work through typical midstream challenges without impacting the schedule in a major way. Through partnership with its clients, Saulsbury continues to be successful in its work despite issues that arise.
"I'm very proud that we were able to set out on a known challenging job and from the beginning, align with our client and vendors to achieve the established goal," Nelson says. "We put our plans in place and executed on them to deliver a job that truly had not been done in this area to this magnitude. We've built 56 cryogenic processing plants, many with repeat clients, due to our reputation and performance. As an organization, we aim to deliver the best product at the best cost and at the best schedule possible, and our experience shows that is not just lip service."