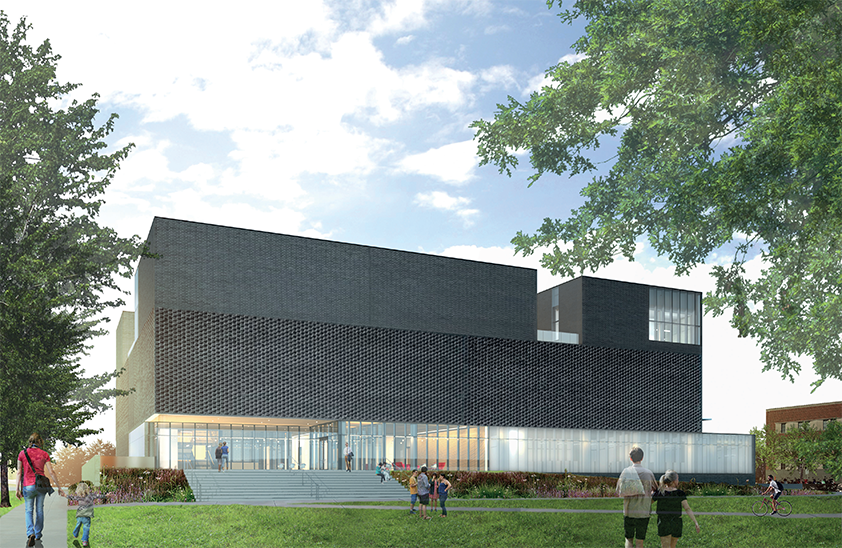 Complex construction
Just shy of four decades since its inception, and Russell Group, Inc, (Russell) is hard at work. The company has recently completed the new University of Iowa Stanley Museum of Art, and is targeting yet more expansion in the near future
June 2008 was a significant time for communities across the US Midwest. Months of heavy precipitation caused rivers to overflow, and levees to break. Damage stretched from Michigan to Missouri, but the state hardest-hit was Iowa, home to the University of Iowa campus, and the Stanley Museum of Art. Its collections safely evacuated, the building was deemed uninsurable by its art insurer, Lloyd's of London. Shifted between cold storage, and temporary homes at institutions nearby, the collection has remained in exile ever since.
This August, that exile comes to an end. First proposed in 2016, and approved by the State of Iowa Board of Regents two years later, the collection has found a new home, in what is now the University of Iowa Stanley Museum of Art. Promoted under the tagline #NewStanley, and overlooking the adjacent Gibson Square Park, the resurrected museum has been designed with a slick rectilinear structure, punctuated with a set of three voids to provide space for outdoor terraces, and an open-top lightwell. Contained within an exterior composed of dark brick masonry and glass, the museum boasts an impressive 16,500-square-feet of gallery space, finished with effortless white walls, and warm wood detailing. Jackson Pollock's Mural (1943) is a highlight of the collection, which also features pieces by Picasso, and Matisse. A lounge, visible storage, and a classroom add to the Museum's functionality.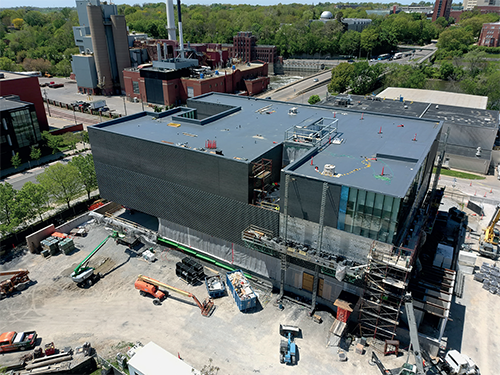 For a project of such obvious significance – for the university, its staff and students, and for Iowa as a whole – nailing the project build was essential. To undertake the work, those in charge of the Stanley Museum's revival turned to Russell. Incepted in 1983, the company has a strong legacy of construction and development services across the US Midwest, having delivered more than $3bn in projects across 33 states. Headquartered in the nearby city of Davenport, Iowa, straddling the border with neighboring Illinois, its previous projects include the Figge Art Museum – the former home of the Stanley's displaced collection.
"This wasn't just a standard building on a university campus," admits Erin Marsh, Russell Project Manager for the Stanley Museum project, when asked about the development. "It's the Stanley Museum of Art. The expected level of quality was exceptionally high, and the requirements for the construction were extremely specific. Executing this project required coordinating with multiple people, from multiple trades, well before commencing construction, in order to guarantee that we're tackling the unique details, and getting things right the first time."
It wasn't all plain sailing for Russell, however. With the Stanley Museum so close to its long-awaited reopening, it's easy to forget that much of the build took place under the shadow of Covid-19. "The biggest challenges to the project were the shortages and delays of labor and material," confirms Alisha Schmitz, Russell Project Executive. "Thankfully, we were able to navigate those difficulties by communicating constantly with our trade partners to ensure that everyone knew the latest information. Ultimately, and despite the obstacles that we were faced with, we've been able to deliver the project largely on-schedule."
Erin agrees. "Added to that, a lot of the details are drawn very tight, with nearly no tolerance allowed," she comments. "For instance, there are 750,000 bricks on the museum's exterior, none of which were designed to be cut. We then had to coordinate all of our curtain wall and door openings with the hardware teams and suppliers to make sure that the dimensions would work. It required an extensive shop drawing review process to get all the details aligned precisely."
Staff at the Stanley Museum speak highly of the company's role in the project. "Our interactions with the Russell team were delightful," recalls Elizabeth Menninger Wallace, Manager of Communications and Marketing at the Stanley Museum of Art. "I was aware that they had built the Figge, and so I was already familiar with the fruits of their labor. The Stanley isn't a large building, but it's complicated. Other than hospitals, there aren't many buildings that have the same complexity of internal organs and utilities.
"The staff at Russell made me feel included throughout the process," Elizabeth continues. "If I needed an image of something onsite, they'd take it for me. They were also extraordinarily accommodating of my multiple requests for access. Above all, they understood my excitement on behalf of the museum, and on behalf of our audiences. They've done a beautiful job."
For Caitlin Russell, President of Russell, this is an assessment that speaks to the company's core values: safety, integrity, client-centric, and appreciating its people. "We're adaptive to the product type that we're dealing with, and with regards to the services we're willing to provide," she insists. "Clients come to us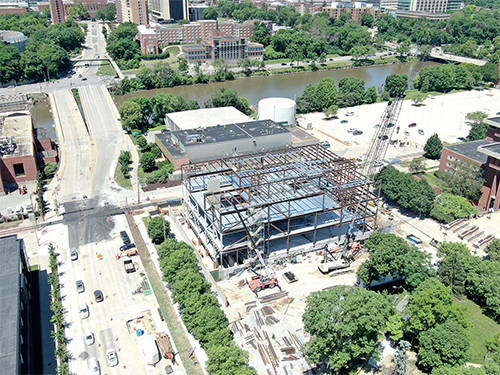 with needs that we might not typically cater to, but regardless, we'll figure out how to deliver a solution. If achieving that requires innovation, or embracing new technology, then that's what we'll do.
"Within our culture, we give people the autonomy to work on projects that are monumental to our community," Caitlin adds. "We try to be a supporting family, by providing opportunities for continuous learning, and entrusting our team members with the responsibility of delivering critical, exciting projects. We've recently undertaken the restoration of the former YMCA premises in St Louis, Missouri, which has been transformed into a 21c Museum Hotel, bringing the old building back to life. That renovation component is also on display in another project we're currently executing, in Clayton, Missouri."
As its portfolio suggests, Iowa isn't the only base for Russell – the company also has further offices in St. Louis, Missouri, and Olathe, Kansas. "Iowa is only so big," Caitlin points out. "Most contractors stick to their home town; our willingness to travel for our clients is unique." This USP isn't going unnoticed, either. A market leader within its core markets of new construction, and complex additions and renovations, it was announced in 2020 that Russell had ranked in the Giants 400 report for Building, Design, and Construction.
In achieving this accolade, the company continues to navigate the aftermath of Covid-19. "Everyone is having supply chain issues," Caitlin acknowledges. "We're buying in larger quantities, and taking steps to prioritize the products we need. It also requires considerable communication – not only internally, but also with our external vendors. Timing is more important than price in many cases. In general, it's about aligning and understanding our customers' needs."
Nevertheless, Russell continues on its upward trajectory, buoyed by its recent acquisition of Kansas City-based Merit Contractors. "It's a growth opportunity, helping us reach out to new markets, embrace new challenges, and explore fun projects. Merit already had its own history behind it, with over $1bn in total revenues from more than 500 completed projects. The same goes for a St. Louis based contractor that we acquired in early 2021.
"For the remainder of 2022, our focus will predominately be connecting the two new operations with our main operations," Caitlin continues. "We aim to add our expertise to theirs, welcome them into our culture, and pursue a mutually beneficial future. Alongside that, the goal is to see through to completion the projects that we already have in our pipeline, before increasingly growing in the yearsto come."
For Russell, the future looks bright. "Our capabilities allow us to be nimble and take on a diverse cross-section of projects," Caitlin insists. "I hope to see the company continue to stretch, taking on more developments like the Stanley Museum and 21c Museum Hotels."
"Within the next five years, we expect to have at least one more location," Caitlin concludes. "As we expand physically, we'll also look to broaden our service offering from our base in Davenport. Our top priority is, and will remain, client satisfaction."
Russell
www.russellco.com
Services: Construction and development services