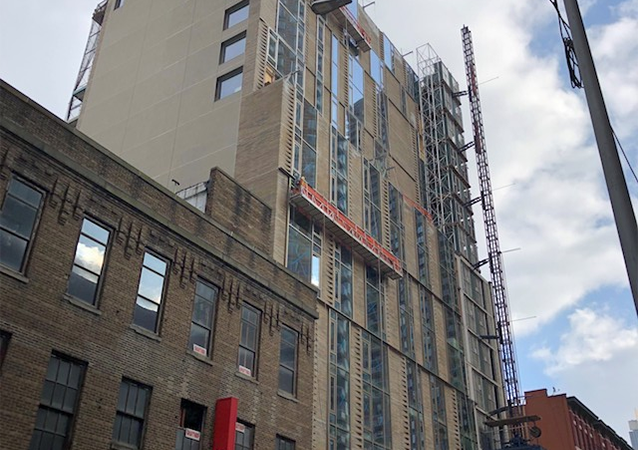 RSC Group made its name with a focus on quality and relationships.
In a modest amount of time, RSC Group LLC has earned a reputation for its work that is admirable in its industry. "People understand that we produce fast, we work safe and our finished project is always of top quality," Principal Brett Steinberg says. "We run a very tight ship."
With offices in Elizabeth, N.J. and Mount Vernon, N.Y., the full-service exterior construction company offers masonry and roofing services to its clients throughout New York and New Jersey. "We have a keen eye when it comes to details and quality," he says.
Steinberg, who is only 26, also has completed much in his industry in a modest amount of time. As a partner and the face of RSC Group, he continues to remember humbled beginnings, the work ethic he had to develop and maintain, and the dedication that it took to get the company and himself to where it is today.
His humbled beginnings began at an exterior restoration firm based in Manhattan where he began scanning papers. At the time, he took the job to support his family shortly after the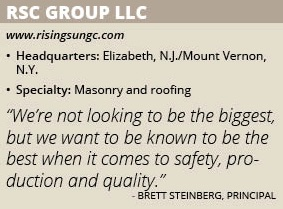 death of his father. While he had many opportunities to go to college, Steinberg came to realize that having an income to give his family a future was far more important. He always believed that you don't learn business in a classroom.
"Growing up, I had the best childhood any kid could ask for. Instead of having one of things I wanted, I got two. Some say that I was spoiled, and I can't deny that, but my father could never say no to his first born whom he always wanted to give everything that he never had the chance to have. But, when he died, everything got taken from us," he recalls, noting that the tragedy emboldened his work ethic. "I always tried to be the best at everything I did. I wanted to be the best, no matter how much persistence and dedication it took."
Steinberg learned lessons from his first boss and initial mentor. These included the value of persistence over knowledge. "If you don't know it, learn it. You have to chase it until you know everything about it," he advises.
He also learned the importance of perception and making a good impression. "The way someone perceives you for the first time they meet you is how they perceive you for your entire career," Steinberg says. "After perception, becomes your reputation. Both are key components in business development."
Business Evolution
Steinberg carried these lessons over to RSC Group, which he joined at the age of 20. At the time, the company was known as Rising Sun Construction and focused solely on public sector roofing projects.
But under Steinberg's vision and guidance, the company has evolved into a major firm, which began with an evolution of its marketing program. He changed its logo, created company brochures and generated references, while focusing on bidding jobs.
Over time, RSC Group became an elite masonry and roofing subcontractor for large clients in the greater New York area. Today, "We're doing 10 to 15 large-scale projects at a time, with another 10 to 15 projects waiting to start," Steinberg reports.
The company also has doubled its staff, which benefits both RSC Group and its clients. "It allows us to accelerate a job schedule," he says. "We can finish a job faster and move onto the next one."
Project Pride
RSC Group's current ongoing projects include The Brooklyn Grove, a residential building on 10 Nevins Street in Brooklyn, N.Y. "It's a two-in-one 25-story tower," Steinberg says. "The facade is filled with beautiful intricate brick details along with a significant amount of DryVit Outsulation Plus MD EIFS."
Another is La Central Building A, an affordable housing project that is being built in the Bronx, N.Y. where RSC is responsible for the massive CMU structure and the full brick facade assembly. Mountco Construction & Development is the GC on the project. "That's going to take us through the next year," he predicts. "It is one of the single largest contracts that we have signed to date, and one of the largest affordable housing projects we have come across."
The Hudson Cos. Inc. is developing the project, which will feature a YMCA, a production studio for BronxNet and an interior landscaped courtyard. According to the company, the overall project will have 992 housing units, 80,000 square feet of community facility space, and 45,000 square feet of retail.
The company is also working at Kaufman Astoria Studios, a movie studio in the Astoria section of Queens, N.Y. where it is performing all the CMU Masonry work, Extensive detailed EIFS façade and all roofing. "We've got a lot of great notable projects that we are absolutely honored to be part of," he says.
Outside of the current projects, Steinberg notes that it has won back-to-back Brick Industry Association awards: the Bronze award in 2017 and the Silver award in 2018.
The Best of the Best
RSC Group has nurtured a strong rate of repeat business. "My relationships with my clients are unprecedented," Steinberg says. "I'm very blunt and transparent as they sometimes are. At the end of the day, the contractor and subcontractor are on the same team with the same end goal which is to build the project safely, with quality work, in a timely fashion."
This approach benefits both sides. "As long as we look at each other in the eye, and always ensure that our actions are consistent with our words, I don't think much more can be asked of either party," he says, adding that he takes pride in his customer base. "I work for the best of the best in the entire New York region, including TG Nickel, L+M, Urban Atelier Group, Hudson Meridian, New Line Structures, Monadnock, Mountco, CMA, Lemle & Wolff, Danya Cebus, Adam America, Radson Development and Toll Brothers."
Steinberg also has established himself as a familiar face with each client. "I know the owner of each company [along] with the vice presidents and the project managers," he says. "I make sure to always prioritize each and every client, especially those clients who gave us our first shot."
Critical Components
RSC Group's staff has been critical to its success, Steinberg says. "Everybody plays an important role in the day to day operations; from our yard personnel and drivers, to our project coordinators, our Supers and Foremen all the way up to our project managers and Principals make this possible," he says.
Steinberg adds that it is essential to have a team that is both knowledgeable and effective. Each employee of the company showcases both attributes.
"Running a job has a lot of components," he notes. "We always get it done every single day, no matter what it takes."
Steinberg also makes sure to provide his employees with a stable work environment. "We always keep the guys steady and proficient," he says. "If they're on a job for six months, they know that after that project there is another one ready, which allows them to have job security."
RSC Group also has nurtured longevity in its staff by making sure that its employees are working in a safe environment. "For me, the life of an employee is worth more than any contract that I could ever sign," he declares. "They know that we bend over backwards for them, want them to do well and be happy, and that's why they're loyal."
A Good Time
Steinberg is proud of RSC Group and how he has grown it in a short period of time. "Sometimes it seems surreal," he says. "We've made a very good name for ourselves and we've put a dent in a market that is very tough to break into," he says.
He also takes pride in the respect that RSC Group has earned. "We get it from our clients, competitors and suppliers," he says, adding that he makes sure that the company treats them the same way.
"I'm proud of the respect we have for everybody in this rapidly changing industry and market."
Now is a good time for RSC Group to be in business, Steinberg says. The masonry projects that it has on its slate for the next two years are bigger than the ones it previously earned. "The affordable housing projects are getting bigger and bigger," he says.
"Those are my favorite," he says, noting that it can be challenging to stay abreast of the market as it takes on projects with increasing needs for labor, materials and equipment. "It's all about getting afloat and maintaining an operation that does not sink for us."
But as RSC Group moves forward, it plans to maintain its current size. "We're not looking to be the biggest, but we want to be known to be the best," Steinberg says, adding that the company wants to continue achieving this in areas such as production, quality and especially safety.
He also wants RSC Group to take part in both large- and small-scale projects in New York City's affordable housing market. By doing so, the company is participating in the city's Housing New York plan "and something that's going to be somebody's home," he says.
SIDEBAR – The Three 'P's
RSC Group LLC Principal Brett Steinberg has been guided in his growth of the company by three critical values: pride, principles and persistence. These have helped him nurture a family culture at the firm, he says.
"There's a lot of pressure to make sure that our families are fed," he says, explaining that he not only works for RSC Group's clients, but also its employees' families. "We don't leave anybody straggling. The three 'P's are what take you to the next level."