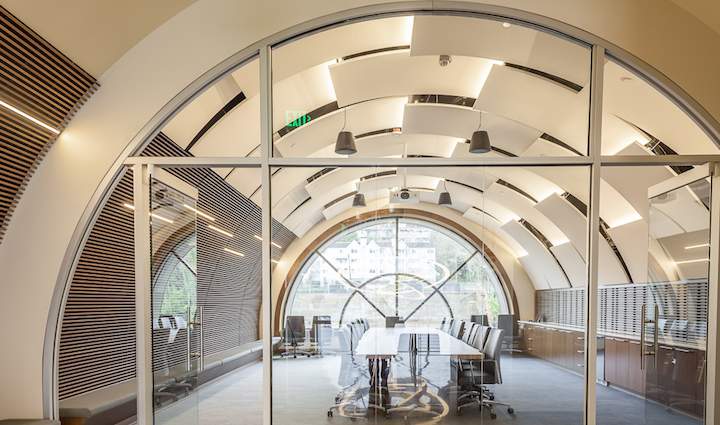 Fast-growing R|MILLER has made a name for itself in the in the Pacific Northwest.  
Fate stepped in. Robin Miller never planned to own a construction company. He wanted to be an engineer. But as fate would have it, he was working for a San Diego-based developer in the role of a carpenter.
One day, his company rejected a deal for a series of tenant improvement projects for a local shopping center. Knowing his work, the developer of the shopping center recommended Miller personally. Would he be interested in doing the tenant improvements himself?
"It wasn't something I planned to do," says Miller, founder and CEO of R|MILLER Inc., a full-service general contractor based in Bothell, Wash. "But one thing led to another and I pulled a license and started doing the tenant improvements and pretty soon I found myself working in eight states. It was just good luck."
He founded his company in 1981 – focusing on tenant improvements and renovations. From the white sandy beaches and lush flora of Hawaii to the glaciers, mountains and wildlife of Alaska, his work took him on travels all over the country.
"You couldn't repeat what I did if you planned it," Miller says, chuckling. "I think a part of it was that I ran into the right people at the right time under the right set of circumstances."
Today, R|MILLER is a full-service general contractor with expertise in varied aspects of construction, from land asset evaluation to finish craftsmanship.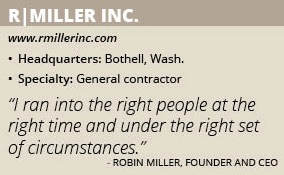 Over the past four decades, the company is known to have collaborated with various owners and architects to construct landmark buildings and tackle iconic renovation projects in the Pacific Northwest – including Seattle's Space Needle, a project for the U.S. Navy and personal asset projects for William Boeing Jr.
"I don't want to paint this picture that every project has been rosy," Miller says. "But watching many of these projects come together has been incredibly fun. I love meeting new people and seeing their vision come to fruition."
High Profile
In the case of the Space Needle, R|MILLER performed a number of different renovations and improvements over the course of several years. That includes its restaurant kitchen renovation, HVAC renovations, outdoor deck resurfacing and skyline level renovation.
"Not everyone can say that they worked on such an iconic structure," says Ryan Healy, COO at R. Miller. "We did 23 projects throughout the Space Needle over a period of ten years."
Another high profile project, completed in the 90s, involved the total renovation of an existing 60,000-square-foot vacant building in Washington and converting it into a state-of-art human resources facility for the U.S. Navy.
"It was a turnkey project," Miller says. "We worked with all their systems analysts, IT people and various Navy departments, which was a lot of fun. It was something I'd never done before. Anytime I can broaden my horizons and learn something new, I'm in."
Wineries and Restaurants
Although R|MILLER is licensed in 11 states, the majority of its projects are located in the Seattle area. The company is known for both renovations and ground-up construction – especially in the commercial office and retail markets.
Lately, the general contractor has been tackling a lot of projects for restaurants, wineries and distilleries. That includes a project for DeLille Cellars, a winery in Woodinville, Wash. Set for completion in fall, the project involves building the winery's new headquarters, production facility, tasting room and retail tower.
The winery's new space is roughly 30,000 square feet: 9,000 of retail and event space, 5,000 of office space and 16,000 of winemaking space. Its new three-level tasting room and retail tower is at the former Redhook Brewery.
"The project involves ground-up construction but also a redevelopment of the old Redhook Brewery," Healy explains.
On the restaurant side, R|MILLER recently completed work on another restaurant for WildFin American Grill in Vancouver, Wash. This 6,600-square-foot project began as a design-build collaboration with the design group and owner.
Tenant improvements included pre-construction services, interior mechanical, electrical, plumbing, interior partitions and specialty architectural wood elements and other high-end finishes throughout the dining, service and bar areas. Exterior work included heavy steel trellis, storefront changes, outdoor patio/seating area and a gas fire pit and pergolas.
"The client was actively involved with material selection," Healy says. "We self-performed a lot of the finish carpentry. Being a smaller GC, we offer high quality and specialty finishes. We have a team of carpenters and laborers that can provide that level of expectations."
Office and Retail
R|MILLER recently teamed up with Nitze-Stagen – a Seattle-based private investment firm specializing in commercial office, industrial and retail properties and adaptive reuse – to redevelop 760 Aloha Street in Seattle's thriving South Lake Union submarket.
The project includes redeveloping a 41,500-square-foot building using the existing structure as a base for four additional floors of office space including an office penthouse. Much of the authentic character of the existing structure will be maintained and highlighted in juxtaposition with the new, modern structure above.
The 760 Aloha property is surrounded by an abundance of recently constructed apartment buildings and major technology and bio-technology campuses including Amazon, Google and Facebook.
"The developer is targeting a high-end tech company as a tenant," Healy says. "It's designed to be a Class A boutique office focusing on high tech finishes because it's in the central hub of technology."
Another recent office building project involved redeveloping an 81,600-square-foot building for Pemco Insurance. The project included a full interior and exterior upgrade of the 80s building with various design functionality and code issues.
Plans called for a complete renovation to the interior lobby. That included a new curtain wall system, fireplace, and glass railed staircase utilizing high-end modern finishes. Open spaces and hallways were reconfigured to maximize views and bathrooms and parking areas were upgraded to be ADA compliant.
The entire building incorporated new mechanical, electrical and life safety systems, exterior cladding included a new steel skin and the roof and expansive decks were given new surfaces, flashings and trims while the exterior planter system was structurally altered to halt ongoing maintenance issues.
Investing In Technology 
R|MILLER has made significant investments into technology in the past few years. That includes installing Procore, a new project management software platform designed to support the company's operations team from the bidding process to project completion.
The software connects people, applications and devices through a unified platform to help construction professionals manage risk and build quality projects — safely, on time and within budget.
"It also has a portal for all of our subcontractors, architects and customers to access at no cost," Healy adds. "They can go in and look at daily reports, schedule updates and up to the minute information. And you really can integrate this software into an ERP system."
For its accounting team, R|MILLER has invested into Spectrum software from ViewPoint – a web-based construction ERP solution with leading-edge tools for accounting, human resources and payroll – to name a few. "Procore and Spectrum talk to each other, so it's all very well integrated," Healy adds.
R|MILLER also implemented two additional technical improvements this year. It invested into SketchUp, a new 3-D modeling tool and Revit, a design software platform that allows the company to use design models for cross trade disciplines.
"We also created a new position in our company for virtual construction and design management," Healy says. "We have invested in this new position and technology as a standard of care for all projects."