Rising up
An innovative modular manufacturer and design-build firm, Rise Modular is on a mission to revolutionize the traditional 'stick-built' construction process
According to a study by McKinsey Global Institute, manufacturing productivity has increased by almost 800 per cent over the last 80 years. Conversely, across the same period, construction productivity has increased by only six per cent. To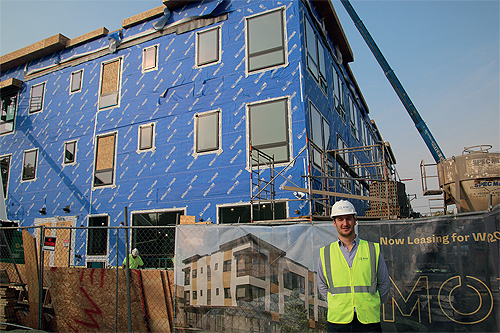 Christian Lawrence, the astonishingly slow, single-digit growth – facilitated in part by a lack of change or development in construction methods – was a major hint that the industry was in desperate need of innovation. It was a notion that would eventually become reality in the form of Rise Modular, a company focused on faster, safer, more affordable, environmentally friendly construction methods.
Not long before founding Rise Modular, Christian returned home to Minneapolis to start a real estate business. After learning that construction costs, and the rental rates resulting therefrom, were rising faster than household income, he soon became fixated on solving the issue with technology.
"Soaring costs have directly contributed to the affordable housing crisis in the US," Christian says, "and I was certain that technology would be the answer, not just more subsidies. I had read about modular construction being used successfully in Europe and Asia for many decades. It was increasingly being used on the East and West Coast of North America, but had not been done on a large scale, to my knowledge, in the center of the country. We do have a few modular plants in the Upper Midwest, but they are all focused on single family homes and they all, respectfully, turned down a multi-family apartment project I was developing.
"After deciding to go it alone, I visited a few plants and was captivated. The technology made sense from a high level and I could see how it might industrialize construction by way of manufacturing units on a factory assembly line like we do with pretty much every other product in our lives. When I mapped out the closest modular company that could do a large-scale apartment project, it was over 1500 miles away and transportation costs would eat up any savings that could be achieved in the plant. It was clear to me then that there was an opportunity to start a company in the center of the country and serve a market that previously had no suppliers."
Subsequently, Christian committed to the formation of his new modular business, and in October 2019, he acquired a 150,000-square foot facility in Owatonna, Minnesota, to house its manufacturing operations. After months spent planning, designing, retrofitting the plant, and installing custom machines and equipment, Rise Modular's Owatonna facility started production in May 2020.
Unsurprisingly, for Christian – not just Rise's Founder, but also its CEO – the modular construction process itself is the most important technology the company employs. As a result, when designing and equipping Rise's production facility, the focus was predominantly on ensuring that everything was in place for the process to be as smooth and efficient as possible.
"Modular construction is an entirely different process than traditional stick-built practices. Because most of a project is performed in a factory, on an assembly line, you need to have a facility equipped accordingly," Christian explains. "Our assembly line is proprietary and we spent months designing it. We also employ automated processes where we think they make sense, for example, our saws are robotic, meaning all wood for a project is cut and labeled by an automated saw and then brought to a station on the assembly line where it is going to be used. Automation in that sense reduces waste because it optimizes efficiency and eliminates errors. It is a reflection of how our whole factory and assembly line is designed – to increase productivity and efficiencies."
Of course, a factory cannot operate on automation alone, and it is the people at Rise Modular who have made a real difference in the early days of the company's journey. The modular executives, professionals, builders, and general contractors working for Rise have collectively constructed several thousand modular, and more than 10,000 traditional stick-built, hotels and multi-family projects.
In terms of culture, Christian has instilled a focus on innovation and quality across his workforce and the result is a team relentlessly determined to deliver successful projects for Rise customers – and have fun whilst doing it. When the company embarked on its inaugural project in the second quarter of 2020, the cumulative years of expertise and experience in modular and stick-built construction were successfully leveraged as that is wrapping up on time and on budget.
"We fabricated and stacked our first apartment project in September 2020," Christian reveals. "All that remains is finishing the exterior of the building and landscaping. The complex will be open before the end of the year. Meanwhile we are excited about starting our second project, which is much larger. Based in St Paul, Minnesota, it is a 200-unit, seven story project – five wood over two concrete – which, like our Minneapolis project, will be the first modular apartment scheme in that city – our state capital."
As described by Christian, the success Rise Modular has achieved in its first year of business is remarkable considering the circumstances. The Covid-19 pandemic has 36presented a major challenge for businesses across the world, and the hospitality industry – a major sector for modular construction firms – has been hit particularly hard. Though the company did lose one hotel project because of Coronavirus, Rise has been able to adapt, pivoting instead toward multi-family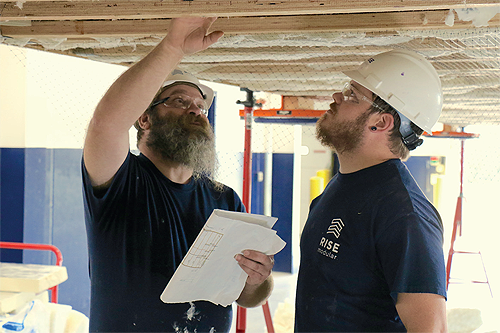 modular projects throughout this year. With activity in a resurgent hospitality sector already picking up for Rise, the distinctive benefits of the company's work are becoming clearer and clearer to those in the industry.
"We've had a number of hotel developers reach out to us in the last month or two about projects to start in 2021, so that is a really good sign," Christian reports. "It's obviously been a challenging year to grow a business, but we are lucky because there aren't any other commercial modular suppliers like us in the center of the country. People come to us because their construction costs are too high and we are a solution to a problem. Our projects are completed 30 to 50 per cent faster, cost ten per cent less, offer better quality, and are more environmentally sustainable than traditionally built projects."
Among the environmental benefits Christian mentions are a reduction of waste due to the factory environment, easier reuse of scrap materials, and a decrease in emissions thanks to the company not relying on just-in-time delivery insofar as vehicles make fewer trips with greater loads. For these reasons alone, it is not hard to see why modular technology is increasingly viewed as the construction method of the future.
"We really believe that offsite and modular technology can revolutionize certain segments of construction," Christian states. "Obviously, modular doesn't apply to all construction types, but for multi-family and hospitality properties, we really think modular can transform the way we do things and we are going to see much more adoption over the coming years."
What the future holds for Rise is yet to be determined, but all indications suggest that the business is set to grow rapidly. Christian's vision includes multiple Rise plants around the US by 2025. Interested in more than just expansion though, the company's CEO ultimately believes that Rise can have a widespread, positive impact on the country's affordable housing crisis.
"Currently, we are in the pricing phase, or some level of pre-construction, on about 3000 units of projects across the Midwest, including in Minnesota, Wisconsin, Illinois, and Colorado. We think that, once we establish ourselves here, there is great opportunity and demand to bring this technology to other parts of the country," Christian asserts. "One thing I strongly believe is that modular has the potential to really move the needle on affordable housing. Increasing the housing supply at whatever price point is beneficial to housing costs, but if we can reduce the cost of building subsidized affordable housing, we can increase the number of units being built with a finite amount of subsidy going toward those projects. Ten per cent more units with the same amount of subsidy would be huge for the affordable housing crisis. It's not the only market we are going after, but we would certainly like to play a role in solving some of the issues that the US faces."
Rise Modular
www.risemodular.com
Services: Modular construction