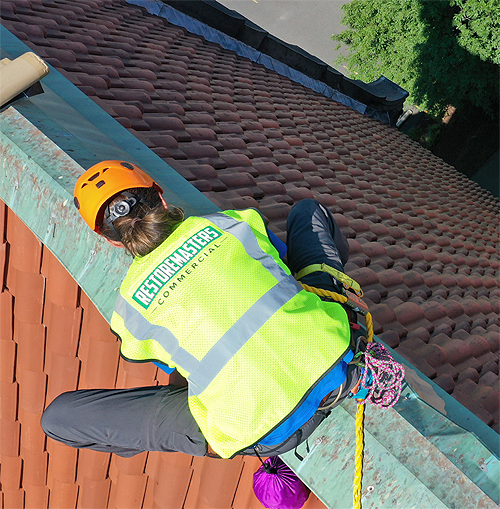 Roofing America
One of the USA's most respected specialist roofing contractors, RestoreMasters boasts a proud 50-year legacy of integrity, professionalism and construction excellence
Recently named on the prestigious Inc. 5000 list of America's fastest- growing private companies, RestoreMasters is one of the USA's premier large loss restoration specialists and considered one of America's Top 100 Roofing Contractors. Providing new construction, roofing and restoration services to property owners and communities throughout the country, RestoreMasters' industry-leading solutions guarantee superior craftmanship for a wide range of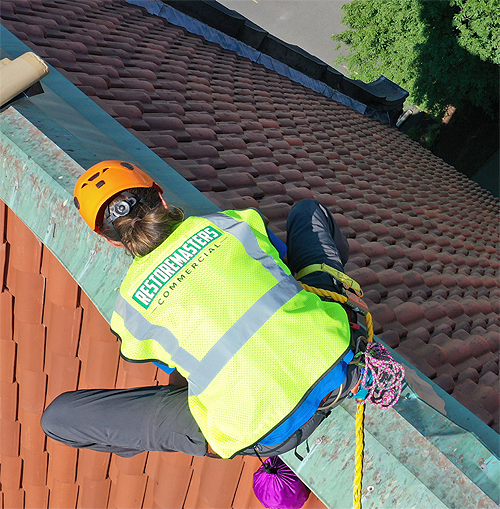 small to large-scale commercial and residential projects.
With more than 50 locations spread across the entirety of the US, RestoreMasters is a trusted contractor for local communities throughout the nation. According to Owners Matt Irvin and Justin Reichl, possessing the capabilities of a national firm whilst retaining the feel of a local business is one of RestoreMasters' core strengths.
"I think there are a lot of similar roofing businesses with a national footprint, but there are not a lot of national restoration firms," Matt declares. "For us, it's about compiling our capabilities and taking care of each location as one business."
From Seattle to South Carolina and from Nevada to New Hampshire, unitin is a single culture that revolves around service, sacrifice and delivery. Committed to these values, and a strong believer in the importance of stewardship, the company prides itself on treating its employees and the communities in which it operates with the same respect that it affords its clients.
"I think our culture is a bit different to everybody else's and I think that helps set us apart," says Justin. "We actually care about all our people, right across the board, from the sales guys to our installation crews to our office staff. Our employees are not just a number; they are like family to us, and I think that goes a long way.
"It's a culture reciprocated in the way our staff attend to clients," Justin continues. "We will sacrifice whatever it takes to the best of our ability to fulfil our mission to serve, and we will deliver excellent results on every project. As a RestoreMasters customer, you have a team of professionals working hard every day to deliver the best project experience and the best project outcome."
A key modern milestone for RestoreMasters arrived in 2018 when Matt joined up with business partner Justin Reichl in a move aimed to take the business to the next level. Today, in 2021, the company is a preferred national roofing and restoration contractor for a number of major multi-location property owners, including Harley Davidson, Wyndham Hotels, Big O Tires, Ace Hardware and Northeast Florida Safety Council.
"When Justin and I partnered up in 2018, we pooled our resources, our knowledge and all our people. It acted as a real catapult for this business," Matt reveals. "As of 2021, commercial roofing is our core business and accounts for around 85 per cent of what we do, but we are certified in all sorts of roof systems where we can offer 20-year warranties. We also offer water mitigation and a wide variety of emergency services so that we can keep businesses up and running meaning owners don't have to worry about downtime or being out of business. One of our key roles is to get to clients fast, cover roofs immediately and then help to get things going as soon as possible."
As a certified member of the National Roofing Contractors Association, RestoreMasters provides a host of roofing services, including built-up roofing, EPDM roofing, PVC roofing, asphalt shingle, tile and slate, and metal roofing. On the commercial side of the business, TPO roofing systems are one of the company's most popular offerings. Designed for commercial buildings with a low-slope or flat roof, a TPO roof consists of a single-ply membrane, supported by a properly installed solid substrate – often an engineered insulation system. Varying in thickness from 40 millimetres to 80 millimetres, TPO roofing systems form an effective barrier designed to repel water, snow and ice, keeping buildings and their contents safe and dry. Puncture-resistant, energy-efficient and cost-effective, TPO roofing offers key advantages over similar roofing alternatives.
Conversely, on the restoration and disaster response side of the business, RestoreMasters provides a wide array of specialist hurricane, tornado, hail, wind, tree damage, and burst pipe solutions. Dedicated to restoring properties to pre-loss condition, RestoreMasters helps customers every step of the way, from initial clean-up to insurance claim assistance, and from restoration to construction.
Among the company's emergency response offering is a shrink wrap roof seal, which has become the preferred roof tarp alternative for emergency leak protection in disaster areas after serious weather events. Consisting of a large plastic membrane heat-welded to the contours of a roof, shrink wrap provides protection from catastrophic water or hail damage while customers wait for the installation of a permanent roof.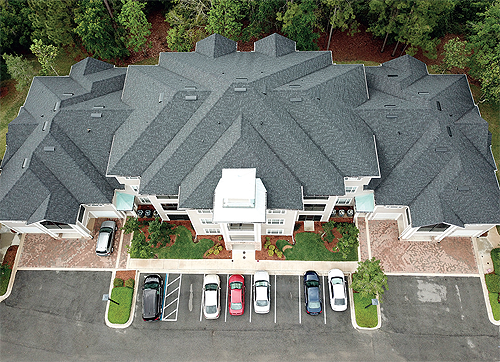 As an essential business during Covid-19, RestoreMasters has been able to continue supporting those affected by natural disasters over the last 12 months. In March 2020, following a tornado in Nashville, the firm was on the ground within hours to help with the significant clean-up and restoration efforts. Similarly, when Hurricane Laura wreaked havoc in the south-eastern United States in August 2020, RestoreMasters was immediately on hand to repair damage to churches and hotels in the region.
"Despite the challenges of the pandemic, I think we actually performed better than usual in 2020," Matt reports. "Some things had to be done differently – for example, when we performed damage assessments, we had to show pictures over zoom calls, but it didn't prevent us from getting the job done. We were essential, and so we were able to mobilize and get on site and carry out vital emergency work for the people of this country."
More recently, RestoreMasters has been working around-the-clock to help property owners with emergency water mitigation needs due to frozen pipes, burst pipes, severe interior flooding and water damage during winter storms in Oklahoma and Texas. Assembling dozens of crews from the company's vast national network to help with water extraction, damage mitigation and general clean-up, RestoreMasters is, once again, delivering a critical service to hospitals, schools, churches, apartments and hotels.
"We're proud to have performed some really important work over the last year," Justin states, "and it's set to continue in 2021. We're always investing in the business and recently hired Nick Iovieno as our National Sales Director. He is already proving to be an instrumental factor in our growth."
Looking to the future, Matt and Justin are confident that RestoreMasters will remain on a trajectory of growth for years to come, with expansion into Canada, and eventually Australia, headlining the firm's plans. Ultimately, within the next decade, RestoreMasters hopes to establish itself as one of the top five contractors in North America.
"We've performed projects with a diverse range of large companies from Diamond Resorts to Home Depot, but that is just the beginning," Matt asserts. "We want to carry on growing and, though we weren't able to do it last year due to Covid-19, we expect to open an office in Canada and expand our operation up there very soon. After that, the Australian market will be the next target. We've already got $140 million dollars' worth of contracts signed and lined up for 2021, so there are lots of reasons for us to be optimistic going forward."
RestoreMasters
www.restoremastersllc.com
Services: Specialist roofing contractor