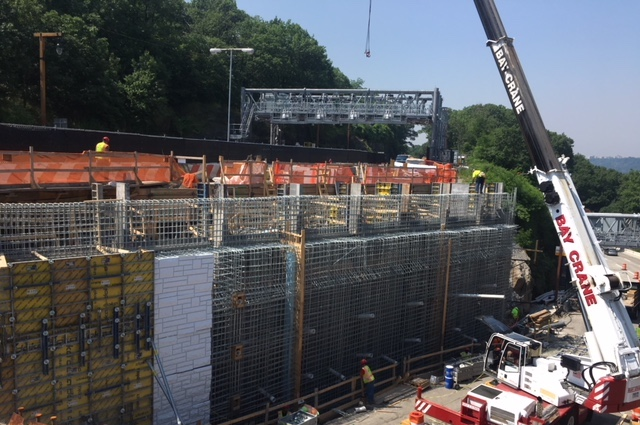 Restani Construction Corp.
Restani Construction's willingness to go the extra mile has earned it a strong base of repeat clients.
When Restani Construction Corp. takes on a project, its customers can count on it to meet their needs. "We really pay attention and work with the client as best as possible," Vice President of Engineering Jack Alfassy says.
The company also makes sure to include them in in-house meetings, as well as go above and beyond the standard when it comes to service. "We help out wherever we're needed," he says. "It doesn't matter what we need to do. We go the extra [mile]."
Based in Astoria, N.Y., the firm specializes in heavy/highway and civil construction in New York City and the Greater New York Area. "We consider ourselves one of the best paving contractors in the city," Alfassy says. "I don't think there is anybody that does more paving than us."
Restani started operations in the 1960s and over time grew into the roles of general contractor for many agencies. "We were really good at milling, paving and spot work," he explains, adding that it later moved into underground utility, bridge and street work.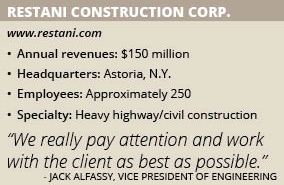 The company's work in the private sector allowed it to complete projects at such landmarks as Heritage Field, the site for the former Yankee Stadium in the Bronx, N.Y. Today, "We're performing work for many agencies, like New York state Department of Transportation, New York City agencies and major utility companies like Con Edison," Alfassy says.
Compared to some of its competitors, Restani is relatively mid-sized. However, the company has been able to compete while earning a strong reputation as well as annual revenues of $150 million. "It's a comfortable place to be," Project Manager Graeme Dutkowsky says.
The company also has a strong base of repeat clients, which includes the New York City Economic Development Corp (NYCEDC). "Every time there's a job, they'll call us to be one of the main people to give them a price," Alfassy says.
In fact, the contractor recently won a small job from the NYCEDC, which has been satisfied with Restani's ability to continually meet contract requirements. "They are very happy for us to do work with them," he says.
Project Partners
Restani's current work also includes rehabilitating a portion of the Henry Hudson Bridge in New York City. The structure, which stretches over the Spuyten Duyvil Creek, connects the northern tip of Manhattan to the Bronx.
The contractor is completing work on the bridge for the MTA Triborough Bridge and Tunnel Authority (TBTA). Restani started on the Manhattan side of the bridge in April 2017 and has a 45-month schedule to replace the four upper and lower levels of the bridge.
Early on, he says, the company met with the MTA's chosen engineer and inspection company. "We identified the risks associated with the job to speed up the process and get this job done within the budget and safely," he says.
The MTA, he adds, is another repeat client for Restani. "We've had many past contracts with them," Dutkowsky says. "They're probably our biggest client right now, as far as revenue."
In a Tight Space
Restani is currently right on schedule with its portion of the project, which carries a cost of more than $87 million. But the work has not been without its challenges, Dutkowsky admits.
Although the company is operating in a small footprint, "There are a lot of work restrictions in terms of what lanes you're able to close," he explains. "We found it particularly challenging to work around these restrictions as efficiently as possible."
Currently, the contractor is supporting one half of the bridge while it demolishes and reconstructs the other. When that it is finished, it will switch sides. "We've had to – with our own forces – put our heads together to find the most efficient way to support this bridge," he says.
This has required Restani to erect structures to support the bridge. "The staging of this job is very intricate," he says. "We've had to get custom made support towers engineered because of the loading requirements and site logistics."
Because the project is a design/bid/build job, Restani also has had to design 30 percent of the project, which found it having to account for utilities as well. "That's been the most challenging, so we're going to be using a special type of concrete for the bridge deck," he reports.
But throughout the project, Restani has met the challenge of keeping its site safe. "The MTA is very tough on safety and so are we," Dutkowsky declares, adding that the company employs a full-time safety associate who works to mitigate issues before they occur.
The company also regularly implements safety measures, discusses the hazards before each major task and invests time in safety to make sure its jobs move forward. "If there is an accident, we all lose," he asserts. "It's never good to have an injury."
Restani has a Corporate Safety Manager that supervises the on-site safety managers, visits all sites on regular bases and makes sure that all safety measures are implemented. Daily safety meetings are conducted every day before work shifts take place.
Strong Values
Restani operates with a family-style environment that values teamwork. "We are very one-on-one," Alfassy says. "We know each other and we help each other here."
The company also maintains a strong focus on integrity in its work. "We are very honest and very straight forward," he asserts. "We don't nickel and dime agencies, but we help as much as we can. That's why they like to work with us."
Another area of focus for Restani is making sure that its operations are state-of-the-art. For example, "We are big on software here," Alfassy says. "Many big construction companies are not even close to the amount of technology that we're using."
When it comes to project managing, field reporting, dispatching and bidding, "The whole company is very high-tech," he says, noting that the company also uses GPS and other technologies when surveying jobs. The survey software is also integrated with the on-site equipment for specific construction activities.
Leading the Way
Alfassy is proud of Restani and the pride it takes in its projects. "We don't fight, we keep going on," he says, adding that the company makes sure it takes care of its subcontractors. "We're like fathers to these people. If they need help, we help them."
Dutkowsky agrees, adding that the work of the subtrades have been critical to its success on the Henry Hudson Bridge project.
"We're only as strong as the weakest subcontractors," he declares.
"We need to show our support to them in any way [we can]," he continues. "You can't have five people working in the same area without a working relationship. We can't do our work without them in some instances."
Alfassy sees a strong future for Restani. "We are a growing company," he says. "Every year, we are taking on more and more projects, and it looks like this company is going to be one of the leading firms in New York City."