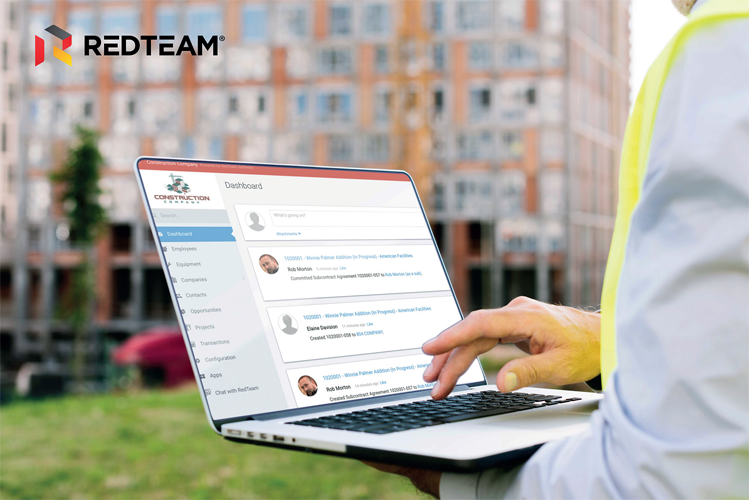 Mission driven
With its own extensive background in construction, RedTeam knows how vital it is to look after those involved in a project. With new investments and a closely-knit team, the business is determined to bring innovation and safety together to keep its industry thriving
The success of a building project requires more than assembly of the raw materials that form the final project; as the process itself is as important as the end result. Paramount issues are the safety of the construction crew and quality of the work. Effective communication between contractors and owners will have a direct impact on the overall cost and time required to complete the project. This is where RedTeam comes in. The business was founded by Michael Wright who is an experienced general contractor himself, and having worked in an industry layered in potential risks, commissioned development of a software program to manage and facilitate relationships among various project stakeholders. Since its inception, the organic software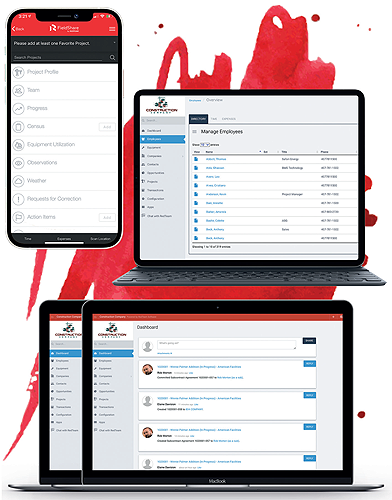 developer has been passionate about ensuring that all relevant parties involved in a building project possess the crucial information needed to get the job done.
"We make sure that the people who need to know what they need to know, have that information when they need it," says Frédéric Guitton, the Chief Revenue Officer at RedTeam. He speaks with Construction Today about the intricacies that make up both the business's software, as well as its team behind the scenes. "Obviously having a founder who has walked the walk is critical to us being able to provide the solutions that we do. There are so many factors that impact the efficiency of project management and clearly the issues we try to solve are affected by communication and ensuring that people have the necessary information at all times," he adds.
Based in Florida, this 70-member team is dedicated to providing exceptional customer experience and ensuring that its software is well utilized by its commercial contractor customers. "To me, purchasing the software is just like buying a crane; having it is only the first step – you need to know how to use it. In the same vein, helping our clients to maximize the value of our software is crucial to our success. Delivering our platform as a cloud service enables users to collaborate from mobile devices anywhere around the world, because these days real-time accessibility to data is vital. The ability to utilize all these devices allows our clients to create a much more unified perspective for every member of the project team," he shares.
RedTeam's deep industry roots keep it grounded in the practical realities of commercial construction, informing every aspect of the company's product design and development. Construction technology providers without real world perspective can create great solutions that solve real problems, but in doing so they sometimes create new problems, as well. Drawing markup tools have been adopted across the industry and it has revolutionized how we utilize design information in the field, but it also provides a perfect example of how a great new tool can also create new risks.
Consider how annotations on a drawing can have significant contractual implications depending upon who does the annotation, and who responds to it. Our team is well aware that contractual obligations and entitlements are formed by what people say and do, which is why RedTeam provides guardrails around the day to day communication it facilitates. RedTeam recognizes that its job is to protect its contractors, by helping them manage their contracts, control their project funds, and memorialize jobsite collaboration. "Getting these three things right," says Michael Wright, "…is absolutely essential for success in the business of commercial construction."
"We have had to carefully consider the various tradeoffs between efficiency and risk in project management," Frédéric explains.
According to him, a project consists of a myriad of distinct contracts. "With that in mind, we want to ensure that our contractors have a clear view of each contractual relationship over the life of their projects. We also need to be aware of the tasks everyone has and the financial implications of performance and change," he points out.
"As contractors adopt RedTeam, they gain a better understanding of how all communications may be considered contractual. As RedTeam handles everything, from business development well before a project may start all the way through final completion, contractors begin to understand how contract formation is a continuum in which every communication among contracting parties affects assignment of ultimate responsibility. Instead of thinking of contract administration as an administrative burden, savvy contractors learn how to utilize contracts as a tool to get their jobs done more efficiently and profitably."
"One thing we emphasize is a simple daily report and we help make that easier for the team to get their job done, while also optimizing the quality of the information with those data reports. We do this through our mobile application, which assists the data report in being completed more organically. If you think about a site manager's day, a few issues could come up: they become busy very quickly, and reports are put on hold. So, by the time the end of the day comes around, they have to remember everything and annotate a lengthy document, but with our app, you just take your mobile device, jot down the issue and it is already part of your data report for any safety observations you have that you can go back to in the future so the ease of use is mission critical," Frédéric informs us.
When it comes to innovation of this level, RedTeam depends heavily on client feedback as one of its key drivers for new developments, "It's one of those situations where we have to be intentional and we cannot draw conclusions too quickly, we spend a lot of time speaking with clients to find out how they would use certain features, what works best and what would make their lives easier. We really do prioritize the development-based feedback from customers and how typically they manage their work so that our software assimilates with them. We manage a log of around 300 to 400 suggestions and we review them regularly, so new enhancements to the software come out on almost a monthly basis at the moment. Of course, we are also being careful to not change too many aspects because making changes to the software also impacts the user's experience so we have to continually balance our input-output operations in optimizing the technology we offer," shares Frédéric.
Considering the ability to develop the software to the standard that RedTeam has, it comes as no surprise that the company is keen to continue to see its capabilities advance, bringing in new offerings to its portfolio along the way. "A massive gain for us has been the release of our TeamPlayer product, which is designed to enhance the collaboration between general contractors and their subs. With this, the sub-contractors can access documents in a single environment, and do their billing from their mobile device, so that has been a huge gain. There is a lot of work invested in managing the sub-contractor invoicing process, TeamPlayer helps hugely with that," he says. The company also acquired Fieldlens last December to enhance field collaboration and is now looking to investigate the best way of marrying operations of both RedTeam and Fieldlens to provide additional value to the construction market place.
Alongside the acquisition, Frédéric also shares how the business has undergone fresh management transformation, in which key hires were brought into the company to continue to pioneer it forward. "We had the opportunity to bring some great talent at a senior executive level, like Andy West for example, our new COO. We also recently hired Jim Atkinson as our new CEO, who is a fantastic professional for this industry. Both of them understand that this company serves the construction sector, not investors, and they know to make sure the interests with whom we work are well aligned with our own so that we create a win-win scenario for other parties involved in RedTeam," he expresses.
These impressive hire appointments came as a result of the business's recent $5 million investment from Jettycove, a private equity firm that focuses exclusively in technology companies, which Frédéric is excited to see help his business flourish. "An investment always comes with a validation of the work we've done, but I think what JettyCove brought to the table is a level of discipline to grow the business and this pushed us to take a hard look at everything we do and how we do it to maximize the final product for our customers. From my first phone call with the team, I knew they were the company we wanted to do business with. Since our first conversations, it was clear that the managing owner, Jamie Nissen, had a mindset relative to our own regarding what we wanted to achieve for this industry, and they have been perfectly in tune with what we think of ourselves as well," he says.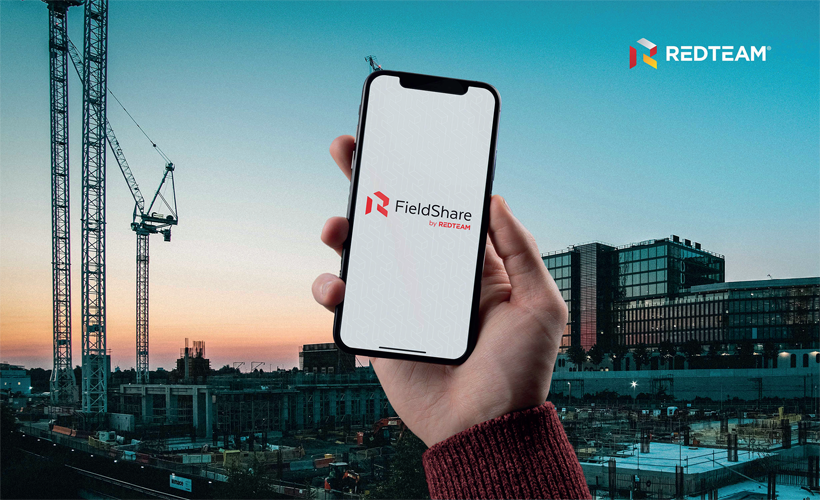 The investment is opening a host of opportunities for RedTeam and in the coming years, Frédéric has an ambitious and optimistic outlook for the company's success. "Although five years seems quite a long time from now, we see RedTeam continuing to deliver great value to construction companies, because that is how we think of ourselves. It is a very high stress industry and we want to support our clients in having a high level of confidence that their information is flowing the way it needs to be in order to make sure project delivery is as smooth as it can be. Yes, we know it won't always be perfect, but we all understand that this is a very fluid sector and changing circumstances need to be managed appropriately. Providing peace of mind is how we are driven and so in the future, I would love to see us recognized as the company that did right by the industry we serve, and I believe these goals are very achievable.
"I will also tell you that the Fieldlens acquisition went a long way into driving that mindset for us because it gave us a leap into field collaboration, which is critical. At the end of the day, when you think of construction, money is made in the field, but it's also lost there, and we have to make sure that the information is available to help every team member know what they need to be doing next – that is really mission critical," he emphasizes.
From Frédéric's experience, construction companies are adopting technology as a means to retain their talent as well as to improve the livelihoods of their labor. Because availability of a workforce can be a major constraint, RedTeam has put at the forefront of its focus the ability to make it easier for employees to complete their work efficiently, while being afforded the peace of mind that they will return home safely. "We often talk about construction people missing out on quality time with their family, because they just work so hard. That is why we are the perfect service for the industry because many of us have been employees and founders who have worked in the field so this isn't something that we look at from a third-party perspective; we lived it, we walked the walk and we know what it means to get up in the morning and worry about whether everyone working with us has all the information they need to complete their tasks, because if not, those mistakes fall on the manager and they need to be accoun able for them. But that's why we do what we do; to help eliminate that stress and make their work easier," Frédéric adds.
As part of the construction industry, RedTeam is completely committed to giving working professionals access to the best value technology to help them thrive in their business. "We are truly a service company. It's easy to say we are a software company, but we are in the construction business, as well as the service business – the software is really the tool. We work exceptionally hard to make sure the satisfaction of our customers is at the forefront for us," he expresses. As RedTeam aspires to be a pioneer in this niche sector, Frédéric is looking forward to the longevity of his business, as well as being part of sharing its success to keep construction projects across the US running smoothly and efficiently.
RedTeam
www.redteam.com
Services: Construction management software developer