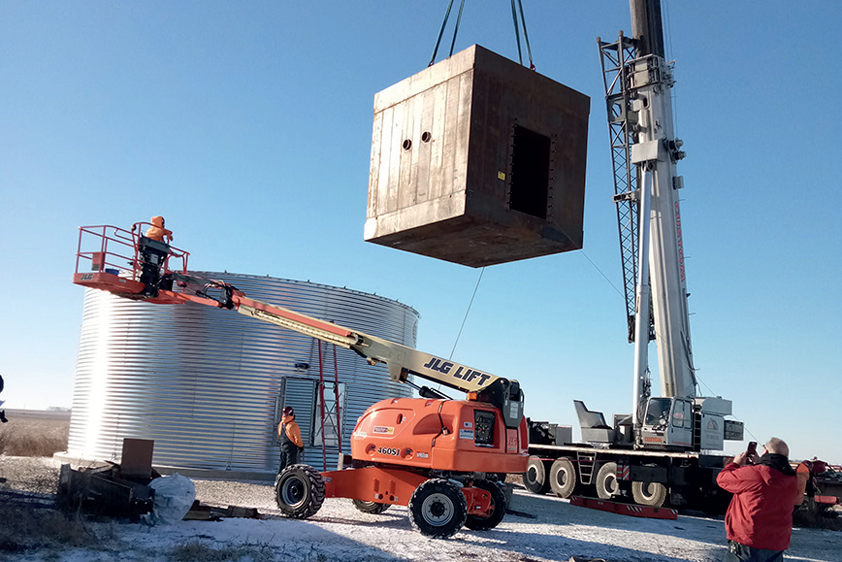 The Steel Bricks™ modular construction system developed by Modular Walling Systems Ltd, based in Renfrewshire, Scotland, has been used to construct an Environmental Blast Chamber for the University of Illinois at Urbana-Champaign. Known as a 'blast box', the revolutionary ultra-strong three-metre cubed chamber is now being used for explosives testing as part of a research programme on advanced warhead technologies for the US Department of Defense.
The Environmental Blast Chamber was fabricated in the UK by Caunton Engineering, one of the UK's leading structural steelworks manufacturers, at the company's manufacturing headquarters in Nottingham before being shipped to the University of Illinois at Urbana-Champaign.
The University of Illinois blast box uses the patented Steel Bricks™ modular construction system which comprises two steel face plates internally connected to create a 'sandwich' panel. The steel structure is then manufactured off-site as a single piece, before being filled with 72 tons of self-consolidating concrete in a continuous pour once installed. According to Dr. Stewart Gallocher, founding director of Modular Walling Systems, it is this proprietary process which gives the blast box its unique strength – as well as vastly reducing on-site time and labour costs – making it ideal for SMR construction, a market estimated to be worth US $1.2 trillion globally.
Caunton Engineering and Modular Walling Systems are now in detailed discussions with potential customers about a broad range of applications for the Steel Bricks™ system – including the global nuclear industry.