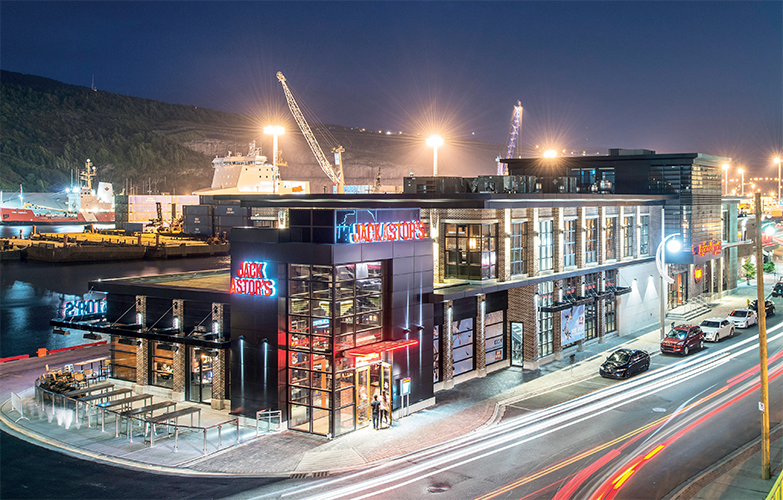 Another milestone
Atlantic Canada's award-winning general contractor, rcs construction, is looking to expand into the industrial sector after 25 years of successful projects in the retail, corporate, hospitality and residential sectors
After receiving the Bowman Award for its support and contributing efforts to the Construction Association of Nova Scotia, general contractor, rcs construction, is celebrating its 25th anniversary in style.
"We had a massive golf tournament with our suppliers, clients and staff," begins Doug Doucet, President. "In the same month, we launched a newly revamped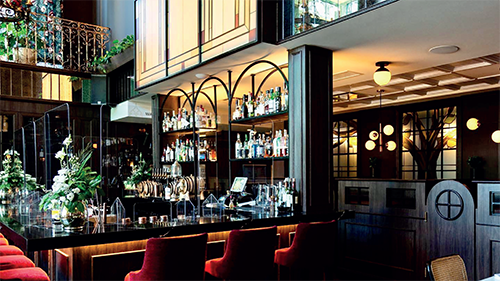 website and logo. We partnered with Enriched Academy to provide our team with financial literacy, and we also have a Christmas party scheduled at a resort in December for the entire company to keep the celebration rolling."
The milestone comes after an impressive history of continued growth in the construction industry. Having started under the name Retail Construction Specialists, the company has gone on to cover many sectors, ranging from corporate to multi-residential. "We deal with a great list of national brands in the retail sector. Our client list is second-to-none for this region; Wal-Mart, Sobeys, Loblaws, and McDonald's, for example, to local owner-operators. We have also diversified into the multi-storey sector over the past five years across both the residential and hospitality industries."
When asked about possible drivers behind the company's success, Doug pins them down to customer satisfaction, and operating the business on an entrepreneurial operating system, as articulated in Gino Wickman's book Traction: Get a grip on your business. "We pride ourselves on being transparent and upfront with all of our clients. It doesn't matter if we have been dealing with them for 24 years or 24 hours – our mission is always the same. Every project is customized to accommodate the needs and convenience of our clients, and by focusing on their most important concerns, we illustrate our customer-focused mentality. I would also add that our success is owed to our people, whom we strive to reward for their hard work and determination."
He shares that the above strengths have enabled the company to navigate the recent challenges posed by the pandemic. "Our openness to pivot and adapt to the world's changing climate has kept us at the top of our game. Before Covid-19, we were already known for going above and beyond for our clients. Throughout the changing processes, our primary goal was to keep customers pleased at any cost, which meant that we simply remained true to the essence of the business," he says.
Of the many projects completed by rcs construction, there are a few that Doug highlights, which platform the company's talent. "I'd like to note the Sobeys Cancer Support Centre's lodge, which is a 'home away from home for people suffering from cancer and need to travel to receive treatment.
"It's also inspiring anytime you start moving towards a new sector; one priority in the years to come will be securing more work in the industrial sector, with big names like Soprema and Michelin already on our list of clients, and we are excited to expand that list," Doug expresses.
According to him, bringing life to projects that will provide employment in the surrounding community is paramount to the company. With that in mind, he shares information about recently completed projects in Nova Scotia. "The Hilton Tru in Yarmouth and a Wyndham Microtel in Antigonish were completed during the pandemic, and we arecurrently working on a second Wyndham Microtel in Prince Edward Island. rcs construction was engaged from the onset of another project in PEI by providing preconstruction and construction management services related to the planning, design and construction of a 97-unit apartment building. This resulted in a five-storey structure, complete with underground parking and great amenities.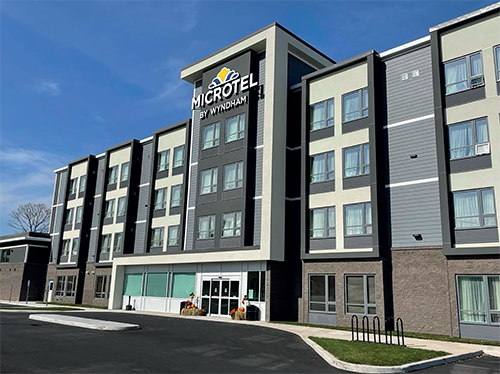 "On top of that, we are currently working on a new construction management project. This consists of a 37,914-square-foot guest reception and banquet facility overlooking the ninth hole at the Fox Harb'r Golf Resort. This is one of the most prestigious golf resorts in the world, and has been visited and played by the likes of Tiger Woods, Bill Clinton and Sidney Crosby, to name a few. Our team is in the design phase for new multi-storey development in Nova Scotia, where the first phase consists of two towers and a podium."
Setting aside the prominent projects currently underway at rcs construction, Doug divulges developments happening within the company. "Our President and Leadership recently identified and defined four key pillars that will be integrated into all facets of the business and business processes. These are workplace diversification, mental wellness, culture and engagement in the post-Covid-19 era, and digital optimization. Working these into our overall strategic plan will be key for us, as a company, to realize our ambitious goals for growth and in hitting our next benchmark."
While the construction industry stabilizes itself in the aftermath of Covid-19, Doug's outlook for 2022 is optimistic. His company will be looking to expand the scope of its work to include more significant projects, with an expansion into specific sectors such as the industrial. "In terms of increasing the scope of sizes, rcs construction is exploring our first $60 million contract and will hopefully procure this before the end of the year. Also, as mentioned, we are looking to take on more jobs, ramp up our presence in the industrial and multi-storey sectors, and have a stronger presence in procuring public work. To date, most of our focus has been in the private sector, so we need to diversify if we want to hit the numbers that we have set out in our strategic plan.
"rcs construction has had a terrific 25 years of business, and this is all thanks to the relationships that we have built with our clients, communities and our stakeholders. We are thankful for the success we have experienced, which we attribute to these relationships, and are looking forward to the next 25 years and beyond. Lookout, Atlantic Canada!" he concludes.
rcs construction Inc
rcs-construction.com
Services: General Contractors