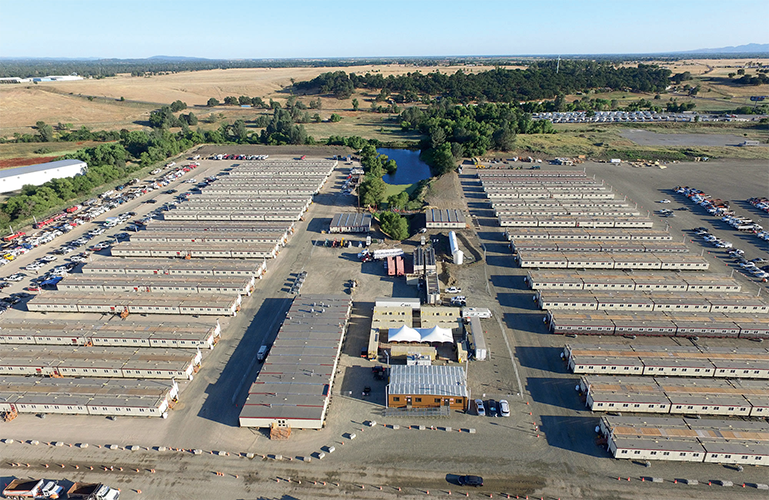 The modular construction industry plays a vital role following natural disasters, assisting with both short term disaster relief and longer term rebuilding efforts. And as it has following hurricanes, tornadoes, and earthquakes, the industry responded quickly during the ongoing Covid-19 outbreak. There is simply no better or faster means of providing shelter, schools, and medical facilities in times of great need.
Black Diamond: disaster relief across the Continent
Black Diamond Group was founded in 2003 in Alberta, Canada. Initially, the company focused on leasing and selling space for remote workforce accommodation in the oil and gas sector in that province, and the company grew rapidly. Trevor Haynes is Co-Founder, Chairman and Chief Executive Officer. He says: "In 2005, we made acquisitions in Eastern Canada to build up our non- accommodation related fleet there, and then we moved into the US in 2009. We acquired a business in Australia and started operations there in 2013."
The disaster relief reach of the company is extensive. "Black Diamond has the capacity to respond to emergencies anywhere in Canada and Australia, and in the lower 48 states of the US," Haynes says.
Haynes says that the first disaster recovery projects the company were involved in were "a bit ad hoc" but now, having been involved in disaster recovery for over a decade, their process has evolved. "We've built up an internal knowledge base within our team for how to respond to disasters. We've also developed a network of connections – with companies that provide food or janitorial services; those that deal with construction, transportation, power, and waste; with suppliers; and with government agencies that manage emergency services."
Furthermore, Black Diamond is now more proactive about responding to invitations to tender from agencies that are tasked with managing emergency relief, especially in the US. "We bid and secure those contracts. Then, if something happens in a particular area where we've been pre-selected, we can know in advance which agency will be engaged and that we'll be responding there."
By closely monitoring supply and demand of their products in the markets they serve, the company has a better understanding in advance of what might be needed if and when a disaster strikes in one of those areas. "We also organize in advance the partners we need to engage with in order to provide the full scope of those contracts," Haynes says. "Ten years ago, when a disaster occurred, we might have scrambled to provide the necessary service. But these days, we're much more organized ahead of time."
Looking back at two modular companies' Covid response
Modular construction attracted mainstream media attention during the pandemic – especially the modular hospital assembled in Wuhan, China in a matter of days. But it wasn't just in China that modular companies were stepping up and responding to the urgent need for additional hospital space.
R.I. Group
RI Group (www.rigroup.it) is a large Italian modular company, with factories and offices around the world, 'from Kosovo to Lebanon, Djibouti to the UAE' as their website puts it. In 2019, the company responded to an international tender from NATO, for the supply of field hospitals. RI Group won the contract and developed a modular field hospital that consists of both soft, interconnected tent modules and rigid modules constructed from ISO 20 shipping containers. Delivery to NATO had been planned for early 2021, but when the pandemic hit Europe in the spring of 2020, manufacturing the field hospitals was expedited.
Since the summer of 2020, RI Group has delivered four fully-equipped mobile hospitals, mostly for NATO. The hospitals can be customized to include various specialized spaces – including triage, surgery, pharmacy, diagnostics, x-ray and ultrasound laboratories, hospitalization wards, recovery rooms, and so on.
In addition to the field hospitals, RI Group delivered other mobile medical facilities in Italy and elsewhere in Europe during the pandemic. "We still get daily requests for mobile medical facilities from both civilian and military organizations," says Emanuele Tafuro, RI Group's Head of Marketing.
BMarko Structures
BMarko Structures (https://bmarko structures.com ) is a modular company based in Dacula, Georgia and Greenville, South Carolina. In April 2020, for two hospitals, the small business built 48 patient rooms from 42 shipping containers in under four weeks, beginning to end. "The units were in production for 2.8 weeks, and then it took about a week to erect them and finish off the onsite work," says Antony Kountouris, Chief Executive Officer.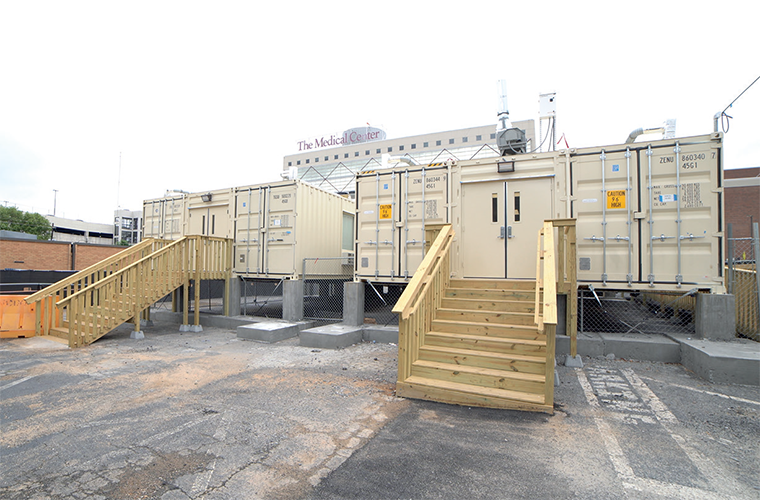 Kountouris maintains that modular construction was the only way to build fast enough. In conventional construction, site preparation would have had to be completed before construction of the new hospital space could have begun. But by using modular construction, onsite and offsite work happened at the same time. "We could do the foundation work, let the concrete cure, lay the drains, and do all the other site work while we were building the hospital rooms in the factory. Having these processes overlap was necessary to accomplish the speed."
A new approach to emergency (and transitional) housing
St. John's Village is a transitional housing community that opened in early 2021 in Portland, Oregon. It consists of 19 individual sleeping pods in the style of tiny homes, each with a twin bed, electric heating and lighting, storage space, and its own locking front door. On the same site, there are also communal buildings that include showers, laundry facilities, a kitchen, a dining room, and offices for support staff.
The only problem was efficiency.
"It's not cost-effective to build individual pods," says Nathan Young, CEO and Principal Builder at MODS, the company that behind St. John's Village. "These ones ended up in the range of $30,000 each, which is generally not affordable for non-profits and municipalities who want to build this kind of housing."
So Young teamed up with design partner, Kegan Flanderka, Principal at Base Design + Architecture, to brainstorm what worked well and what could be improved upon for future emergency and transitional housing projects.
Based on the experience with St. John's Village and the information they subsequently gathered, Flanderka and Young developed their Emergency Housing concept, which has a variety of different modules that can be built on the same platform. So a single module can consist of three, four, five, or six sleeping pods. Office, bathroom, and kitchen modules all match the same platform. The modules can range in length from 24 feet to 48 feet.
"So, the same basic module can contain sleeping pods, or bathrooms, or we can take out the walls and turn it into a communal kitchen or a community room. Or we can leave in the walls and make offices," says Flanderka. "By combining different configurations of the modules, you essentially get that same village idea."
The Emergency Housing modules have been designed so they don't require highly skilled labor to build them – which opens up employment opportunities for the future residents of the buildings.
The future of disaster relief is modular
Natural disasters can come when least expected and often leave an unprecedented need for a wide variety of rapidly deployable buildings, including everything from housing to banks to communication infrastructure. Such buildings can be produced and stored in large quantities; and some, like the hospitals that were created in the immediate wake of the Covid-19 pandemic, are custom-built in exceptionally short time frames. Because of this, the modular construction industry – perhaps more so than any other industry – is well-positioned to help rebuild after disasters. Due to the accelerated, factory-controlled modular construction process, there is simply no better means of providing fast, transitional shelter, schools, and medical facilities in times of crisis.
John McMullen is Marketing Director of the Modular Building Institute. Material for this piece has been collected from several articles originally written exclusively for the Modular Building Institute by Zena Ryder (https://zenafreelancewriter.com) and used with permission.
Founded in 1983, the Modular Building Institute (MBI) is the international non-profit trade association serving modular construction.
To learn more about the disaster relief capabilities of the modular construction industry, visit the Modular Building Institute at modular.org