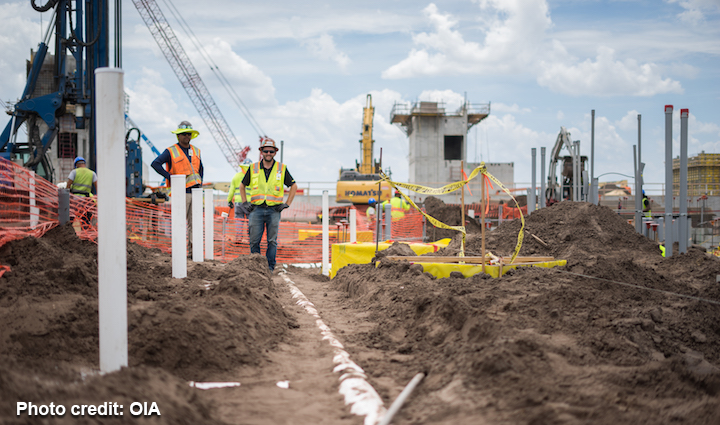 RANDALL's ability to self-perform multiple trades with more efficient methods helps it stay recession-proof.
When RANDALL begins a project, the company takes a "whole building approach" to optimize its design and delivery capabilities. It is committed to providing clients with "champions" from the industry who have the right expertise to successfully manage large construction projects. Before they get on a job site, "Our teams go through extensive training," says Taelor Purvis, head of Business Development. "We take quality and safety very seriously."
President Jeff Condello and his wife, Debra, started the company in 1986. Based in Apopka, a suburb of Orlando, Fla., the commercial and industrial contractor specializes in serving clients across Florida and areas of the Southeast, including world-class organizations such as Walt Disney World, Universal Orlando Resort and the University of Central Florida.
The roots of the company go back to the family's time in Pennsylvania, when Jeff Condello became interested in plumbing and got his start by offering to work for a plumbing contractor pro-bono in exchange for business knowledge. After learning of other opportunities in the construction industry, he and his wife moved to Orlando, Fla., and eventually started RANDALL as a mechanical and plumbing company.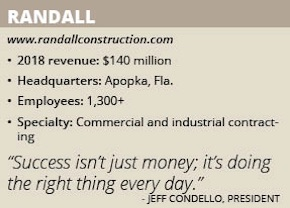 In 2010, the company acquired South Seminole Sheet Metal, which, at the time, was the largest sheet metal plant in Florida. Company representative Joseph Ciaramitaro notes that this perfectly positioned RANDALL to continue a path to exponential growth.
"This acquisition opened up RANDALL's vision for pursuing another level of scale," Ciaramitaro says. "Jeff Condello began embracing opportunities for RANDALL to integrate additional commercial construction trades into its existing capabilities." Over the past six years, RANDALL has focused on acquiring other companies and launching new divisions, which has allowed it to expand into new areas of subcontracting and more market sectors; including, but not limited to, healthcare, themed entertainment, hospitality, marine, transportation, education and environmental.
RANDALL is notably strategic when it comes to recruitment for its companies. For example, when the organization hires and integrates a new general manager, "We commission and incent them with the ownership of the division as if it were their own business," he says, noting that RANDALL's business model provides for assisting company GMs with wrap-around corporate support from departments such as HR, AR/AP, purchasing – even bonding when needed.
Today, with more than 20 divisions in-house, RANDALL provides site development, asphalt and concrete, tilt wall and engineered precast building panels, architectural metals and ironwork, HVAC, electrical, plumbing, fire protection, alarms, power generation and controls, water/waste-water plant construction and commercial maintenance services – all internally. "We're one of the only true design-assist contractors in our market with in-house MEP-FP capabilities," Purvis says. "We do preconstruction the way it should be done."
He notes that now is a great time in the market for RANDALL's customer-focused approach to business. "We've become a one-stop shop and that's what people like (about us)," he declares.
Disruptive Products
RANDALL is setting itself apart from competitors through innovation and manufacturing disruptive products in-house while also establishing relationships with clients as a preferred partner. For example, "Over the last several years, we've become one of the largest manufacturers of Kingspan KoolDuct Systems," Purvis says.
The product, which RANDALL manufactures and installs, is a pre-insulated phenolic ductwork system that is approximately 70 percent lighter in weight and is correspondingly installed nearly 75 percent faster than competing products. He notes the company recently provided this preassembled system for the JW Marriott Orlando Bonnet Creek Resort & Spa in Orlando.
The company's precast division offers architectural precast panels, as well as elevator and stairwell cores. Purvis added, "We also manufacture MSC wall panels, sound/noise barrier walls and pole bases for parking, signage and light poles on the interstate in our FDOT certified IPC plant." He also highlighted RANDALL's hybrid wall system precast division produces a hybrid composite wall features a six-inch stud embedded within a two-and-a-half-inch concrete thin- wall panel. RANDALL's system reduces the amount of trades required on site and the overall building footprint.
Purvis furthermore highlights RANDALL's Marine division, which specializes in precast floating and fixed dock marinas. "We are beginning to perform that work throughout the Southeast and the Caribbean," he states, adding that it also provides dry-stack automation boat marinas. "These can place a luxury boat into the water in less than four minutes."
Culture of Innovation
Condello credits RANDALL's success to its employees and its culture. "Success isn't just money; it's doing the right thing every day," he says, further commenting how they strive to have a strong family atmosphere, providing opportunities for career growth. "One of the reasons we exist is to provide lifelong career opportunities for those wanting to get the most out of their God given skills," Condello states.
The company's commitment to innovation creates support for best- in-class technology and equipment. According to Ciaramitaro, "RANDALL made significant investments in the past 18 months into its technology, specifically around BIM, Revit and fabrication automation," he says. "[We're] bringing in the best tools to be able to lead the industry from a technology, modeling and efficiency perspective."
As part of this focus, RANDALL has a 100,000-square-foot fabrication shop on property that features state-of-the-art equipment. The facility produces more than 50,000 pounds of sheet metal each week. "We do a lot of specialized work for companies like Disney and Universal," Condello declares.
A newly purchased six acres immediately adjacent to the headquarters is now home to RANDALL Engineered Precast, one of its most promising new market disruptive companies. "We've invested millions of dollars into our precast plant because of its striking advantages over conventional concrete and masonry."
Condello sees growth ahead for RANDALL as he plans to expand its company's portfolio. "We should double in size in the next three to five years," he forecasts. "We're also big on innovation and education, always learning and creating ways to do things differently…and better."
Ciaramitaro agrees, adding that the company's legacy for hiring and developing strong leaders will enable RANDALL to remain positioned as one of the most sought after self-performing contractors in the Southeast United States.