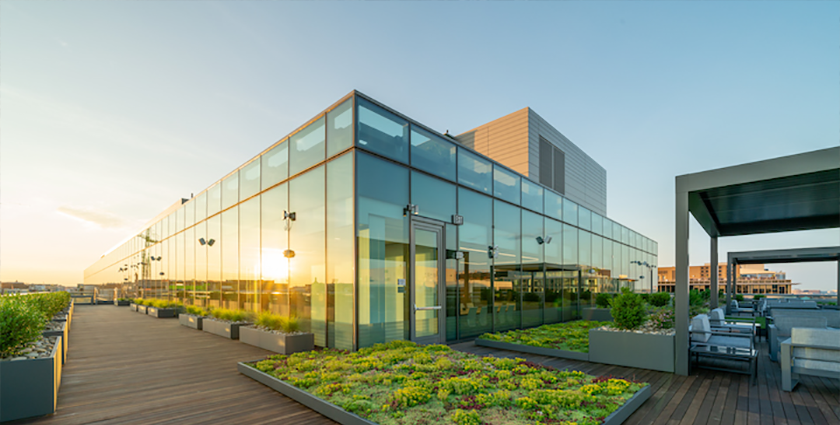 For three decades, rand* construction corp. has made service its mission, both to its clients and its employees. It has thrived in the greater Washington metro area by not only building quality projects for its clients, but also nurturing a positive workplace culture. Within its walls, "Everybody is incredibly supportive of one another," Co-Managing Principal Tim Schmidt declares.
It is the kind of environment where employees can count on each other when they ask for help. "Anyone will do what they need to do to get the job done," he says, noting that attitudes like these have helped rand* achieve more than $425 million in sales already this year.Rand info box
Chairman Linda Rabbitt started the Alexandria, Va.-based general contractor in 1989. Since then, rand* has developed a portfolio of renovation, tenant interior, retail, restaurant and design/build projects and opened additional offices in Atlanta, Denver and Austin. Earlier this year, Rabbitt named Bob Milkovich CEO and Schmidt and David Fletcher co-managing principals of the Alexandria office.
Currently, rand* is working on some of its largest and most complex projects to date, including a new 450,000-square-foot headquarters for a government agency in D.C., and a number of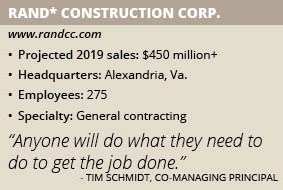 new repositioning projects in each of its local markets. "[This agency] is a milestone project," Schmidt says, adding that rand* also recently completed the new headquarters for The Washington Post, offices for Akin Gump Strauss Hauer & Feld LLP, Clifford Chance LLP and is underway with two substantial projects for confidential technology companies.
Many of these clients chose rand* because of its approach to the work. "We recognize we're in a client service industry and our product is construction," Schmidt states. "We live and die by our reputation."
Because rand* has followed this philosophy so closely, it has earned a strong base of repeat customers and a reputation for understanding what will help their clients succeed. "We work hard to have clients for life, and not just one project," he says. "Leases will expire five, 10, 15 years down the road, and our mission is that they will call us back for their next buildout."
A Great Place
Schmidt joined rand* in June 2000 and, like many, was immediately impressed by the company and the culture. "It was a great place to work with a fun atmosphere," he recalls. "You could tell the company was onto something big."
Over the years, he and many other long-standing employees have watched the growth of rand*, which celebrated its 30th anniversary this year, and its expansion across the country. "We have established a national platform where our clients in one market will take us to other locations," he says.
This has led to the company working in over 30 states. "We are extremely well positioned going into 2020 with our brand," he says, noting that rand* continues to expand its national reach on a platform of consistency. "[We will] deliver the same attention to client service as we have in Virginia for the last 30 years."
The firm also has nurtured the organic growth of its leadership across the country, as every office director began their career in the Alexandria office. "[That] has really allowed us to have quality control standards and expectations that translate across the platform without too much effort," he says.
Talent Search
Like many, rand* has recently felt the impacts of the talented labor shortage in the industry. "It's tough out there for everyone," Schmidt says.
"The people are hard to come by now that the market is flush with opportunity," he says. "We've really tried to go above and beyond in our recruiting efforts, and thankfully, we've never been in a position where we've been hamstrung."
Understanding the value of its employees to not just the business but also the office culture, rand* puts as much emphasis on training as recruiting. New employees are quickly provided with a career path and a plan for professional growth. However, "We recognize that the best kind of training does come from one-on-one experience with your team," Schmidt notes.
New Territory
Schmidt and his partners are excited for the future of rand*, and it's easy to see why. "2019 will be one of our biggest years in growth," he says, noting that the Alexandria office has seen a 50 percent increase in cap-ex and repositioning contracts just this year. With eyes on the future, rand* has also recently added three new executives in the Alexandria office, including Director David Childress.
"The success of our people is propelling us into new territory where the projects we're building are larger and more complex," he says. In addition, "We are well on our way to outpacing our expected growth in all three of our other offices in Atlanta, Denver and Austin," he states. While forward-looking, rand* will always be able to look back on its 30-year history as a blueprint for its continued success.