Ramsey Industries/ Auto Crane
Auto Crane leads the market with unmatched technological advancements.
Famous for inventing the very first mobile field service crane, Auto Crane has a number of rip-roaring and innovative projects on the horizon.
A wholly-owned subsidiary of Ramsey Industries, the fast-growing company engineers, designs and manufactures a comprehensive line of truck-mounted electric and hydraulic cranes, truck bodies, crane control technologies and accessories.
For more than six decades, its industry-leading products have been recognized and widely used by a variety of industries that include construction, energy, mining, forestry and railroads.
To accommodate current and future growth, Tulsa, Okla.-based Auto Crane is expanding its 127,000-square-foot manufacturing facility by adding another 50,000 square feet.
"Despite our numerous kaizen events and continuous improvement efforts, our growth requires us to create significant additional square footage to continue to drive market share," says Todd Hannum, director of sales and marketing.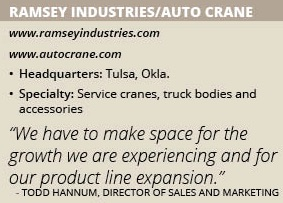 The facility expansion project, set to break ground later this year, will take about 12 to 18 months to complete and help accommodate the growth of the company's hydraulic service crane line, crane bodies and work-ready trucks.
Running off a chassis PTO-pumps or auxiliary power units, Auto Crane's HC8x is a hydraulic service crane with a lift capacity between 3,000 and 8,000 pounds and a reach of up to 30 feet. Each crane weighs about 1,870 pounds – roughly 200 to 400 pounds less than some competitor brands.
"With our 8,000-pound lift capacity crane, we have one of the lightest 30-foot boom cranes on the market," Product Manager Bryan Wutzke adds. "To put such a large crane on a smaller truck and still preserve the payload capacity is a big deal."
Auto Crane is known in its industry as a pioneer in a variety of service crane innovations. It introduced the first electric cable crane with new and unprecedented lifting capacities for big equipment and the first electric-hydraulic service crane.
It also had the first fully hydraulic line of service cranes, increasing productivity with fully hydraulic hoists, boom extensions and power rotation.
"On the product side, we continue to provide innovation," says Aaron Rayner, marketing manager at Auto Crane. "This is in large part driven by listening to our end users and our dealer network, something Auto Crane has done from its beginning. I think that our product offering, time-tested reliability, quality, marketing efforts and sales support have been key to our growth."
Innovative Technology 
Auto Crane's patented NexStar crane management system for service cranes is another industry first. It delivers full power and total proportional control in precision load handling with remote-controlled ease.
"It takes care of all the safety aspects of operating the crane," Wutzke says. An optional feature, NexStar was first introduced to the industry about 10 years ago. In 2016, the company rolled out its newest version: NexStar III.
"The configuration and the design of the remote capabilities are completely new," Rayner says. "It is a lightyear jump in the way the remote functions handle the crane. It allows 100 percent independent proportionality in all functions simultaneously. The level of control that you can achieve with NexStar III is unparalleled."
In addition, its rugged multi-function remote control transmitter is 70 percent lighter than pistol grip handhelds. The interface receiver LCD clearly displays more crane/load information in readable English — no codes to memorize or look up.
At the heart of the fully-proportional control is the exclusive Hydraulic Valve Bank, which delivers 100 percent hydraulic flow power for every crane function on command, every time. No split flow, no slowing down when an operator adds a function.
Adding Telematics 
Auto Crane is also leading the service crane market with the addition of telematics to its NexStar crane management system.
"We are the first to integrate our crane with other accessories to the truck telematics," Wutzke says. "NexStar Connect is an extension of the truck's existing telematics capabilities."
Auto Crane's NexStar Connect helps maximize productivity, provides proactive maintenance on cranes and accessories and tracks power units and compressors. It monitors equipment to help increase the focus on safety and allows operators to see equipment status in real-time and view historical data to help fleet managers optimize their equipment on future builds.
"The information that it captures is invaluable to a fleet manager," Rayner says. "It adds a layer of safety and accountability. If a mechanic uses the crane inappropriately, NexStar Connect will capture that data and make that information available to the fleet manager so that they can retrain the operator for their safety."
Auto Crane launched NexStar's third generation two years ago. Since then, it has been a very successful addition to the company's portfolio. "It is gaining a lot of interest especially from data driven companies," Hannum says. "No one has publicly launched anything like this in this segment of the industry."
Ultimate Protection
Last year, Auto Crane introduced another innovative product. Titan Armor, an industrial marine-based coating system  adapted to truck bodies and cranes, protects ten times longer than industry standard paints in salt spray testing.
"It extends corrosion protection from the typical 500-hour salt spray performance of automotive paints to over 5,000 hours," Wutzke says. "That helps solve the recent problem with the new road salts and chemicals being used by the states. It's very unique. There's no one else with anything like this on the market."
Especially designed for highway, coastal marine and off-shore applications, Titan Armor contains rust from spreading where paint is chipped and scratched and provides overall corrosion protection package from undercoat to topcoat.
"When you scratch paint and expose it to the elements, it will bubble up and the elements will eat it," Rayner says. "Titan Armor won't let it creep further. That's why it's a big deal."
Titan Armor is enhanced for exterior surfaces to fill gaps and protects areas its competitors leave behind. It has double impact resistance of automotive/fleet paints and improved adhesion for better performance.