RAD & D'Aprile: the subcontractor behind some of New York City's most iconic buildings
For the latest issue of Construction Today, we had the privilege of sitting down with Andrew H. Feldman. As President of New York-based building firm RAD & D'Aprile, Andrew occupies a great vantage point to talk all things construction and offer us an insight into the booming industry.
First, we begin by asking Andrew about the history of RAD & D'Aprile to better understand his operational focal point. "Well, the company was first established in 1969," he recalls. "Back then, there were three partners; however, by 1983, that had slimmed down to just one owner, and that man happened to be my father-in-law!
"He bought out the rest of the partners, and ran the company solo," Andrew adds. "I joined the firm in 1981, working alongside my father-in-law until he retired in 1996.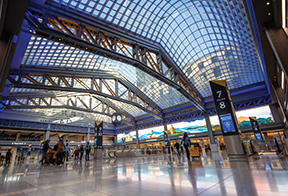 "We've completed projects in the five boroughs of Long Island – that's a key focus area for us – but we continue to grow and expand. Our scope has certainly increased since the company's inception."
Yet, as he goes on to explain, Andrew was never destined for a career in construction. "Before meeting my wife and learning about my father-in-law's business, I really wasn't involved in construction at all!" he reveals. "Prior to RAD & D'Aprile, I worked in accounting following the completion of an MBA in Tax.
"However, my father-in-law didn't have any sons of his own, and that meant when he looked to buy out his partners in 1983, he didn't have anyone else to ask on board. But there was me!
"He proposed that I come in with him so that he could assume full control of the company. He then invited me to take over afterwards."
Andrew's education wasn't all for nothing, though. For a start, his skills perfectly crossed over into the senior management level of the construction world. "There's a lot of numbers, for sure," he laughs. "But the fact that I didn't have a construction background was definitely hard.
"There was only one thing to do: learn everything I could from the bottom up. As time went on, and with the hiring of key employees – including Rick D'Aprile, Jimmy D'Aprile, Angelo Barbieri, and others – the company flourished."
Growing the city
And Andrew's not looked back since. So in what part of his career in construction does Andrew find the most joy?
"I'd say I feel the most job satisfaction and overall pleasure when I get to see a building that we have worked on being completed, knowing that we played a pivotal role in getting it there," he says. "There has been an abundance of projects that conjure this feeling.
"The Freedom Tower is a good example to share. That was incredible to work on; it's truly wonderful. It really hits me when I walk through Times Square. I'm suddenly in awe of all these beautiful buildings, and I think to myself: 'Wow, we helped create those.' That feeling will never get old."
Andrew admits that, while walking through New York City, he's compelled to point out to his family, friends, and colleagues which buildings he worked on. But, as he said, it never gets old: "It's a privilege to see how we have helped the city grow and improve."
On the topic of projects, we are keen to find out about the kinds of buildings that RAD & D'Aprile is working on. But the answer's not as straightforward as one might expect, and that ultimately comes down to the firm's incredible range concerning masonry and construction.
"I wouldn't necessarily say we have one typical kind of project," reveals Andrew. "Right now, for instance, we are busy working on a school," he goes on. "It's a really special project – in fact, it's the first of its kind. It's going to be one of the most efficient schools ever built and just one of five buildings of this type in the country."
The school in question is 489 State St. Passive. It's one of two new Passive House public schools being built in downtown Brooklyn, New York City, as part of the Alloy Development.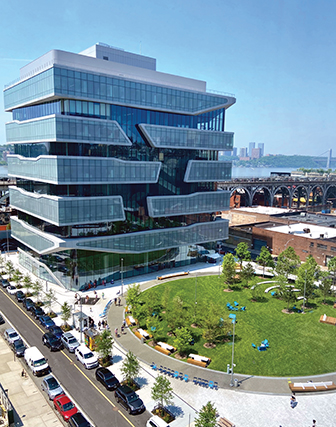 Announced in 2019, the development includes the first all-electric skyscraper in New York, measuring an impressive 38 storeys. The two green schools are being built to meet the Passive House standard – an efficiency-based set of principles based around airtightness, ventilation, waterproofing, heating and cooling, and electrical loads – to combat New York City's mammoth emission problem.
"A lot of buildings are now trying to achieve some kind of green certification," explains Andrew. "It's a win-win: the building will benefit from it due to being more insulated and so on, the designers will benefit from it thanks to tax breaks, and the planet will benefit as there are less emissions.
"We didn't design the State St. project but we're really proud to be working on it," he adds. "It is becoming a transformative experience, not least because of how unique it is. To be working on a building that is one-of-a-kind is amazing."
Our conversation then turns away from external projects and zeroes in on what it's like to work for and with RAD & D'Aprile. "We're brought in on big projects, like the one we're currently completing for JPMorgan & Chase Co, by general contractors as a subcontractor," Andrew notes.
"But to be chosen shows that we have carved out a very strong reputation for quality work and, put simply, getting the job done on time," he goes on. "With every project, we strive to help all who are on the job move efficiently and safely, and to support the erection of magnificent buildings."
Strong relationships
Indeed, for RAD & D'Aprile, it's not just about creating buildings. It's also about establishing relationships with key people and players in the industry. "For me, it's all about people knowing they can always count on us to do their work well and without safety breaches," says Andrew. "As a result, we stand behind our work.
"To be frank with you, there are not many masonry contractors out there that have always had the same name," he admits. "But we have. We're one of the oldest firms I know!
"You see, quite often bankruptcy or other problems cause contractors to change their name several times over the years, however that's never been the case with us! And our own people can attest to the kind of culture we have worked to create.
"I personally always try and think of the company as a family and treat everybody with respect – just the way I would like to be treated," Andrew concludes. "Going forward, we want to strengthen the relationships we have – both internal and external. In doing so, we will be able to work with more esteemed companies, as we have previously with Disney, Amazon, Google, and more!"