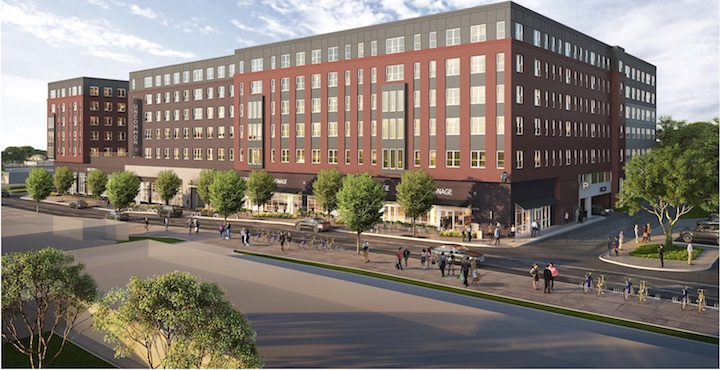 Rabren General Contractors
Rabren invests in people, equipment to be a top contractor in Alabama.
Rabren General Contractors maintains the ability to self-perform a significant portion of projects rather than always relying on subcontractors and has invested in both the people and equipment to do so. In terms of human resources, the company employs project managers, superintendents, field engineers and laborers. In terms of equipment, the company has excavators, bulldozers, dump-trucks, lowboys and more.
"We own $3 million worth of rolling equipment," Senior Project Manager Spearman Cobb says. "Our fleet and operators help us both from a scheduling and cost standpoint as we are able to really control the project as it is coming out of the ground."
Rabren has experience in a variety of markets including healthcare, retail and mixed-use, hospitality, government, student and multi-family, and higher ed. A significant portion of its work is for K-12 and higher education markets such as Auburn University. The company ranks among the top 10 largest general contractors in Alabama.
"There is a significant amount of competition given the current market conditions," Cobb says. "Our volume is currently around 50/50 hard bid versus negotiated work."
Work-Life Balance
Recruiting the right employees can be a challenge. Rabren likes getting internal referrals on potential hires. "We find we get a lot better understanding of who is brought in," Cobb says. "We have a referral program and we reward employees for bringing in others."
The company developed a college internship program for college students majoring in construction management or civil engineering. Rabren started with students from Auburn University but has expanded to include University of Alabama and Mississippi State University. "We give them the opportunity to jump right in," Cobb says. "They get to work in the field, pre-construction and with project management teams. We spend a lot of time showing them the way we operate as a business and how we build. Some of our best young employees have come out of that program."
Once someone joins Rabren, they tend to stick. "We provide tools to be successful and create a healthy work-life balance," Cobb says. "In 2018, Business Alabama voted us one of the best companies to work for in Alabama. We take the work-hard/work-smart approach but we try to maintain an environment where all employees feel they have an opportunity to grow. Employees know they can reach out to upper management for guidance and help at any time."
Outside of work, the company organizes activities so employees can get to know each other. Those include fishing trips, bowling outings and a golf tournament to benefit the Travis L. Rabren Foundation.
SAM and Technology
Rabren uses Procore project management software to coordinate work between the project management team and field team, assist with contracts, document control, inspections, quality control and "make sure everything is being implemented on the jobsite in accordance with the contract documents," Cobb says.
The company does building information modeling (BIM) in-house. "We really embrace innovation and technology," Cobb says.
Another example would be SAM, a brick-laying robot. Rabren used SAM, short for "semi-automated mason," to lay bricks during construction of a performing arts center at Auburn University in 2018. SAM has a conveyor belt and robotic arm that remove the repetitive task of laying bricks.
"It was the first time an automated mason had been used in Alabama," Cobb says. "During the time, we had a significant amount of work going on locally and finding masons was difficult. We haven't used SAM since that project but we are not opposed to using it again. It increased productivity and reduced the need for masonry labor."
The company takes a proactive approach to safety. A corporate safety manager visits jobsites at least weekly to make sure safety standards are being upheld. A safety orientation is held prior to every project for both staff and subcontractors. There are site-specific safety plans for each job. Superintendents are OSHA trained in safety along with most of the project managers. In late May, the company certified 70 employees in CPR/first aid and defibrillator use. What's more, the company holds its subcontractors to the same safety standards to which it holds its own employees.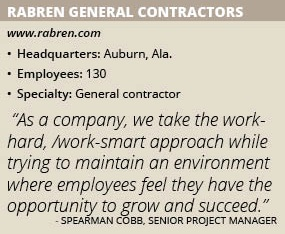 Uncommon Auburn
Rabren is proud of a $55 million student housing project named Uncommon Auburn that it is building just north of Auburn University. The 552,000-square-foot project has 10 levels including three underground parking levels and 211 units ranging from studios to five bedrooms. Construction started in August 2018 and completion is expected in May 2020. At its peak, 175 to 200 employees were working on-site.
Uncommon Auburn is impressive for its many student amenities. Those include a courtyard, fitness center, study rooms, a yoga room, tanning rooms, pool, spa and golf simulator. "You can pull into the parking deck and never leave," Cobb says.
There were challenges. The lowest level of below-ground parking is eight to 10 feet below the groundwater elevation. "We had to do extensive de-watering," Cobb says. "We installed an under-drain system below the slab on grade that pushes water into a large detention pit and then pumps it into the city storm sewer system. We had to excavate around 160,000 cubic yards of material while shoring the perimeter to bring the structure up once the under-drain system was in place."
Another project the company is pleased with is the Jay & Susan Gogue Performing Arts Center on the campus of Auburn University. Construction began in December 2017 and completion is expected in August 2019. The $56 million project had 180 workers at peak construction. The center features an outdoor performance space with a covered stage and an indoor auditorium that seats 1,200.
"It's not everyday construction," Senior Project Manager Matt Hearn says. "There is specialized theatrical equipment, stage floors, high-end terrazzo floors, custom millwork walls, custom millwork in the front of the balconies and a 300-foot curtain wall that wraps the front of the building."
One challenge was constructing a scaffolding that reached 40 or 50 feet high to install catwalks. Another challenge was the coordination among various tradespeople. "There are a bunch of specialty system and specialty equipment: theatrical, video and audio." Hearn says. "There are thousands of terminals and connections and wires."