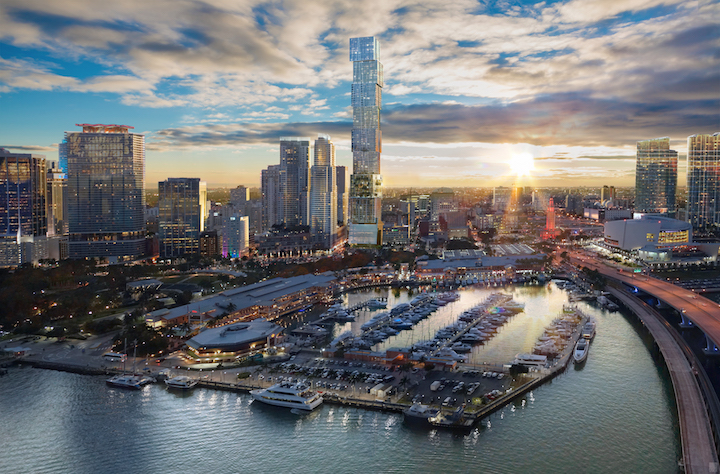 The success of its social living communities allows Property Markets Group to bring a new niche the multifamily residential development market.
In its nearly 30 years of operation, Property Markets Group (PMG) has developed more than $7 billion in projects, becoming one of the few large-scale vertically integrated developers that relies on the strengths of its own staff to lead the process from acquisition to construction and operations. PMG has led the acquisition, financing, development, construction and marketing for 85 residential buildings and more than 150 real estate projects, and it currently is in various stages of developing more than 5 million square feet of residential properties, including Queens Plaza Park and 111 W. 57th Street in New York, as well as Waldorf Astoria Downtown Miami.
It's not that PMG is going after everything and anything to be the biggest – the company is dedicated to delivering elevated living experiences with bold improvements to skylines and streetscapes. PMG accomplishes this by bringing innovation to the market, as it has demonstrated with its PMGX social living communities, for example. With success in Denver, Chicago, Miami and Fort Lauderdale, PMG is bringing its X brand of developments to more areas, pleasing local residents and those looking for a new way to live in pricey cities.
"We have really good people doing a lot of good work – we are known for that and our focus on residential," Managing Partner Ryan Shear explains. "We've been in business almost 30 years, and that is a pretty long time for this market. We're not an institutional fund or a mom-and-pop developer, we're somewhere in the middle. This is a mid-size firm with about 90 people, and we're developing across the country, having done a significant amount of work. We just manage to have great people who really accomplish a lot."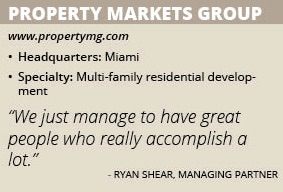 The strong team at PMG launched its X developments in Florida with the creation of X Miami, which opened in the third quarter of 2018. Located in the city's downtown with a view of Biscayne Bay, the 31-story luxury tower features a hotel-like public lobby, expansive pool deck and mezzanine, modern fitness facilities, club lounge and a coworking space. Apartments are outfitted with stainless steel appliances, quartz countertops, floor-to-ceiling windows, Nest thermostats, oversized balconies and wood plank and slab tile flooring.
X Miami brought the social living concept to the city with its option for residents to rent a private bedroom and bathroom with roommates, or to get their own place. When choosing the rent-by-bedroom option, each resident has his or her own lease and is billed separately for their portion of the utilities. Units come furnished or unfurnished.
"This is just different and not a lot of people are doing development like this," Shear says. "Ground-up multifamily developments are common, but ground-up multifamily with a co-living aspect is not common. We are not doing a lot of purpose-built concepts. We are a big believer in this or we wouldn't be building them all over the country."
Developing a Niche
With the success of X Miami, PMG is now constructing the 650-unit phase one of X Las Olas in downtown Fort Lauderdale, Fla. Opening in early 2020, the 41-story luxury apartment community will provide first-class food and beverage services on an expansive pool deck with a signature lazy river, modern fitness facilities, a jam room and performance space, and a substantial co-working space. When the second tower of X Las Olas is complete, the community will have 1,200 apartment units.
Shear notes co-living makes a lot of sense for a diverse range of residents looking to live in the center an urban core. "Affordability is the driver here," he adds. "These developments are about being social and interacting with your neighbors, but the true driver is pricing. Social is a nice aspect, but with co-living, you don't have to trade location or safety for space."
In South Florida, PMG's next project is X Biscayne in Miami. Scheduled to open in 2021, this 49-story mixed-use structure will have 646 rental apartments, 51,000 square feet of commercial space and a 22,000-square-foot, redesigned First United Methodist Church of Miami, which was the site's previous owner. The church will have a dedicated entrance and structured parking, as well as a chapel, fellowship hall, classrooms, offices, a basketball court and a three-story sanctuary with views of Biscayne Bay.
Residents of X Biscayne will benefit from a public lobby lounge and restaurant, co-working spaces, and oversized modern gym and fitness studio with group classes, a massive pool deck and outdoor lounge, smart package lockers and bike storage facilities. A mix of studio, one-, two- and three-bedroom apartments will span from floors 14 to 47, with the pool deck on the ninth floor.
"We just broke ground on this project and we are really excited about it," Shear says. "In developing our niche with a multi-family product, this is the latest with a church at the bottom. It will have about 650 apartments above that, with about 50,000 square feet of co-working space and unobstructed water views. Here, you can have it all – the project really represents the work we've done over the past five years. When completed, it should be the largest multi-family development with co-living in the United States."
He notes there has been a lot of trial and error in developing the X properties in terms of finding the best niche, best size and amenities that people really appreciate, but also how to design the co-working and co-living spaces. With X Biscayne, PMG is confident in the design and quality features it will provide to the market.
"This is the way more evolved version of what we do with these spaces," Shear stresses. "It's really evolved so much from the original, which was X Miami. That's a great project, but we know so much more now about how we layout gyms, program spaces and yoga studios. Doing a project like this is a night-and-day difference from how it was years ago."
'Happiness Index'
PMG has primarily focused its development in New York, Miami and Chicago, but its success in these locales is making it attractive to other markets, and PMG is interested. The company broke ground on the first phase of X Phoenix, which will be the first apartment, retail and office high rise built west of 1st Avenue on Van Buren Street since City Hall was constructed in the mid-1990s. Shear notes the X brand of social communities have what is necessary to be successful in a range of locations.
"Markets are exploding right now, and we are looking a lot in Phoenix and Orlando," he says. "A lot of developers don't think about those areas, but they are tier-A cities and we like them a lot. They may not be on top of a lot of radars but we think they should be. We are actively developing across the country – we just have to play fortune teller and forecast correctly."
He goes back to the strength of PMG's team when thinking about how the company can maintain this momentum. The PMG culture, he says, allows it to continue building in good and bad markets.
"Our culture is our best asset," Shear says. "Development shops in general are high-stress environments, but we put a big emphasis on culture. There is diversity here and a high level of respect while keeping the pressure on. We have a high rate of retainage and rarely lose people – I've been here almost 15 years – and the happiness index is high for a business where it's hard to stay happy. We have a great people who enjoy coming to work, and that makes for a great environment."