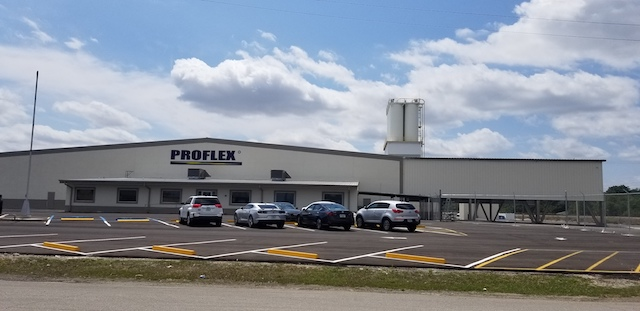 PROFLEX expands to meet demand for its state-of-the-art products.
"When Sound Control Matters" or "When Waterproofing Matters," PROFLEX Products Inc. is the go-to manufacturer for innovative products that assist with crack suppression, waterproofing and sound control. Since its founding in 2003, the company has prided itself on being an industry pioneer of products designed to make flooring and finished surfaces last longer than ever.
CEO Tim Abbott says the company has come a long way since its inception 16 years ago. "I took the company over in 2008 and my background was with H.B. Fuller, making thinsets and adhesives, and started adding adhesives to our line so we could offer system warranties up to a lifetime," he says. "When our products are installed correctly, they are meant to stay there for a very long time."
PROFLEX's membranes are specifically designed to be used under thinset and mudset mortars and adhesives. "If you have commercial project and they are using carpet for example, or luxury vinyl tile, hardwood or ceramic tile, we have solutions for all of these products and can offer a warranty for all our products, so you just have to make one phone call for all your flooring needs," Abbott adds. "We are a smaller company, but because of our specifications and warranty, we have been brought into Lowe's and Home Depot because their customers are requesting our products."
Based in Haines City, Fla., the company serves the residential, commercial and industrial markets from its new corporate facility that sits on just over 12 acres, allowing plenty of room for expansion. Although the company does have a second manufacturing facility in Texas for its adhesives, Abbott says the showpiece is its new corporate office. "We are proud of this new facility and intend to add on the manufacturing side," he says. "Here we manufacture all powders, liquids and things like that and this facility has been a long time coming."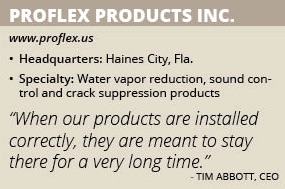 When Quality Matters
PROFLEX works closely with its customers to understand the complete buildout of a project to recommend the best product for the job. For example, some of its rubber products such as recycled rubber and cork – do not provide waterproofing, but they do offer some crack isolation and typically perform best for sound control. Clients may also choose peel and stick versus gluing down rubber products for faster installation time.
"Our glue down rubber products are extremely popular," Abbott notes. "The Porsche Design Tower in Miami used our RCU 250, which is our rubber cork product made from recycled content. It's a Green product, offering LEED points for the architects. It's also in the St. Regis hotel and a condominium in St. Petersburg that is the tallest condo on the west coast of Florida. Our products are in some pretty high-profile buildings."
The company's products are in about 85 percent of all the condominiums in Florida, as well as in high-rises in New York, Texas, California and Chicago. PROFLEX's products have also been used by the military for barracks projects, car dealerships as well as single- and multi-family homes. "Our products work well, so if you are in a hotel or condo and hear your neighbor stomping above you, it's not our product," Abbott says. "One of the things that gets us in the door with clients has always been our sound control products."
PROFLEX prides itself on building a reputation for quality products, which is why it makes a significant investment in sound control testing. "It takes quite a while to come out with a brand-new sound control item because of all the testing that's involved and it's expensive," Abbott explains. "We use Intertek and NGC Testing Services as our independent labs for sound testing. The process can be pretty discouraging at times if you spend all that money and don't' hit the magic numbers, which is 50 or higher for Impact Isolation Class [IIC] and Sound Transmission Class [STC] ratings."
PROFLEX UCM – Uncoupling Membrane achieves a 50 IIC and STC rating and is unlike any other product available on the market. "Schluter set the bar for uncoupling membranes with their DITRA, so we waited a little bit and researched quite a bit before we came out with UCM," Abbott says. "We are known for sound control, so we came out with ours, which is a sand and urethane blend that fills cavities with a waterproofing membrane on the top of the uncoupling membrane. It offers waterproofing and vapor reduction, crack suppression and reduces sound transmission all in one product while using one-third less thinset than some of the other guys."
The company's goal was to develop something better and installers have only given positive feedback. "Installers tell us it's easier to cut and it lays down easier," Abbott notes. "We are the only ones in the United States that have something like it because we do quite a bit of research and development and get out on the street and talk with installation companies to determine what would make their lives easier, and then come up with a solution like that."
Moving forward, PROFLEX is preparing for continued growth as the commercial and residential segments continue to prosper. "I'm proud of everything we have going on and it's been a joy to watch the company grow," Abbott says. "Construction seems very strong and we aren't seeing any signs of it slowing down, and hope it continues that way for a long time."