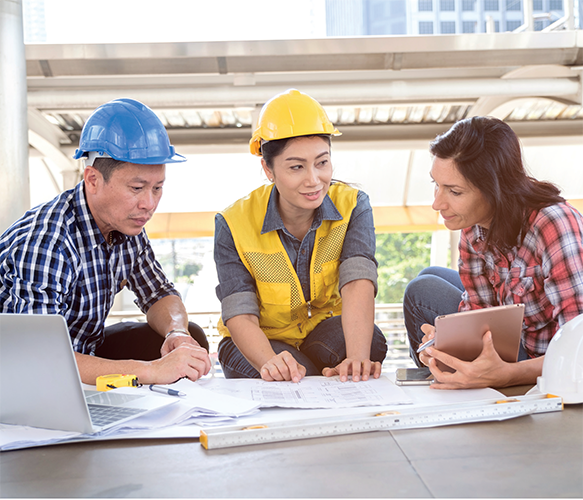 The construction industry was highly disrupted by the pandemic. But the discipline imposed by program and construction management (PMCM) has held projects together. At McKissack & McKissack, we've found that in unpredictable and rapidly changing situations, the many tools PMCM offers allows construction professionals to weigh real-time challenges, analyze multiple scenarios, make critical decisions and deliver projects on-time and on-budget.
Building a stadium, a hospital or an electrical substation is no small undertaking. All have complex infrastructure needs, require multifaceted design programs, need state-of-the-art mechanical systems and involve whole teams with specialized disciplines. Factor in the pandemic, which has been highly disruptive to the construction industry, and mistakes can proliferate. That's where program and construction management services come in.
Of course, Covid-19 has been a first-of-its-kind event for all of us. But our experiences during this time may be likely a preview of what's to come; scientists predict it will be endemic. We always start our projects by listening to our clients and determining what services they need. And when the pandemic hit in 2020, it was our program and construction management team that made it possible for us to meet their immediate Covid-driven needs.
In these unprecedented times PMCM offered us invaluable tools to help us address disruptions, weigh real-time challenges, model different scenarios, make critical decisions and resequence work. That's how we've been able to deliver projects on time and on budget. And going forward, we will need PMCM professionals more than ever as we face more safety issues, supply chain glitches and rising costs not only due to Covid, but also market pressures, extreme weather events and even new viral threats that may arise.
As an industry leader in PMCM services for large capital programs, we see four issues impacting the field's future. While these issues came to light due to the pandemic, they are now foundational to our new normal. Contributing their insights to this roundup are McKissack & McKissack Vice Presidents Philip Artin and Michael Carter, Senior Project Director Derrick Bailey and Director of Scheduling Ricardo Nolasco.
The four biggest issues shaping the future of PMCM
1. Addressing labor shortages.
Automation and robotics may be in our future, but right now we depend primarily on PMCM professionals and skilled construction workers to get projects done. And we're facing significant shortages in every cross-section of our field. We're talking about project engineers, project and construction managers, estimators and assistants in all positions. Demand is high, supply is short, and we can't hire and train people fast enough.
In fact, hiring challenges are going to continue for quite a while. According to the US Bureau of Labor Statistics, jobs in the construction sector were down by about 88,000 at the end of 2021, compared to February 2020, which is right before the pandemic hit. And this comes at a time when PMCM professionals are more in demand than ever before. Employment opportunities for construction managers are projected to grow 11 percent though 2030. Demand for project managers and civil engineers, who often fill PMCM jobs, are growing too and are among the five fastest growing career paths in construction today, the National Center for Construction Education & Research reported in 2021.
2. Maximizing the efficacy of hybrid and remote workplaces.
Remote work is here to stay because it's been such a positive. And we've been more productive both individually and in groups. Platforms like Zoom, Teams and WebEx are not only great substitutes for in-person meetings but are also 100 times cheaper than flying all over the country. However, in the construction industry, remote access has changed the very nature of our jobs as it's allowed us to be present on project sites virtually to inspect ongoing and completed work, inventory materials and equipment and more.
But a huge issue we face is the quality of internet signals on jobsites. You don't always have good internet signals on construction sites because the infrastructure isn't there yet, and neither is 5G technology. This is especially tough right now because the software we use in PMCM is shifting from our devices to the cloud, which is problematic without high-speed connectivity. This is an issue that needs to change in the next few years.
3. Harnessing data and analytics.
One trend is clear: As technology evolves, so must PMCM. Since the pandemic, PMCM's requirements have pivoted, and today it requires a deeper focus on technology than ever before. PMCM professionals must be able have the agility to use a broad range of software; an advanced knowledge of data analytics; and deep experience with modeling budgets, timelines and labor needs. All this means that we will be collecting more data than ever before and developing innovative ways to leverage it.
For a real-time example, look at the debilitating pandemic-driven supply chain issues we're facing on every project. At McKissack, our PMCM teams are paying very close attention to the consumer price index and weather forecasts to model future project and material costs, work stoppages and labor shortages. All risks cause delays that can have dire fiscal consequences, so modeling allows us to figure out whether to wait it out or buy something today at a much higher price; add extra staff; speed up or push back timelines; and more. With all exigencies factored into the model we can make the best decisions for our clients, but it takes time and skill. After all, the bigger a project, the more data and analytics there are to parse and assess as we realign program and project priorities.
4. Refining artificial intelligence and automation.
Mention AI and our minds wander to self-driving cars and fancy robots that can replace people. The former is a sure thing, but the latter isn't going to happen in PMCM, where program and construction managers are always-on and in-touch with everyone to lead and integrate all project elements from start to finish. But you can bet that automation will be used to power self-driving construction machinery and for repetitive tasks like pouring concrete, welding and demolition.
In truth, AI and automation are already everyday tools we use in project controls, risk mitigation and the predictive models we run to determine timelines and budgets. It helps us prioritize resources and assess jobsite risks. Building information modeling uses AI-powered generative design to let us look at every component of a project – from framing to MEP to finishing. It also helps us plan construction sequences or know when models clash, such as when a vent or beam is too large or poorly placed and needs to be reworked. Another growing trend we're seeing more of is the use of drones and sensors to collect jobsite data continuously to evaluate job progress, staffing and supplies; this informs real-time adjustments that keep schedules and budgets on-track.

Deryl McKissack is the founder, chairwoman and chief executive officer of McKissack & McKissack, a national architecture, engineering, program- and construction-management firm currently working on over $15 billion in projects nationwide. Under her leadership, McKissack has worked for public and private clients in the civic, culture, energy, education, entertainment, healthcare, hospitality, housing, infrastructure, mixed-use and office sectors and grown to over 150 employees with offices in Austin, Baltimore, Chicago, Dallas, Los Angeles, Miami and Washington, D.C. Deryl is a licensed engineer and the fifth generation of her family to work in design and construction. Her firm is an extension of the nation's oldest African American design and construction firm, and traces its origin to Moses McKissack, a master builder who was also a slave.
Among the many nationally significant projects in McKissack's portfolio of work today are Museum of African American History and Culture, the Lincoln and Jefferson Memorials, the Martin Luther King, Jr. Memorial, the Obama Presidential Center and the Navy Pier Centennial Projects in Chicago.
www.mckinc.com