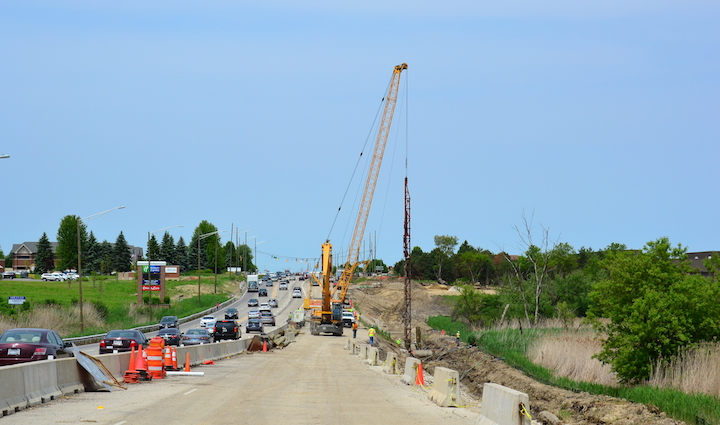 Plote Construction Inc. – Randall Road project
Plote Construction is bringing its exceptional skill set to its Randall Road project in Illinois.
After 55 years, Plote Construction Inc. is an authority when it comes to heavy earthwork and paving projects. "[Those are jobs] which we're very competent at," Project Manager Ryan Carey declares.
This made the general contractor a perfect fit for its Randall Road project in Algonquin and Lake in the Hills, Ill. Plote is reconstructing 1.7 miles of the road, which has long needed a rebuild, Carey says.
"The area has boomed in the last 20 years," he explains. "The road has become less capable of holding the volume of traffic that it needs to be able to hold."
Plote will add an extra lane in each direction of the road, as well as rebuild the intersection of Randall Road and Algonquin Road with new triple left turns. The company also will build a new pedestrian underpass.
"It will give pedestrians access from the east side of the road to the west side," Carey says, adding that this will be useful for students at Harry D. Jacobs High School in Algonquin. "We're also building two mechanically stabilized earth walls to help widen the road."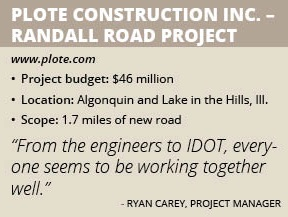 The project also includes a new bike path with a boardwalk structure, as well as storm sewer, signal and electrical improvements. "It's our bread and butter type of work," Carey says.
Working Together Well
Plote started construction on the $46 million project in September 2018 and is expected to finish in June 2021. Carey notes that the company is serving one of its repeat clients, the McHenry County Department of Transportation, through the Illinois Department of Transportation (IDOT).
"We do a lot IDOT work and we've worked with McHenry County as well," he says, noting that he is proud of the coordination of the project team. "From the engineers to IDOT, everyone seems to be working together well."
These include Montemayor Construction, which is overseeing the underground work, as well as Dunnet Bay Construction, which is serving as the structural subcontractor. "We've worked with [them] quite a bit," Carey says.
The lack of conflict between the project team has allowed Plote to focus on staying on schedule and on budget, even as Mother Nature has been less cooperative. "The weather is really not starting out well this year," Carey admits.
"Hopefully, it clears up," he says, noting that the company has not yet fallen behind. "It's slowed us down some, but we're hanging in there."
Plote also has avoided accidents during the construction. "We actually have a pretty robust safety program," he says, adding that the company has an in-house safety department managed by a certified safety professional.
"Our superintendent is OSHA 30-hour trained and CPR trained," he says, noting that Plote performs weekly toolbox talks on its jobsites. "We also get weekly audits by one of our safety department members."
Good Bonds
Based in Hoffman Estates, Ill., Plote's specialties also include commercial, industrial and residential work, as well as asphalt, concrete and excavating projects, and real estate development. Founders Ray and Jan Plote started the company in 1964.
Initially, Carey says, the company specialized in excavating work before moving into aggregates in the 1960s and entered the asphalt business in the 1970s. "They got into the concrete paving business as well in the 1980s," he adds.
Plote is still a family owned and managed company, with Ray Plote's son, Dan Plote, as its president. "His children have started working within the business as well," Carey adds. "It is in its third generation."
Carey, who joined Plote in 2014, praises its leadership, which has helped nurture a family-oriented workplace. "It's a comfortable environment to work in with good people," he says. "It makes everybody have good bonds."
Leading the Way
Today, Plote is a leader in its niche in the Chicagoland area. But to keep that position, the company has to keep abreast of trends, including the latest technology. "Technology is one thing that's always changing and everybody's always adapting to it," Carey says.
"Everything we do – from our office work to field work with heavy equipment – are more and more impacted by computers," Carey continues, adding that the company is utilizing GPS systems and stringless paving technology.
"We're also expanding our work," Carey continues, noting that this has led to Plote taking on more projects for private clients, as opposed to public roadway work. "We've been doing heavy excavations for commercial and residential builders."
Carey sees more success ahead for Plote, which will continue to branch out. "[We'll be] expanding in our private work," he predicts.