Peerless Architectural Windows and Doors
Window maestros
Founded in Fort Scott, Kansas in 1952, Peerless Architectural Windows and Doors prides itself on creating bold designs that are manufactured to the highest quality standards
As it approaches its seventieth year in business in 2022, Peerless Architectural Windows and Doors (Peerless) today stands as an award-winning aluminum window, door, and wall solution provider based in the Mid-West of the USA. Proud to manufacture windows from the heartland of America, Peerless' success is based on an extremely high level of engineering, as well as a pioneering approach to new technologies that drive bold advances in window designs.
"We started off manufacturing many different products, some being storm doors and garage doors," began Sarah Lero, the Marketing Manager at Peerless, as she explained how the company evolved to its respected position today. "Throughout the years, we transitioned over into the architectural industry, providing innovative windows and doors nation-wide and now we are industry leaders, offering unrivaled products, and capabilities."
The early months of 2021 are the perfect time to report on Peerless' activities, as the company has recently expanded its capabilities into three locations. Sarah gave more details: "The expansions were undertaken at our Innovative Solutions Group (ISG) in Nevada, MO, and our Commercial Applications Group (CAG) in Iola, KS, and the corporate office and plant in Fort Scott, KS. We are now manufacturing a comprehensive range of windows, doors, and pre-assembled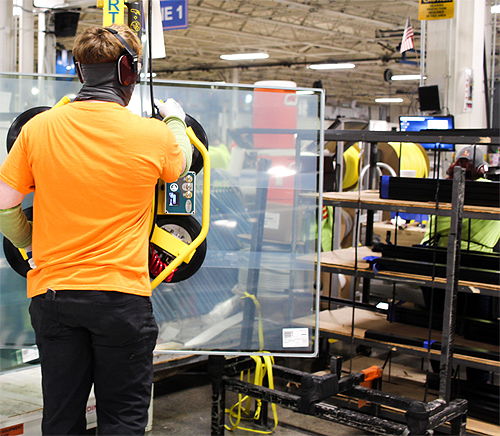 units for new construction, replacement, historical, and modular construction.
"Furthermore, in the last year, we added the ability to ship windows differently from anyone else in the industry, aiding in loading and unloading time on busy jobsites and reducing shipping damage."
Clearly already a highly-sophisticated operation, Peerless nevertheless makes sure that its production facilities and processes are constantly upgraded, to ensure that they are working at optimal efficiency. This is achieved through its own in-house Continuous Improvement department. Sarah gave some examples of some of the solutions that Peerless has implemented: "We make many oversized units that two people cannot easily lift, so in several of our facilities, we use overhead lifts to increase efficiency and keep our workers safe," she said.
"Technology is essential to us. Additionally, the Peerless development team has built the Peerless Xpeerience App, so our customers can track their projects from the aluminum press through delivery."
No strangers to thinking out of the box, and unafraid to embrace innovation, Sarah highlights some further aspects of Peerless' operation that sets it apart from its competition. "I believe our ability to think about our impact on every party involved with our window during design makes us stand out. For the building owner, we make sure to provide a product every person could easily operate and provide maximum fresh air with fall protection and egress capabilities.
"For architects, we regularly exceed project performance values required on projects. We co-extrude our accessories and unitize many windows in one master frame for glaziers to make installation efficient and straightforward without going over budget. Providing a world-class product is different than providing a product that is easy for us to manufacture; our research and development (R&D) team takes the time to design our products that will work in many situations."
The R&D team Sarah referred to is a hugely essential contributor to the success of the business and she gave an example of new product innovation that the team has released. "Peerless has a full R&D team that develops our products through a five gates system," she began. "Throughout the years, we have never provided storefront windows, mainly due to the low industry cost, and we sell fully glazed products instead of a stick system. With the addition of our ISG facility and an oversized testing wall, we can now build larger products. Larger products meant we could create a
Pre-Assembled Storefront system with co-extruded accessories for easy installation. Peerless Pre-Assembled Storefront is equipped with thicker mullions to hide any interior walls, so the whole system acts more like a wall than a typical window. Providing a system like this gives our customers the ability to bid on storefront, punched openings, and window wall within the same project. Peerless windows achieve some of the lowest u-values within the building product industry, so we like to think of Peerless as pioneers who drive bold advances in product designs."
The u-value referred to by Sarah is an important consideration for almost anyone involved in construction. U-value is the window's overall ability to resist heat flow, and the better insulated a structure is, the lower the u-value will be. Peerless can achieve as low as .15, and additionally, it's SHGC score can be as low as .24 – SHGC measures how much heat is transmitted through a window. By providing windows with the best overall design, frame, glass package, and spacer systems available, Peerless is contributing to the net-zero energy goal in buildings.
Peerless further reassures its customers that the products they are purchasing are of the highest quality, thanks to its membership of the American Architectural Manufacturer's Association (AAMA). It tests all of its products to meet the most stringent quality standards set by AAMA, and it is thanks to a combination of all the benefits described above that some of the most significant and interesting schemes across America feature Peerless products.
A look at its website (www.peerlessproducts.com/projects/all-projects) will illustrate the range and scale of these astonishing construction projects, but there is one particular contract that really stood out for Sarah, when asked to highlight an instance of Peerless' approach. "While we do focus on many new construction projects, Peerless has provided windows for some key replacement projects over the years," she said. "One recent notable project was Emerson Little Building in Boston, MA. Emerson Little Building is a 12-story structure that was initially completed in 1917 and housed many businesses, and now it is owned by Emerson College as a residence hall. A considerable feature we could provide was windows that replicated the old windows' look while bringing in today's technology, including energy efficiency.
"It was also important that we gave the college windows that anyone could operate, meeting the 5lb handle operating force enforced by The Americans with Disabilities Act. Peerless G261 Casement Inswings could meet ADA with an impressive 0.32 u-value and 15 lb water performance. Seeing the slowdown in new construction has also led us to ensure we have window systems that work for replacement work and products that will be as easy as possible for our customers to install."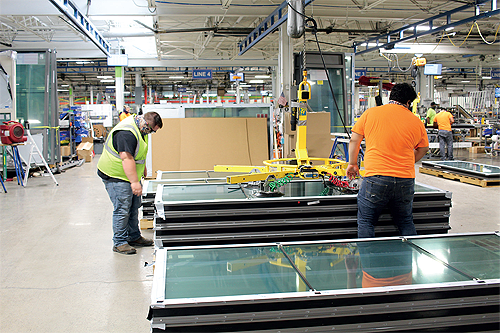 The consideration that Peerless puts into the projects it is part of, for both its customers and the end-users of its products is clear, and this culture of responsibility extends throughout the business, especially towards its staff. "People are huge for Peerless, and we know that we are only as good as the people who are building our windows," agreed Sarah.
"We have many different health and wellbeing programs that focus on our people including the Peerless Wellness Program that pays for a portion of gym memberships, reimbursements for safety shoes, free hi-vis vests and shirts and fresh fruit passed out daily. This year we took the week between Christmas and New Years' off as a company with time paid for if you have been with the company for five years, and part of the time paid for employees with the company between two to five years.
"We also have annual meat give-away!" she added. "We go to surrounding county fairs and buy animals from the kids to butcher and pass out 20 lb. portions to our employees. We are also continuously working to improve our employees' benefits because we understand that there needs to be a work/life balance to get the best out of everyone."
It is not surprising then to learn that when the coronavirus pandemic hit, the Peerless management team went above and beyond to protect not just their own staff, but also others in the community. "At the beginning of the pandemic, our President went out and bought six sewing machines to put together a task force to sew masks for our 400+ employees. After our employees had masks, we started donating to other small businesses struggling to get them," Sarah revealed. "Going through this pandemic has been challenging as a company, and we have had to pivot our sales and marketing techniques to keep projects coming in, and now I think our team is more versatile than we have ever been.
"We did see a slight slowdown early 2020 because jobsites were just not open, but things have started to pick back up. We work with some excellent partners who let us build their projects early to keep our production running efficiently and lead times short."
As we go forward into 2021, the team at Peerless is ready to face the challenges that may arise and has ambitious strategies that it firmly intends to pursue. "We have many goals and plans for 2021, and we want to continue to grow our new ISG and CAG business while keeping our Peerless architectural window to the same high-quality standard," Sarah confirmed. "We are currently improving our customer visit area, so we can host clients in a comfortable space when travel does start. As mentioned above, we are also improving our testing capabilities so that customers can do full-scale mock-ups while visiting us. We also have some new products that we hope to bring to market later this year."
She concluded with a longer-term vision for this ambitious and flexible business. "In three to five years, we hope to produce our products more efficiently than anyone is currently capable of in the window industry. This could look like automation, new Peerless patented equipment, or even new technology. We are at a pivotal time where the next big idea could change the whole window industry, and we want it to be something that comes from Peerless."
Peerless Architectural Windows and Doors
www.peerlessproducts.com
Products: Innovative window and door manufacturer