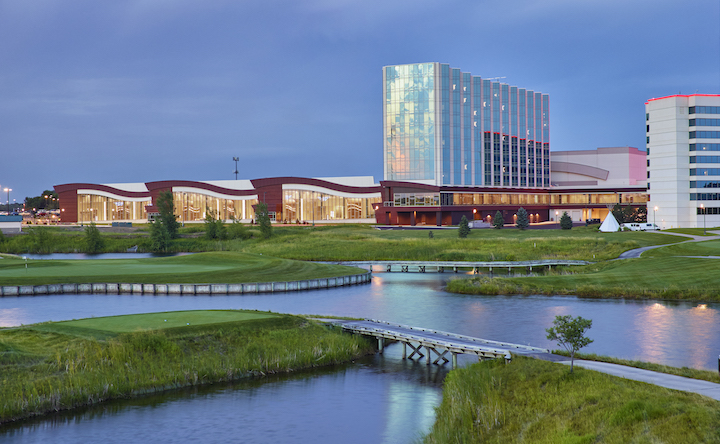 PCL Construction Services – Mystic Lake Promenade Tower and Mystic Lake Center
PCL delivered the new Promenade Tower and Mystic Lake Center ahead of the original deadline.
It is common for builders to encounter a tight schedule on a construction project, but to have it accelerated while it is being built is another thing entirely. But PCL Construction Services proved itself capable of handling the challenge when it built Mystic Lake Center, located in Prior Lake, Minn., south of Minneapolis.
Construction started on the project in April 2016, with the goal of finishing the hotel before the 2018 Super Bowl. When PCL's client, Mystic Lake's executive management team asked if it could be finished before Christmas, "We had to regroup and move faster," Project Manager Abby Fincher recalls.
The owner wanted to move up the hotel's completion so that it could host a large New Year's Eve party that was attended by more than 2,000 people. Despite the difficulties involved, PCL and its team met the goal and finished in December 2017, thanks to extensive collaboration on the job site between PCL, Mystic Lake's Project Services team and key Subcontractors.
"We did a lot of pull planning with the subs, sitting down with them and being on top of what everyone was doing all the time, and making sure everyone was in the right spot," Fincher recalls. "We also helped the owner make decisions and expedited shipping if we had to."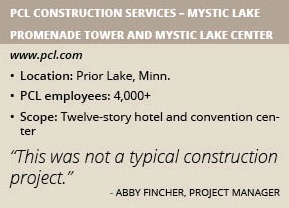 Project Partners
Mystic Lake Center and Promenade Tower were not PCL's first project for the Shakopee Mdewakanton Sioux Community (SMSC), which owns and operates Mystic Lake Casino Hotel, Little Six Casino and several other non-gaming enterprises. The project is a continuation of the tribe's master-planned destination resort.
Over the last 25 years, PCL has completed approximately 20 major projects for the SMSC, giving the team an understanding of how to work on the site. The team used this experience to meet the goals and expectations on all levels, including quality, cost and schedule. The contractor achieved all coordination and schedule milestones by maintaining clear communication.
The project also saw the participation of many different subcontractors and partners. "This was not a typical construction project," Fincher states. "There were a lot of players and people to coordinate with."
This was essential as PCL erected barricades, fences and walls for safety and worked around guests, golfers and casino players. "With the hotel towers being adjacent to the site, we would ask when we could start noisy work," she recalls. "They don't want to interrupt guests sleeping."
The project also served as an opportunity for Native American workers to develop their skills as construction professionals. According to PCL, Native American workers contributed to 25 percent of the construction hours on the product.
The job also created more than 400 construction jobs. "We're so proud of this place because it was built with Native American labor," PCL Vice President and District Manager Mike Headrick commented at the building's dedication.
Fine Features
Designed by Worth Group Architects, Mystic Lake Center and Promenade Tower stands twelve stories and covers 280,000 square feet with 180 luxury rooms. One of its standout features is a floor-to-ceiling glass wall that overlooks the Meadows at Mystic Lake golf course.
Inside its entrance are three blue acrylic chandeliers. Each one was shipped unassembled, which required builders to work with more than 1,000 parts without any directions.
"The project team had to assemble each chandelier piece by piece with extreme care prior to hoisting each chandelier in place," Fincher says. "The design of the center is meant to suggest the outdoor landscape of Minnesota – with these chandeliers replicating water themes."
Similar to the water themed elements of the chandeliers, the curvilinear design of the ceilings conjures imagery of rivers and flowing water, notes Robert Blankmeyer, PCL project manager.
Mystic Lake Center's glass exterior also presented a challenge to the designers, who wanted to ensure that spaces would not be overheated or too cool in the winter. This was solved by incorporating 11,000 square feet of SageGlass with electrochromic technology.
The glass reacts to sunlight and prevents glare and heat gain without the use of blinds or solar controls. "It also allows the building to be heated and cooled more efficiently," Fincher says. "That in turn reduces the overall energy that the center uses."
Mystic Lake Center features three large ballrooms that can be arranged into multiple configurations and several breakout meeting rooms all with state-of-the-art audio-visual networking technology that can be controlled from anywhere in the facility via tablet and touchscreen interfaces. In addition to the larger ballrooms, an executive conference room is located on the third level, with sweeping views of the golf course.
Hotel guests also can enjoy state-of-the-art technology in their rooms, which includes wireless Bluetooth speakers in their bathroom mirrors. The rooms also incorporate high-end finishes, such as stone and quartz countertops, dramatic ceilings and a carpet pattern that Mystic Lake worked with the manufacturer to design.
A Non-Traditional Approach
One way that PCL cut down on the project schedule was by using exterior insulation and finish system (EFIS) panels that were prefabricated off-site. "We were able to install the windows one after another instead of waiting for all the panels to be up," Fincher says.
"Using a five-person crew, it took 37 working days to install 45,000 square feet of panels," she adds. PCL managed this by collaborating with Swanson & Youngdale (S&Y), a painting, drywall and exterior finishes company, to take months off the schedule.
S&Y itself worked with the Lutz Co., a distributor of EFIS components for Dryvit Systems Inc., which is North America's largest manufacturer of EFIS. "Mystic Lake Center and the Promenade Hotel Tower were also a part of the Dryvit program – Tech 21 Initiative, a program emphasizing clear and constant communication between construction partners and project owners," Fincher says.
This approach allowed PCL to reduce the construction schedule by six months. "In the traditional approach, windows would have not been placed until all panels were completed and scaffolding taken down," Blankmeyer says.
Outstanding Experiences
Now that it is complete, Mystic Lake Center is a source of pride for all involved. "Our goal for Mystic Lake Center was to create one of the most sought-after venues to hold events in the region and build on the Shakopee Mdewakanton Sioux Community's commitment to create outstanding experiences for everyone who visits our enterprises," commented Angela Heikes, president and CEO of the SMSC Gaming Enterprise.
"We are very proud of the result and how PCL Construction helped us achieve those goals and so much more, including completing the project within our required timelines, providing an outstanding level of quality, and supporting our commitment to create hundreds of construction jobs for the local area, many of which were filled with a significant number of Native American employees and contractors," she added.
The hard work has paid off, as the center has become a popular destination with many large-scale events booked through 2023, proving that it is indeed a destination for world-class entertainment and event experiences.