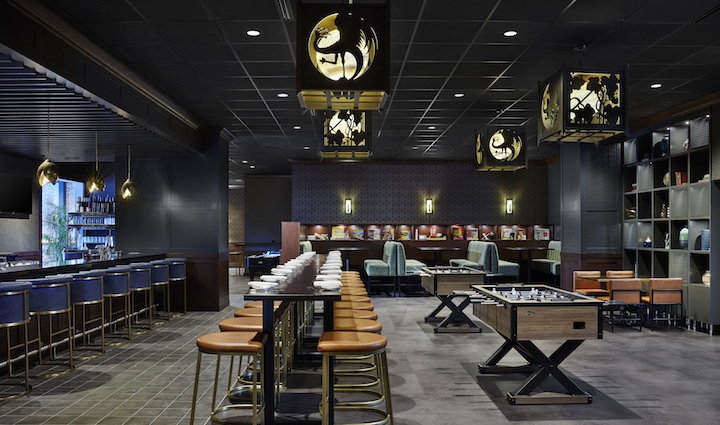 PCL Construction Services Inc. (Minneapolis District) – The InterContinental Hotel
PCL met the challenges of building a hotel at the Minneapolis-St. Paul International Airport.
When the Minneapolis district office of PCL Construction Services Inc. builds a project, it takes the role of a "solution provider," Project Manager Brett Cummings says. "There's so many challenges and hurdles in a project, and we find a way to make sure the project is successful, regardless of what comes along the way," he says.
The company took that role on the InterContential Hotel, a recent project at the Minneapolis-St. Paul International Airport. PCL served as the construction manager on the multi-million-dollar Graves Hospitality. RSP Architects served as the design partner.
Construction started in November 2016 and was completed in September 2018. Today, Cummings says, the 250,000-square-foot building stands 12 stories with 291 luxury guest rooms, including presidential and grand suites on its top floor.
The project also features a design that combines modern luxury with local Minnesota materials. According to the company, this included the incorporation of Kasota Stone, as well as porcelain flooring that reflects the gray color of Minnesota-mined Cold Springs Granite.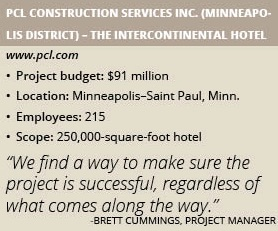 In addition, "The InterContential is a very full service, business-oriented hotel," Cummings says, explaining that the brand primarily serves business clients and holds conferences under its roof. This made it essential for the building to include 19,000 square feet of meeting and ballroom space.
The hotel also features its Elevations spa, three dining venues and a 12th-floor event space that allows guests to enjoy unique panoramic views of Minneapolis and Saint Paul. "You can see both downtowns at the same time," he adds.
The hotel also features a skyway that connects it to one of the airport's C Concourse. "That allowed us to put a TSA security gate in the hotel," Cummings recalls. "The hotel guests have direct access to the concourse."
Impressive Feats
A challenge that PCL coped with during the construction of the InterContential Hotel was its location. Situated in the middle of the airport, "We've got an active runway on either side of the hotel," Cummings says.
This required the hotel's design to address the issue of noise from airplane departures and arrivals. "People don't want to be awoken," he says. "Their earliest flight takes off at about five o'clock in the morning."
Flights can continue non-stop throughout the day as well, but the hotel's exterior walls and window systems are designed to keep the inside quiet with transmission-resistant properties. These include a complex curtainwall system with additional insulation, more layers of glass and larger air-spaces between glass panes.
Today, Cummings says, the hotel has a rating of 45 STC. "You can stand in one of the hotel rooms, watch a plane take off and you can't even hear that it's there," he reports. "It was an impressive feat by everyone involved."
The hotel's location also required the project team to work in a tight site. "[It was] not much bigger than the building footprint," Cummings says. "There was one road in and one road out for all the traffic."
Although laborers also had to cope with constant takeoffs as they built, they overcame the challenge through constant communication with the airport via a representative. "He kept us appraised of what was going on in the airport side," Cummings says.
The PCL team also was in constant communication with the Federal Aviation Administration. "In the end, it was a complicated plan to execute, but it was efficient and effective," he says. "It took a lot of people to pull their weight."
Employee-Owned Mindset
Based in Edina, Minn., the Minneapolis district is part of the PCL family of companies. Vice President and District Manager Michael Headrick says that PCL has operated in North America for over a century and came to Minneapolis in 1978.
Since then, the district has developed a portfolio of commercial hospitality, manufacturing, higher education and office development projects. "In 1990, we built the Mall of America," Headrick reports, adding that its repeat clients include Graves Hospitality, along with General Mills, Mystic Lake Casino Hotel and 3M.
Cummings notes that the district has learned lessons from the InterContinental Hotel that it will be able to apply to other projects, including the value of using Wi-Fi systems on site. "Everyone had quality Wi-Fi access," he recalls.
"It was a system that I found a lot of efficiency in," Cummings continues, adding that PCL's subtrades and foremen used iPads on the jobsite. "The technology is developing quickly and now it's on us to figure out how we can use it efficiently."
Technology, Headrick says, is a major focus for PCL, since it allows the builder to add more value and produce high-quality results. As part of this focus, "We've recently partnered with technology and software companies, enabling us to leverage automation on job sites," he states.
One example is its use of Job Site Insights, PCL and Microsoft created this mobile-ready application that provides single-pane views of all aspects of construction. Insights data allows PCL to improve its processes and its increase safety, operational efficiency and labor productivity all while providing clients and consultant partners with real-time building data. This is all to improve construction quality and operator energy costs.
Reference Microsoft Customer Stories: https://customers.microsoft.com/en-us/story/pcl-construction-professional-services-azure
"Another example is our recent, multi-year agreement with 3DR that allows unlimited use of Site Scan on all PCL jobsites, standardizing drone software across the company," he says. "We like to keep our finger on the pulse of innovation and aim to be trendsetters in the industry."
Headrick sees a bright future for the Minneapolis district. "We will continue to expand our footprint in the North Dakota and Rochester markets while maintaining our unique culture and unwavering commitment to our clients in the Twin Cities," he predicts.
In addition to taking advantage of the latest technologies and passing cost-savings onto clients, "We are looking to expand the types of jobs we pursue and continue enhancing our portfolio of work," he says. "With the advancements in our technology and analytics, we are leveraging these tools to further our healthcare markets."
In fact, the Minneapolis office is now at at work on a $300 million hospital in Grand Forks, N.D., along with a $220 million dollar 11-story parking ramp at the MSP airport, and a new long-stay hotel in Rochester, Minn.
"With opportunities that are popping up, we are excited to be in Rochester as it is becoming a world-class destination," Cummings says. He is currently working in Rochester as the project manager on the new Hyatt House hotel.
An Eye on Trends
PCL keeps a close eye on industry trends, which have included an increase in wood and timber-framed projects, as opposed to concrete and structural steel buildings. Fortunately, Headrick says, the Minneapolis district has many resources to pull from, including subject matter experts with experience in the mass timber market.
Mass timber, he explains, has many advantages PCL can pass onto its clients, including better environmental performance, a lighter weight and an increased construction speed. "Additionally, we are constantly striving to bring added value to our clients through better relationship management, delivering on the PCL promise and ensuring clients are meeting their sustainability goals," he says.
PCL incorporates the latest trends and technologies into its construction methods and project delivery processes to find the best way to meet its client's goals.
SIDEBAR – Award-Winning Work
PCL Construction Services Inc. has been recognized for its work on the InterContinental Hotel. Since its completion, the project was named:
*Minnesota Real Estate Journal's Top Project for 2018;
*Finance & Commerce's Top Project for 2018; and
*One of Twin Cities Business' Unique Venues for Business Events.