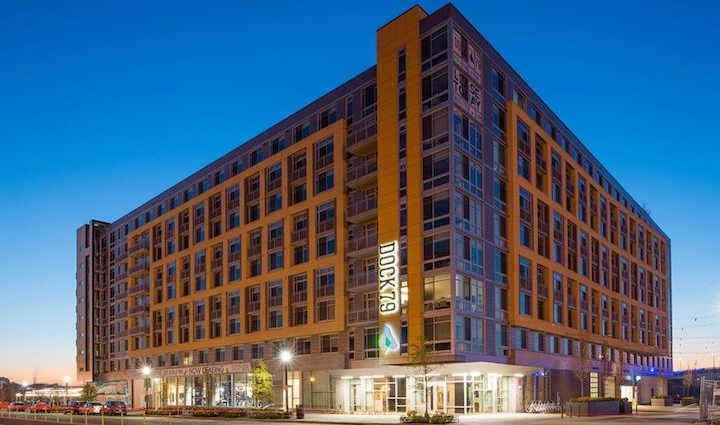 Paradigm Windows' innovative vinyl window solutions have helped the company grow in the commercial market.
Not all windows are created equal. Paradigm Windows – a Portland, Maine-based manufacturer of premium vinyl custom windows and sliding doors – is a company that thrives on this knowledge.
What started as a certified fabricator business in 1981 has prospered into a notable company that is ahead of its game in the fenestration industry. The company's rise to success can be attributed to its ability to differentiate itself through innovation and a commitment to quality and service.
"When we designed the product, there were three concepts in mind: strength, performance and beauty," says Gabe Cyr, an outside sales representative at Paradigm. "Those are the thriving concepts of the Paradigm brand."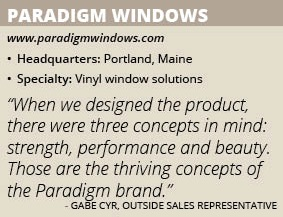 For more than three decades, Paradigm has been building a name for itself by providing premium-quality, Energy Star-rated vinyl windows and doors for new construction and remodeling projects in both the commercial and residential markets.
Although many companies talk about product innovation, the innovative nature of Paradigm's products dives deeper than just the window itself.
"Paradigm's windows are coupled with an impressive and diverse set of options and accessories that aren't as common in the vinyl industry," says Dan Quinion, the company's marketing coordinator. "We design our products to perform in rigorous climates while offering an extensive set of unique options and accessories for appearance, structural performance, ease of installation and labor savings."
This is especially the case for Paradigm's commercial products. The 8-Series, Paradigm's premium window line for commercial applications, is highly customizable with an array of high-quality features, finishes and materials.
For example, the product is manufactured with architecturally correct casings that are factory applied, resulting in windows that mimic the look of wood.
Paradigm also offers built-in options for labor savings, a faster and easier installation process and factory mulling options for increased performance.
"The 8-Series is available with multiple architecturally correct exterior trim options," adds Cyr. "The benefit of that is that they come pre-applied to the window unit and that saves on time, labor and materials."
Architecturally correct casings – which are especially important in historical renovations – are not offered by every window company. Paradigm offers them in various styles that include flat, 2 1/4 -inch brickmould and 5-inch brickmould. They are available three-sided with sill nosing or four-sided, also available in offset configurations.
"We a have very strong architectural calling," Cyr says. "We're involved with the architects from the initial design to help develop a particular window concept for a project.
"I think we offer a level of customization that exceeds that of our competitors," he says.
A Different Brand
Paradigm operates by utilizing a distributor-based business model, serving its residential and commercial customers through network distribution partners throughout the Northeast, Mid-Atlantic and Midwest regions of the United States.
Although Paradigm's products are certainly the stars of the show, what differentiates the company from its competition is the expertise and level of service it offers its customers.
For example, Paradigm has an in-house engineering team that works directly with the architect and contractor to provide design assistance. That includes CAD support and preparation of submittal packages.
In addition, its in-house customer service team offers assistance to distributors and dealers as well as homeowners, general contractors and builders who install or use its products.
"We also have an excellent service team that provides industry leading service support," Quinion says, adding that the company does not use third-party contractors and service techs because its employees are factory-trained and certified.
"We have also implemented an innovative Quality Monitoring Protocol that has reshaped the way quality standards are set and maintained," he adds.
Commercial Pros
Although Paradigm also operates in the residential market, its products have earned a reputation for dependability, diversity and high-performance among general contractors, builders, commercial developers and the architectural community.
"We are heavy in the residential market but our commercial business is growing," Cyr says.
One aspect that makes Paradigm attractive to the commercial market is its ability to customize and tackle specifications for a wide variety of new construction or replacement projects.
Its highly customizable product lineup and state-of-the-art, in-house manufacturing capabilities give Paradigm an edge – allowing it to deliver unique solutions for any type of building project.
"We are a custom, made-to-order manufacturer," Quinion says. "We create window solutions for unique situations and applications that other market leaders may not be able to achieve."
To help accomplish this, Paradigm operates six window production lines for windows and sliding glass doors. When combined, the production lines have a capacity of producing 560 units per day.
Paradigm also has invested in an industry standard four-point fusion welding system, digital unit tracking technology and an in-house custom painting system with flame treatment technology.
The company's IG and screen manufacturing is done in-house and it performs quality monitoring for all its products. In fact, all of Paradigm's products hold the American Architectural Manufacturing Associate (AAMA) Gold Label Certification for integrity and quality.
In addition, Paradigm operates a custom LEAN-designed specialty shop that offers builders value-added, labor saving additions to its products.
Staying Innovative
Modernization, alteration and the ability to accept change is what makes a company successful. Adapting new technologies, introducing different products and streamlining processes for efficiency are vital to a company's lifeline. Paradigm knows this.
"Continued innovation is extremely important in this industry," Quinion says.
When Paradigm first introduced its flagship 8-Series window product line for commercial applications, it was designed specifically to meet the needs of commercial contractors in New England, a geographic area prone to extreme weather conditions.
The industry's mindset at the time was slanted towards the belief that wood windows are more durable and of a higher quality than those made of vinyl.
"Vinyl was looked at as a 'subpar' material for windows," Cyr says. "Paradigm has taken that misconception and built a business on changing that mindset. This market need has allowed us to grow year over year."
Paradigm's double hung vinyl windows have become known for their flexibility, performance and value. Their unique advantages include increased ventilation, energy efficiency and ease of cleaning.
"We compete against wood, aluminum, fiber glass and other vinyl window products," says Tom Masters, commercial business development representative at Paradigm. "Vinyl is now approaching 70 percent of the share in the market for all windows. What makes them attractive to homeowners and developers is cost, flexibility of design and the fact that they are very low maintenance."
Paradigm offers two different double hung windows to fit a variety of projects and budgets, available for replacement and new construction projects.
Its 8-Series is growing in popularity for commercial applications, largely due to the fact that it is highly customizable.
"In this market, commercial applications are generally more limited," Cyr says. "But due to our mulling and performance capabilities, we can make configurations that would have traditionally been limited to aluminum products."
Paradigm's other popular window product, the 5-Series, is a value-engineered solution that can be used in commercial projects but is primarily designed for the residential market. Although it's not as highly customizable as the 8-Series, it's a good choice for projects with budget constraints.
Paradigm believes that its innovative measures – along with its tradition of craftsmanship and an emphasis on value without compromising performance – has helped it become an industry leader, as well as making the company grow and flourish.
"We have grown at the expense of the wood market," Cyr says. "By having aesthetically pleasing windows with a higher performance and flexibility has allowed us to overcome the hurdles of the cheap vinyl stigma."
To ensure that its windows are weather-tight and durable, Paradigm rigorously tests in some of the harshest elements in America – making them especially attractive to builders in diverse and tough climates.
A Unified Team
Paradigm operates as a unified entity by housing all of its departments – from the manufacturing, sales and marketing to customer service, management and shipping – under one roof.
All of its operations are based at its 150,000-square-foot facility in Portland. Paradigm believes that its unified operations provide a fruitful work environment that promotes innovation, diversity and growth.
"From 2000 to today, we have tripled in size and output," Cyr says. "In 2015, we outgrew our previous manufacturing facility and moved to a brand-new location which is larger and better set up for manufacturing."
Paradigm employs roughly 235 people and operates on a two-shift model. Its suite of customizable window solutions offers a variety of commercial industry applications that include multifamily, educational facilities, mixed use properties, municipal buildings, assisted living facilities, religious buildings and the hospitality industry.
"We also offer a limited, higher standard lifetime warranty on our products where a lot of our competitors do not," Cyr says.
Paradigm's products are backed by an industry leading 20-year limited lifetime warranty that includes all window components, glass and five years of labor.
"But what makes us shine is the product and the team behind it," Quinion adds. "We are a team-driven organization right down to the entry-level assembly worker, who has the ability to stop the production line at any time to bring a problem to attention."
Aside from its products and processes, Paradigm places a high value on community engagement and sustainability.
Paradigm supports Habitat for Humanity, Catholic Charities of Maine, Refugee & Immigration Services, The Recovery Workforce and a number of other community programs. This year, the company focused on bringing attention to the declining population of manufacturing workers in Maine by partnering with multiple educational organizations.
"We hope to start a conversation amongst younger generations that generates interest in pursuing a career in manufacturing," says Quinion. Additionally, to celebrate its workforce community, Paradigm hosts social events to bring employees and their families together throughout the year.
In terms of environmental sustainability, Paradigm recycles large components including vinyl, glass and aluminum. Additionally, when its Energy Star-rated products are used to replace old windows, household energy consumption is reduced along with greenhouse gas emissions.
"We are a very innovative and progressive manufacturer that's always looking for the opportunity to improve our products and services to increase efficiency, performance and to better serve the needs of our customers," Quinion says. "We will continue to focus on innovation by embracing the new technologies available to us, with a customer-centric mindset as we continue to provide exciting, high-quality products and services to our customers."