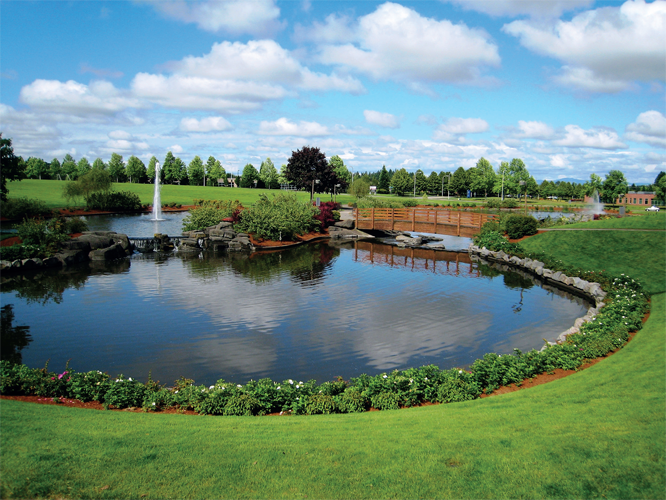 Pacific Landscape Management
Orange is the new green
Known to its many customers as much for its brand colors as its expert commercial landscape management services, Pacific Landscape Management has built its success by taking care of the people who take care of its customers
Established in 2001 – and celebrating its 20th anniversary this year (2021) – Pacific Landscape Management (Pacific) is a commercial landscape management company forged with a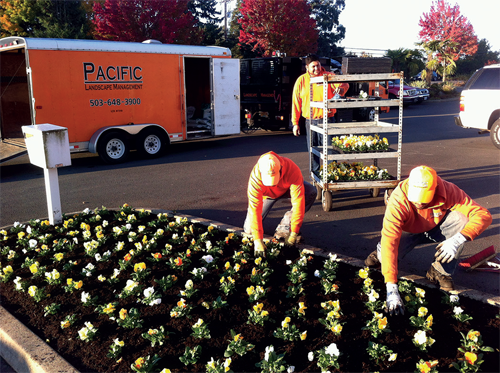 mission of becoming the leading player in its field in the Northwest of the United States. Founded by Bob Grover and Elias Godinez, the business has grown considerably in its two decades of operations, to the point where it today maintains over 800 properties with a staff of more than 250, working out of three branch offices serving the Portland/Vancouver metro area, and a fourth in Salem, Oregon.
"Pacific's primary business is commercial and homeowner's association landscape management," Owner Bob Grover tells Construction Today. "We provide our customers with full service landscape solutions, including maintenance, water management, restorations and renovations, arbor care, and pest control, and are best known for our outstanding levels of communication, and our proven track record for protecting and maximizing the value of our customers' landscape assets."
Throughout its time in business, Pacific has been committed to providing its people with the tools and technologies necessary to facilitate their ability to efficiently and effectively serve said customers. Across each of its branches, the company makes regular investment in its equipment and truck fleet, and ensures that it utilizes cutting edge, cloud-based software and technological solutions in order to aid communication and deliver real-time project management.
"Many of the landscapes that we manage today were originally developed and built in the 1980s and 1990s, and can come with small age related problems with plant material, irrigation, and overall design," Bob explains. "Therefore, a significant part of the work of Pacific is helping our customers to improve upon things like water conservation and aesthetic appeal, and reduce long-term maintenance costs through landscape renovations. In order to achieve this, we have developed an array of landscape renovation solutions, including water conservation planning, remote weather-based irrigation control, lawn conversions, plant replacement with native and/or lower maintenance varieties, and several different drainage solutions."
Of the above-mentioned services, water conservation has become a particularly important one of the company in recent times, especially as water rates in the Portland metro area have roughly tripled in the last decade. "Regardless of our customers' differing levels of sustainability focus, water conservation boasts a great ROI, and that inevitably provides a hook for everyone," Bob points out. "Our water conservation solutions include Weather-Based remote irrigation controls, pressure regulation systems, conversion-to-drip irrigation solutions, and updating products.
"Lawn conversion of difficult to irrigate lawns is a key component to our water conservation programs. Parkway strips and parking islands are notoriously difficult and expensive to water, so what we at Pacific have done is recommend to many of our customers that they cover such features with lower irrigation and landscape elements. By doing so, they not only save water, but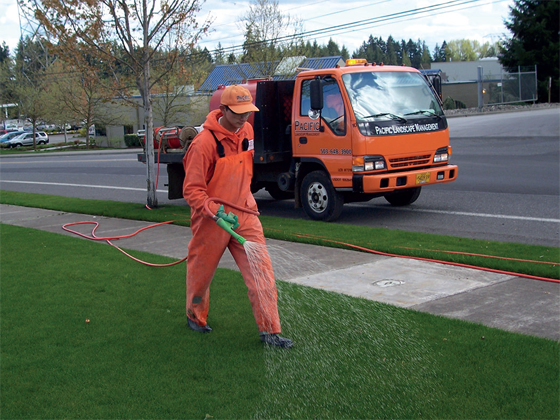 also lower ongoing maintenance costs, thus resulting in the greatest possible return on investment."
While Pacific's dedication to its work is unquestionable, its real passion is caring for people, for customer service, and employee development. "Historically, landscaping has been what I would consider to be an underrated profession, therefore we work hard here at Pacific to buck that trend," Bob states. "Among the ways that we try to do so is through detailed training and personal development programs. All of our employees are given such plans, and we provide them with a number of internal and external resources to aid with their development.
We also have multiple employee appreciation programs and take great effort in celebrating the great work of our people. Each branch has weekly training and celebration meetings, bi-weekly barbecues, and regular teambuilding activities. We also support many local charitable causes, which is another reason why our employees are proud to wear Pacific's colors and refer to themselves as 'Team Orange'."
As the company marks its 20th anniversary, Bob is happy to reflect back on its two decades of success. "In that time, we have grown in ways that we probably never imagined," he says. "When we started the business, we hoped to be able to be successful enough to support our own families. As we started having success and attracting others to join us, it quickly became as much about other people's careers and families as our own. Today, all of our focus is on continuing to grow Pacific in order to provide better opportunities for our team.
"We are proud to have built what we call a destination company, attracting many educated and established landscape professionals, but our greatest enjoyment comes from watching people grow and develop. Many of our supervisors and operations managers started out as entry-level laborers here at Pacific, and over the years they grew into technically skilled and highly-trained professionals in their own right. It is helping people to achieve, and often exceed, their own professional expectations that gives us our greatest level of pride."
In the years to come, Bob and his team look forward to achieving continued growth across the business. "The needs of our customers are constantly changing, as is the environmental landscape," he adds. "For our part, we are motivated by helping our customers to maintain the function and aesthetics of their respective landscapes, while also achieving the various environmental objectives set out by society in general. It is an exciting time for Pacific, and we remain proud to say that we don't just cut grass and plant shrubs, we also manage what is an enhanced urban outdoor environment!"
Pacific Landscape Management
www.pacscape.com
Services: Commercial landscape management