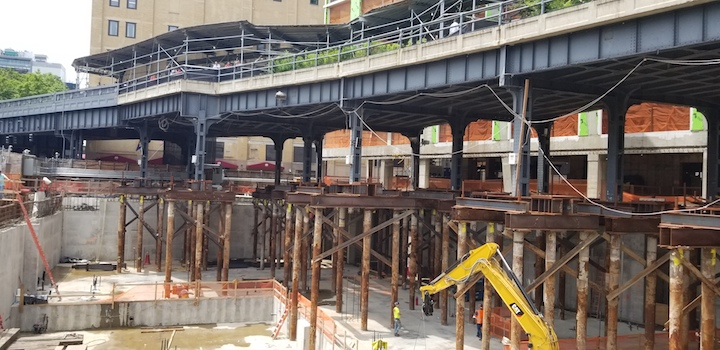 Omnibuild is building luxury living with its XI project in New York City.
After more than a decade, Omnibuild Inc. has established itself as a construction management firm with the ability to take on complex projects. This makes the firm a perfect fit for The XI, which will set itself apart with its unique design.
Located in New York City's West Chelsea neighborhood, the multi-use development will cover nearly a million square feet and consist of two towers surrounded by a podium structure. One of the towers, Project Executive Roy Galifi notes, will stand 35 stories and house high-end condominiums.
The second will stand 25 stories and feature condominiums as well as a flagship hotel location for the Six Senses brand with 137 luxury rooms. In addition, "There will be a number of lounges, restaurants, high-end athletic spaces, a swimming pool and social spaces," he says.
The towers also will feature a swimming pool in their penthouses as well as high-end saunas and 90,000 square feet of retail space. But one of the most distinct elements of The XI is its design by the BIG-Bjarke Ingels Group, which has engineered the structures to twist and rotate along with the core.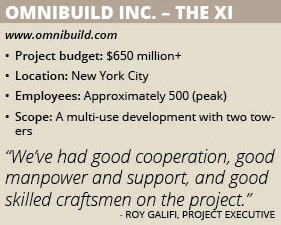 "They rotate three degrees for every floor that goes up," Galifi explains. "It creates the illusion that the buildings are leaning."
Building a Vision
Omnibuild broke ground on The XI in spring 2016 and expects to have it finished at the end of 2020. Galifi says that the project, which is budgeted at more than $650 million, is the largest-scale job that the construction manager has ever taken on.
It also marks the company's first project for HFZ Capital Group, a Manhattan-based real estate investment firm. Galifi, who has extensive experience with high-end projects, notes that Omnibuild worked seamlessly with the firm's staff.
"We understood their visions," he says. "We worked very well together, selecting contractors and working on materials selection that met their [needs]."
The structure of the towers, Galifi notes, presented a challenge for the project team, since it had to remake the formwork and floor stops for each level to achieve the design. "We were working through the rotating of the mechanicals and superstructure details as we were pouring concrete in terms of the shape and orientation of the building," he recalls.
Another aspect that the project team focused heavily on was The XI's façade. "The façade has a lightweight stone system with a honeycomb core, integrated with a window and ACM fill system," he says. "The coordination with the superstructure and insulation of that system has been challenging and satisfying to see executed."
The stone used in the honeycomb core, Galifi notes, is Travertine, which was transported from one of the oldest quarries north of Rome. "[It was used in] some of the ancient, iconic Roman structures," he adds.
A Top Team
Despite the challenges, Omnibuild has been successful in constructing The XI thanks to the work of its diligent staff. Not only did they excel at monitoring its submittal system, "[But there also has been] great collaboration with the design team and the contractor," Galifi says.
He also praises the work of the subtrades. "Fortunately, we've had good cooperation, good manpower and support, and good skilled craftsmen on the project," he reports.
Often, he says, Omnibuild uses subcontractors that are based in the Tri-State area of New York, Pennsylvania and New Jersey, as well as Connecticut and Long Island, N.Y. "We also working with manufacturers in China as well as Canada," he says.
During The XI project, Omnibuild utilized subcontractors it had used time and time again, as well as new ones. "We've had quite a mix, based on the size of the project," Galifi says. "We've been fortunate to develop new relationships, as well as [continue] some old ones."
But the company is careful in selecting subtrades for its projects. Usually, Galifi says, Omnibuild uses those who have strong administrators. "We also like to see that they have a good estimating staff as well as solid experience in project management," he adds.
Another important attribute is the ability to integrate well with their field employees. "That's what's needed so we get just-in-time deliveries," he explains.
So far, Galifi adds, the entire project team has kept safe with the help of Omnibuild's full-time safety manager, along with two fire safety managers. "We've had an incredibly good safety record on this project," he reports.
"We've also had a great relationship with the New York City Department of Buildings," he says. "Fortunately, we've had very minor incidents and we've maintained a very safe track record since we began."
Built for More
Based in New York City, Omnibuild started operations in 2007 and says it has since grown to become New York's premiere construction and development firm. Today, its specialties not only include high-rises, but also renovations in the metropolitan area as well as educational buildings.
The firm has earned recognitions that include being named New York's No. 1 hospitality builder, an ENR Top 400 contractor and one of the top five out-of-ground builders by The Real Deal. "At Omnibuild, we strive for what is more difficult in this world, [and] we seek to achieve more because we are built for more," the company says.
A longtime veteran of the construction industry, Galifi joined Omnibuild in 2012. He notes that he has learned many lessons during The XI project, including the importance of being involved from the very beginning.
"Because I had the opportunity to be involved so early with the pre-construction, it reinforced being proactive when it comes to working out complicated details far earlier," he explains, noting that the company needed to complete pre-award coordination to work with the design team to develop the construction documents. "It might have been a lesson that you can never start anything too early."
Galifi also saw the value of using the latest technology during The XI project, which included the implementation of construction management software Procore. With this product, Omnibuild was able to better manage its submittals, drawings and meeting minutes.
"It's an excellent tool for not only managing the individual jobs, [but also] keeping track of key elements," he says, noting that the project also benefited from building information modeling. "The use of 3-D modeling has been a big help. It is a good tool."
Using both was not something Galifi was used to, he admits. "I'm old school," he says. "I'm used to doing things on mylar with colored paper, but the technology works."
Shining Stars
According to Galifi, Omnibuild has nurtured a collaborative environment in its workplace. "There's an openness with the principals and the lowest tier of workers [when it comes to] sharing issues," he says.
This is very welcome, Galifi notes, in an industry, that suffers from emergencies on a daily basis. "To get the participation of the principals at any time keeps morale up to be sure," he explains. Galifi also praises his team at the company, which includes associate Juan Castro, who has moved up the ranks during The XI project. "Juan has grown from an assistant project manager to a project manager on the interior sites," Galifi says.
Another key person is Senior Project Manager Tom Quinn, who has taken on the day-to-day responsibilities and operations during the project. Associate Joe Manzo also has been critical in spearheading the coordination of The XI's façade.
"The façade was a huge contract with multiple components," Galifi says, noting that Manzo has taken a design/assist role during the project. "He has done a great job."
Another important associate is Project Manager Camille Erdem. "[She] has taken on a lot of responsibility on the structural side and has really shone like a star," he says.
Galifi also praises his field staff. "[They have] really done an excellent job considering the complexity of the project," he says. "Anything we do requires four to six architectural drawings, as well as various shop drawings."
Well Positioned
Galifi sees a strong future ahead for Omnibuild, which is currently busy with work. Its industry, he notes, can tend to be cyclical. "Right now, there's some predictions that there will be these little slowdowns in volume," he says.
But the company is confident going forward. "We're not really seeing that," he says, noting that the market is so busy that it made it difficult to secure subtrades The XI. "It took a lot of search and coddling to keep everyone in the fold.
"New York City is so busy right now [that our work] requires a good amount of people management," Galifi says, adding that Omnibuild's diversity will help to keep it strong. "We have a good amount of experience in hospitality, condominium and rental residential [projects].
"I think we're poised very nicely," he says, adding that Omnibuild has a strong interior renovation division as well. "We're positioned nicely to react to the marketplace."
This may also find the company working again with HFZ Capital. "It's very possible," he says. "They're pursuing some other developments, and if the timing is right and the staff is available, I don't see why we wouldn't [work with them again]."
Green Towers
Sustainable construction has not passed The XI by. Galifi notes that the overall project is aiming for LEED certification, while the hotel portion will achieve LEED Gold status.
"The design of the mechanical system in the base build was very energy efficient," Galifi adds.
As a member of the nonprofit U.S. Green Building Council, Omnibuild is well versed in green construction and has taken part in many LEED projects.
SIDEBAR – Location, Location, Location
The XI's developers take pride in its location in the West Chelsea neighborhood of New York. According to the project's website, the location is "where the river's edge meets one of the most galvanizing cultural frontiers.
"Here is a destination designed for experiencing life on the forefront," it says. "A hub at the outermost limits of the island of Manhattan, where the past is reinvented and the future is being written.
"[It is] a perfect metaphor for those drawn to the development – pioneering spirits unafraid to push boundaries, break new ground and make the impossible, possible," it says, noting that the location extends the notion of luxury living beyond a residence by surrounding residents with creature comforts.
"Be it fitness studios or schools, recreation or shipping, the locale not only offers access to everything – but the absolute best in class," The XI says. "Of special note – the renowned high line, mere steps outside, elevates even a casual stroll into an immersive experience in vision and natural beauty."
SIDEBAR – Intrinsic Elements
Some may at first be dazzled by the exterior design of The XI, but care has been applied to the interiors of the towers as well. Firm Gilles & Boissier is responsible for the design of N° X, which will feature condominiums above the Six Senses Hotel.
"Throughout the custom residences, organic elements – including unparalleled natural sunlight gleaming off the Hudson River, and lush verdure of the Highline Park – are paired with timeless materials and handcrafted details to create elegant homes that provide an intimate sense of escape and tranquility against the dynamic backdrop of the ever-shifting New York City skyline," The XI says.
According to Creative Director Dorothée Boissier-Gilles, emotion was a very important part of the design. "The building is a gift," she said in a statement. "When entering N° X, we want the residents to feel a little bit shaken."
This effect is created, she explained, through volume, light, warm material and wood. "You can almost want to touch them," she continued. "And we wanted to create a very peaceful moment. It's really creating your environment. It's creating how do you want to live."
The second building, N° 1, offers condominiums with interiors designed by Gabellini Sheppard Associates. "Inspired by the beauty of the natural world, the residences are appointed in a lush, artisanal palette of natural materials, including wood, marble, glass and refined metals that create a unique, beautifully textured sense of comfort," The XI says, adding that buildings also will offer residents ideal views.
"The majestic dance between the East and West towers, curving away from each other, enthusiastically accommodating another in the sky, gives rise to uniquely individual residences that invite some of the most breathtaking residential views to be found in New York City," The XI says. "Here, the city is not just an awe-inspiring backdrop; it is an intrinsic element of every home."