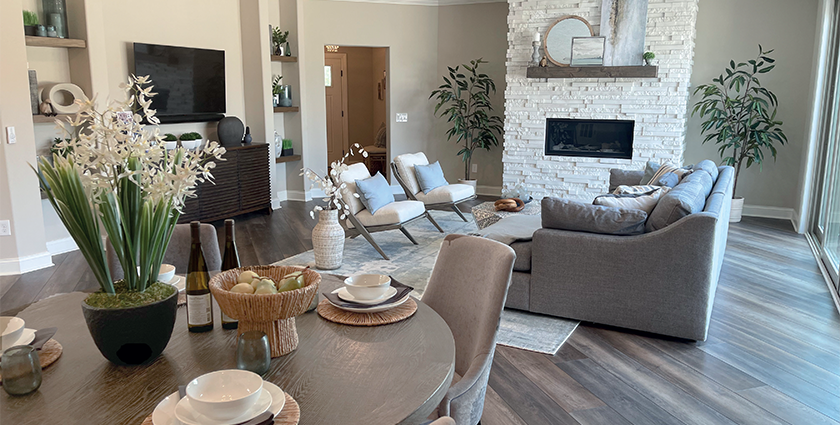 Living life to the fullest
In the short time that New Leaf Homes has been in existence, the company has made impressive moves in the homebuilding industry to become a trusted name for age-targeted communities and assisted living development projects
New Leaf Homes (New Leaf) is only two years old, but since its inception, the business has worked exceptionally hard to fulfill its building projects to the highest standard. "New Leaf is a division of our real estate development arm," begins Owner Mike Wojno. Mike and New Leaf President Katie Wojno Lancianese (Mike's daughter) discuss with Construction Today the work they have invested to ensure the company remains a trusted business in the homebuilding industry, as well as its successful partnership with Epcon Communities (Epcon). "We noticed, as we were moving forward with our usual real estate developments, there was a need for customers to have consistency and control over the entire design-build process, which wasn't always the case. This is what has motivated us to refine our work during this time," says Katie.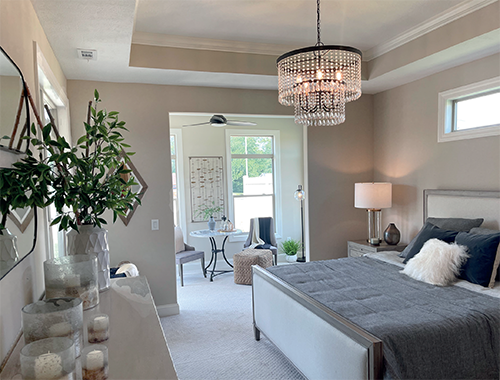 New Leaf is passionate about developing strong, safe and connected communities. It has done so by discovering a niche in the market, which subsequently propelled the company's partnership with Epcon forward. Epcon, a franchise network of builders that specialize in lifestyle development projects, has maintained an excellent relationship with New Leaf, which has resulted in the development of stunning homes.
With New Leaf's expertise in assisted living facilities and senior homes, the partnership pushed both businesses to new heights. "We have worked with Epcon in the senior arm of the residential developments for a long time. During our work, we had found that people wanted to remain situated in their homes as long as they could. It was with that in mind that we began our relationship with Epcon. Their exceptional plans allowed us to pursue building beautiful living spaces for this sector of the market. We have no steps in our buildings whatsoever, which makes them all friendly for aging in place. They are exquisitely designed to live well so that our clients don't miss out on anything they have come to expect in their luxury home," shares Mike.
As a result, New Leaf understands that in the instance of downsizing, their customers still want to prioritize the luxury details with which their previous home was styled. This is why the business offers an in-house designer to help clients during their selection process. However, while the interior designer walks customers through the upgrades by offering a range of options for a custom home, Katie and Mike know that it truly comes down to how each square foot is utilized within the home. "Building a home is not an easy process – it's incredibly emotional. Our customers spend huge amounts of money and make a lot of decisions, which often become tough moments. We do our absolute best to be there for them. Often, we become advisors to our customers. If they ask us what we would do if this were our home and our money, we are honest with them. This is not just another project for us. Our experience has taught us that treating our customers as we would want to be treated will have long lasting impact not just for our business, but the communities that we will build within.It's about enriching lives in addition to building happy, connected communities," Katie shares.
This then leads us onto discussing the unique traits that make New Leaf a dependable homebuilder. "We are here to meet customer needs, to listen to them and understand what they're looking for, and I think our experience within the senior housing business provides us with a deeper insight into what really matters in a home," explains Mike. He adds that this is further buttressed by the stage of life at which he is. "With myself being in that chapter, my physical abilities and personal interests have changed. I no longer want to mow the grass, or shovel the side walk and the driveway, but I do want to travel, especially during the northeast Ohio winters, so the ability to understand that our work has to create a second home for our clients is key."
In line with Mike's insight, when building homes, New Leaf takes into consideration the different life stages a family experiences. "These families have grandchildren who come to visit them in the summer, and their own children want to come and spend time with them, and these are scenarios that our work has to keep in mind. In my opinion, this is another area in which Epcon absolutely excels. They have certainly done a great job with additional rooms and personalization options. I think its team and the overall organization have a wealth of knowledge that makes it an expert in completing projects successfully, and that is blending with our experience as we move through the various stages of development."
This then takes the conversation towards the topic of recent projects, and one both Mike and Katie are very proud of is the development of The Retreat at Rosemont, which is located in Fairlawn, Ohio. "It's in the heart of the city on the former location of a high-end golf course and country club. It was the last large piece of developable land within the city limits so it was a highly sought-after property.
"As we worked through the project with a master developer and talked about what would be required to complete it, we noticed the need in the community really came down to what I call the 'lifestyle product' for people to age in place. There was a high demand for this type of product. What we loved about it was the location it is in the midst of the city, where clients are literally steps away from coffee shops and grocery stores, major expressways that allow them to travel anywhere, and they are surrounded by community park land with walking trails that go through approximately 64 acres of preserved nature. All of that has been a huge selling point for us.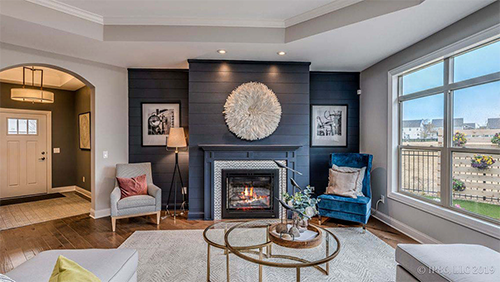 "We had a tremendous amount of support from the city in this project and the assistance from all of the agencies that have been part of making this process work has been huge. We have worked extensively with them on our entry ways, we have James Hardie siding on the exteriors instead of vinyl, so it is a very luxurious product. The look of the clubhouse has gone through an approval process with the city, and we are working hand-in-hand with them. In doing so, everything has just moved along the way that I think it was supposed to. It has been a beautiful process," Katie elaborates.
"What really makes the work so worthwhile is that the residents absolutely love where they are living now. Living in homes they were in for about 30 to 50 years just wasn't working for them anymore. They want to travel without having to worry about the lawn, and their homes had too many empty rooms once the kids had left. This really emphasizes why it has been so successful – these homes can keep the cycle going of families that are growing and looking for a design that works for them without having to renovate or throw money at their old home. They would much rather buy something that is ready for them to turn the key and move in," Mike adds.
It is projects like this that make both Mike and Katie excited about the future. Looking ahead, the duo has big plans for the company to continue growing across the Ohio region and beyond. "We'd like to maintain the momentum we currently have. At the moment, we're working on two to three projects at any given time, and I believe that that is the perfect pace for us," Mike expresses.
"Overall, I see New Leaf as being a big player in the northeast Ohio luxury home market, meeting the needs of our clients, and continuing to focus on providing the best in home designs that are popular with our senior generation," shares Katie.
Mike echoes these sentiments by emphasizing that diversification is going to be crucial in strengthening the company's name. "We have community centers that we are expanding on to bring in a concierge, physical therapist and added spa facilities. My mother- and father-in-law live in one of the communities we built and they are having the time of their lives, and it is so wonderful to see them loving their lives in an area where they can be part of a group that shares their interests. I think it's important to remember that although age comes with its own struggles, it doesn't mean that the same has to be true for our mind and soul. This is why New Leaf is passionate about creating homes and spaces that encourage the active adults to live life to the fullest, regardless of their age," Mike says.
To conclude, Katie highlights that the business will continue to work on improving community developments. "In addition to that, we donate a portion of the proceeds to local safety forces and school systems. It's part of our mission to ensure that the community grows closer and remains strong even after we have left, and that is something of which we are very proud," she adds.
New Leaf Homes
www.newleafepcon.com
Services:
Residential homes