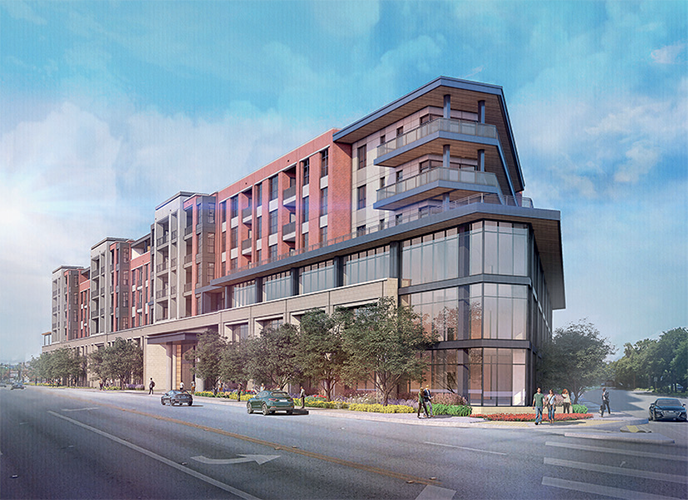 "Embrey has designed a unique living and working experience at 7600 Broadway with the highest quality of design and attention to detail," said Trey Embrey, President and CEO of Embrey. "We are proud to make 7600 Broadway our corporate home and pleased to have a company like Morgan Stanley as our neighbor and tenant."
Morgan Stanley will occupy 28,000 square feet while Embrey will move its corporate headquarters into the remaining 25,000 square feet. Tenant buildout has begun immediately with occupancy expected in the summer of 2022.
"This project represents the highest calling of our profession in terms of concept, detail, innovation and vision," added John Kirk, Managing Director and Executive Vice President for Development for Embrey. "7600 improves the streetscape at an iconic intersection that creates a more walkable neighborhood and a first-class experience in the heart of San Antonio."
The building features a number of luxury amenities that have been thoughtfully curated specifically to create a premier living and working experience. These include a professionally equipped fitness studio with showers, co-working study and private conference room, a full-featured lounge for entertainment and recreation, elevated pool deck and outdoor terrace, piano bar, and underground parking.
Property management services will be provided by Stream Realty Partners. JLL's Office Leasing team of Mark Krenger and Meredith Howard represented Embrey. Jeff Miller and John Worthen with JLL's Corporate Advisory Group represented Morgan Stanley.
Residential leasing for the development is expected to begin in 2022 with management provided by Embrey Management Services.