The right results
By doing whatever it takes to deliver a project through to completion as promised, Myco Mechanical, Inc. has earned itself a stellar reputation through hard work and proactive thinking
For Brian Myers, his career in the construction industry began at the age of 13, when he would work with his father installing sheet metal duct in summers when he was not at school. Upon finishing his education, he would go on to work for several different companies until – in 1996 – he decided to start Myco Mechanical, Inc. (Myco), a small company that primarily sub-contracted the sheet metal duct installation for larger mechanical contractors.
"Our first major growth spell came in 2006, when we started doing full service mechanical work, which included the installation of HVAC piping, which was performed by our own employees," Brian – who today holds the title of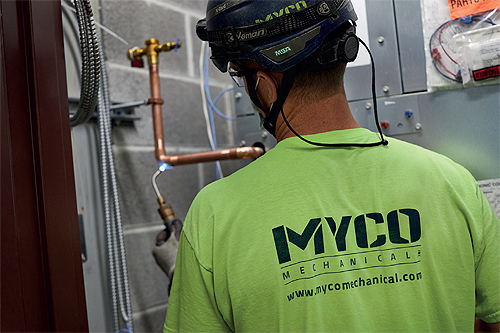 company President – explains. "Then, in 2010, I hired Mark Haley to be my business partner to help me grow Myco, and as part of a succession plan for when I retire. To accommodate our growth, in 2010 I purchased the current building that we occupy, which has 10,000-square feet of office space and 55,000-square feet of shop space. More recently, in 2014, we also commenced with carrying out full service plumbing in-house."
Therefore, the Myco of today is able to provide full service HVAC-mechanical and plumbing. It also provides HVAC pipe and plumbing pre-fabrication services in its shop to help support its field personnel. Within its arsenal, the company possesses a Trimble 3D scanner and two Trimble total station robotic setups to help streamline its workflow and deliver maximum quality and accuracy for its CAD drawings and field installations.
"What we also have at our disposal are great people that care and are driven to be the best at what they do," Brian continues. "Without our employees we are nothing, and we try to set them up for success by giving them the tools and assistance they need to achieve this. This starts from the bottom and goes all the way to the top. We train our apprentices in-house and teach them the best practices of the trade in a classroom setting, while also giving them real-life hands on experience in our apprentice training area. We also promote from within and are constantly training our employees to prepare them for the next level. We have an open-door policy where anyone can walk into my office at any time with a question or a concern. We listen to our employees and the feedback they give us, and this helps them feel like they are contributing and are part of the team. I think it is evident that we are employee driven, in that we have been voted one of the top 30 places to work in Pennsylvania for four consecutive years.
"At Myco, we try to create a great culture and work environment so that people enjoy coming to work and take pride in what they do. We put out a top-quality product and we utilize technology that very few companies in our industry have, so we are all extremely proud of what we are able to achieve."
Myco thrives on having fantastic relationships with its clients, in which it strives to provide them with the best products and the finest quality workmanship within its field. "Our state-of-the-art technology and pre-fabrication allows us to provide these services in a timely manner, and faster than our competition while maintaining quality. After all, we know that providing our clients with a professional job gives us the best chance for future work with them," Brian adds. "With our industry-leading technology in our CAD department, we are able to provide our shop with detailed drawings and sketches to pre-fabricate and sub-assemble many items in-house that our competition cannot. Our fab shop is setup with four weld stations, an Alabama pipe cutting machine, several band saws, a hanger assembly area, and an area to build plumbing carriers and other assemblies to name a few."
Examples of the company's work take the form of various different completed projects, from elementary and middle schools, higher educational facilities, military facilities, chemical and pharmaceutical infrastructure and Federal Government buildings. Two examples of the work currently being undertaken by Myco are its efforts on the Abington Senior High School Initiative and Building Project in Abington, Pennsylvania, and the brand new Colonial Middle School in Plymouth, Pennsylvania.
"In the case of Abington Senior High School, which represents an $18 million contract for Myco, this involves a complete renovation and installation program in which we are putting in new piping and ductwork," states Myco Vice President Mark Haley. "While there are a number of similarities between this and other school buildings we have worked on in the past, the sheer size of the program of works differentiates it greatly. In order to carry out our efforts, we are utilizing our Trimble total station equipment to allow us to pinpoint exactly where each pipe, hanger or piece of ductwork needs to go. Prior to work commencing, we also put our Trimble 3D scanner to use, mapping the location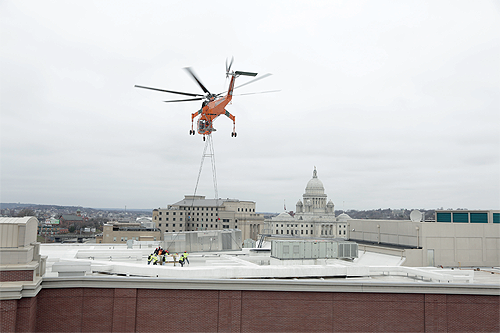 to within one-sixteenth of an inch and feeding this data back to our CAD department. They were in turn able to use a 3D modeling system to pre-fabricate much of the different pipe and sub-assembly ductwork, which helped greatly with its installation.
"Meanwhile, at the Colonial Middle School, Myco has been tasked with the responsibility of installing all of the plumbing, as well as the HVAC. Here, we are utilizing much of the same technology as mentioned previously. Like the Abington Senior High School, this is a two-and-a-half-year project, which we are currently one year into."
Wherever it may be operational, the nature of Myco's work requires it to consistently maintain the highest of standards when it comes to health and safety. "Safety is a central element within our culture and our mind set at Myco," Brian declares. "It starts at the top with Mark, Jack Novotny – our Safety Director – and myself. We want all of our employees to work safely and return home each night to their families the same way they showed up for work that day. We do not cut any corners or take any chances when it comes to safety, and we don't put a price tag on it either! We get our employees whatever they need to get the job done right and safe, providing them with state-of-the-art safety equipment and technology. We also provide extensive training in many different areas for our field employees so that we put them in the best position perform their task. We also have two full time in-house safety managers that work under Jack's direction in our Safety Department."
Safety was, of course, also of paramount important in 2020 with the emergence of Covid-19. "When the pandemic hit, we had all of our office staff setup to work remotely," Brian details. "Our field employees were not able to work for several weeks until precautions were in place and our jobs opened back up. Thanks to great planning and hard work from our staff and field employees, we followed that up with our best quarter ever (ending July 31st). It 53proved to us that being prepared and having knowledgeable employees paid off in one of the most challenging time we will face in our lives."
For Mark, with the new year approaching at the time of writing, now is a good time to be looking at what the future holds. "2021, in my opinion, will be another year of expansion for Myco," he says. "We gave been averaging anywhere from 28-to-34 per cent growth year on year in recent times, and with plenty of work out there for us to tender we anticipate this trend to continue. In 2020 alone, the Federal Government has put in excess of $3 trillion into our economy, and that is money that will be spent, make no mistake! Therefore, I see no reason why we couldn't be in a position where we see our business double in the next three-to-four years."
Myco Mechanical, Inc.
www.mycomechanical.com
Services: Mechanical contractor specializing in plumbing, HVAC and prefabrication