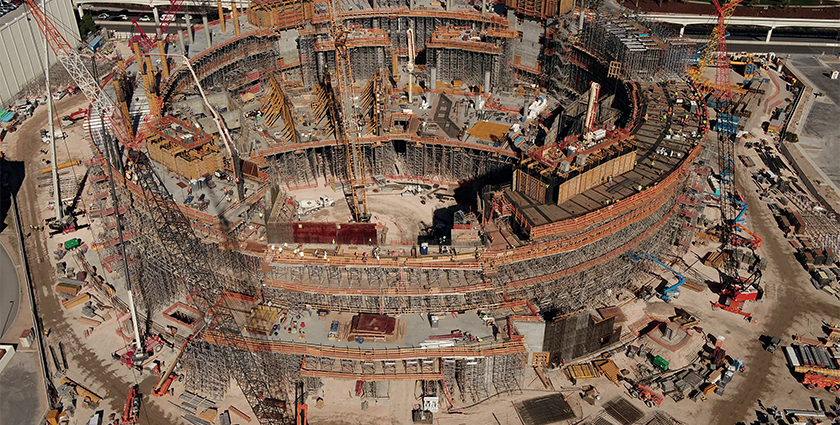 MJ Dean Construction Inc (MJ Dean) hit the ground running when it kick-started its operation in the late 80s
Bigger and bolder
Since then, the business has continually combined best practices with an expert team to complete exemplary projects in the State of Nevada
Mike Dean brought MJ Dean to life in 1989, and pushed the business from bidding for structural concrete work to taking on greater general contractor projects. "We started out small in 1990, but we expanded very quickly to take on a few sizable projects outside of Las Vegas," the company's President shares. From Mike's recollection, the first significant project was the Monte-Carlo Hotel and Casino in 1995. Its scope of work included the structural concrete work, framing, drywall, taping, painting, fireproofing, doors and hardware and decorative concrete. He shares that the work was performed for Circus Circus Development, which was headed by Bill Richardson.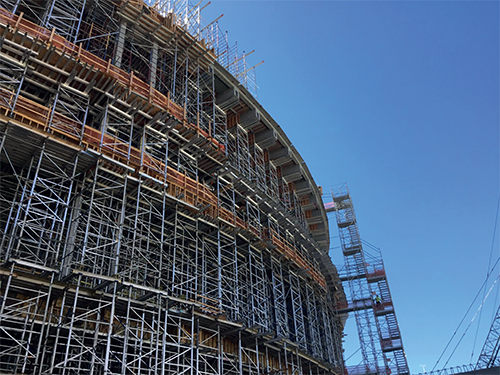 The business has since completed many significant projects with Circus Circus Development and WA Richardson Builders, including the Circus Circus Tower, Luxor Tower additions and remodel, Mandalay Bay and most recently, Resorts World. We learn from Mike and Loay Hanthel, the Senior Project Manager, how MJ Dean incorporates exceptional practices to ensure that contracts of this scale are fulfilled successfully. "We are currently performing the structural concrete work for WA Richardson on the Fontainebleau, as well as Durango Station. We have also worked on several significant projects as the general contractor – the complete list can be found on our website for those who are interested," Mike says.
Most of MJ Dean's work can be seen along the Las Vegas Boulevard, within the mid-to-high rise construction off-strip, where structural concrete work completion faces strict time constraints. For Mike, the business's ability to perform that work within set timelines is what separates the company apart from its competition. "Having said that, the reduced timeline results in significant cost effectiveness for our clients, and offers them the opportunity to generate revenue earlier. Performing the concrete work timely, efficiently and to the highest quality, sets the tone for the balance of work on the project. We also assist our general contract partners with labor, and we will help them navigate any issues they face within the confines of OSHA requirements by providing safety management support."
Another recent project that comes to mind is the MSG Sphere. "We recently completed the structural concrete work on the exceptionally large and complicated structure. We are also taking an active role in supporting the general contractors with key project management and field supervision. I would also like to speak about the new Kirk Kerkorian Medical Education Building for the UNLV School of Medicine. We are the general contractor on this project as well, and our client is Nevada Health & Bioscience Corporation (NHBC), which is developing this project for the benefit of UNLV. Our very experienced project team has done a tremendous job of ensuring the work is scheduled for completion in the fall. In addition to performing all the building structural concrete and site construction work, MJ Dean is responsible for procuring and installing all the building furnishings, fixtures, and equipment (FF&E), including the medical systems and equipment, as well as all low voltage systems and computer solutions," Mike highlights.
To echo Mike's sentiments, Loay goes into greater detail on MJ Dean's talent on the NHBC project, which he believes is a classic example of the company's skills and dedication. "That project demonstrates our willingness to navigate the challenges that we faced during the pandemic, especially when we had to consider supply chain issues, maintaining social distancing, and ensuring that the work was completed successfully. The project maintained its budget and stayed on schedule. For me, what it also highlighted was the admirable skills of our team. Everyone proved that they were innovative, and ready to take on a project that was brought to us in extremely challenging circumstances," says Loay.
He then continues to share his perspective on the projects that he feels demonstrate MJ Dean's full range of capabilities, particularly when it comes to working with the client and taking care of the business's team. "We worked on the Madison Square Garden project. Not only was it a complicated project, but we were also faced with major time constraints. There were no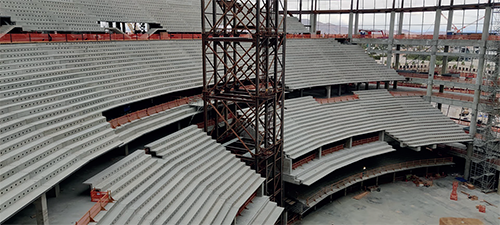 square corners, and our plans had to be laid out by GPS or survey. All our form work was completed on-site with our skilled labor, and our management team had to foresee every step because we were essentially figuring them out as the project progressed.
"We started work when we had 50 percent of the design documents, where typically projects do not take off until all those are in. So, we were three stages behind in paperwork when we first began, and I thoroughly believe that it really demonstrated our ability to pivot and adapt to the requirements of the project," Loay says.
From Loay's experience working with MJ Dean, he is so proud of the level of talent and expertise that the team brings to the table. This can be seen in many of its operational relationships, especially its supply network. "One aspect that I know we do well is we work alongside our trade partners. We team up with a project group, we work meticulously through the product requirements, and order those materials months ahead of when we need them. This team possesses a remarkable ability to predict what the project needs and is very experienced in building multi-million-dollar projects, so we have a wealth of knowledge behind us to understand the next steps, and plan accordingly."
Loay then continues to share more insight into the sorts of challenges that MJ Dean is currently facing, and how the team is working to mitigate those issues. "We are fortunate to be a small company that does big work, which again, comes back to our fantastic team. I think our biggest obstacle at the moment is the shortage of qualified personnel, and sourcing materials, which we often have to import," Loay explains.
It is an impressive fact that MJ Dean has been able to bring together the massive projects that the two gentlemen have highlighted, despite the challenges currently unfolding across the construction industry. However, for Mike, this is a result of the pride the business holds for the location in which it works. "We are fortunate in that I was born and raised right here, and I have lifelong relationships with the people of this community. I think that contributes to why we care so deeply about the work we do. Also, we have been in business for over 32 years, and have excellent connections with the labor unions and their members. I believe this ties in well with why we have such a great reputation, and why everyone who works with us is excellent at what they do."
The conversation then draws to a close on the topic of the future. It is clear, given how highly Mike and Loay speak of the MJ Dean team, that the years ahead are set to be prosperous for the Nevada-based construction company. "We treat everyone here like friends and family. We look out for one another, and everyone here knows that there are so many opportunities for them to progress in their careers. I feel that this is what will stand us in good stead for the coming years. When I think about what is going to take place in the next three to five years, I strongly believe that we will be vastly expanding our operations and looking to bring more people on board. I can confidently say that there are several avenues for others to join the MJ Dean team moving forward," Mike concludes.
MJ Dean Construction Inc
www.mjdeanconstruction.com
Services: General contractor