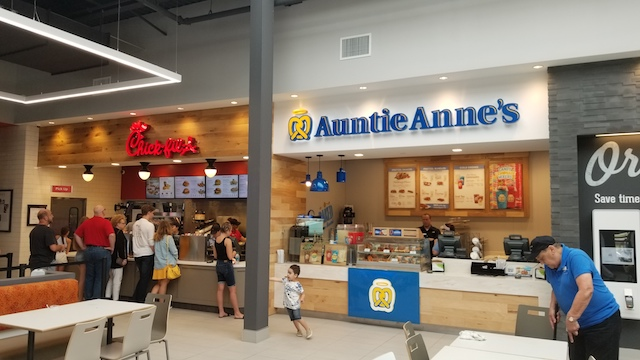 Sam Milrom looks for opportunities to be to engage in unusual construction projects.
Sam Milrom likes to take on interesting construction projects in New Jersey. As proof, his portfolio includes custom homes complete with airplane hangars and the state's first private travel plaza.
Milrom earned degrees in mechanical engineering and civil engineering and in the late 1980s moved to New York City, where he worked as a project engineer overseeing the renovation of bus terminals for the transit authority. He next consulted for a civil engineering firm before deciding to move back and pursue residential construction in New Jersey where his family lived.
"I felt it was very creative," Milrom says of homebuilding. "Every home is different and people want different things. You can do anything when you build a home, the type, the size, the amenities you put in. You can employ your ideas. If your job is interesting, you do a good job."
Initially he worked with partners but by 2000 Milrom was ready to go out on his own and formed Milrom Companies. Today, he builds mostly single-family detached homes and some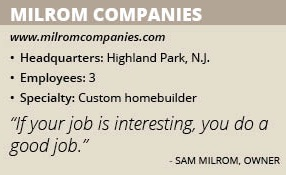 townhomes in residential subdivisions. The homes range in price from about $600,000 to $1.5 million. Currently Milrom Companies has projects in Morganville, East Brunswick, Atlantic Highlands, Highland Park, Millstone, Alexandria Township and other New Jersey communities.
In the last several years, Milrom Companies also started to develop commercial projects in New Jersey.
Flying from Home
Among the more interesting projects by Milrom Companies is Sky Manor Park in Pittstown, N.J., which was started in 2018. The gated community will eventually have 19 custom homes on lots ranging in size from one-and-a-half to three acres each. The community is surrounded by hills, lakes, farms and vineyards. More important to the residents, however, is that the development is next to Sky Manor, a small private airport for recreational flying.
"Each house has the room for an airplane hangar," Milrom says. "They just have to get the airplane out of the hangar and taxi to the runway and take off."
Milrom Companies has sold nine homes so far. The biggest challenge has not been sales, costs or labor, but keeping the road between the development and airport spotless. "We constantly have to make sure the road is clean for when you taxi a small aircraft," Milrom says.
Private Plaza
About nine years ago, Milrom Companies bought a three-acre parcel on Interstate 80, adjacent to the last exit in New Jersey before it crosses over to Pennsylvania. Milrom decided that this was a fine location for a travel plaza. "I felt it needed a travel plaza," Milrom says. "There is always a need for food, fuel and bathrooms. I decided to try to make it work."
Every other travel plaza in New Jersey is owned by the New Jersey Turnpike Authority. Milrom didn't let that or the decidedly small footprint stop him.
"It was technically challenging," he says. "It was a very tight site. We needed a lot of coordination and had to put in a lot of underground utilities. It's in a rural area so we had to deal with well water and install a lift station and underground water storage tanks in case of fire. We had to build high retaining walls."
For the restaurant tenants, Milrom Companies had to construct a drive-thru and installed underground liquid propane tanks, generators and cooking equipment. The project, which is named the Delaware Water Gap travel plaza, cost $6 million, not including land, and took about 18 months to build.
Challenges Met
When the Great Recession hit in 2008, Milrom Companies responded by performing renovations. "It was a tough recession," Milrom says. "I called it depression time. It wasn't just sales, it was very hard to deal with the banks and get loans. Banks wanted their money back and the market was not there. You have to stay very competitive and profit margins shrunk.
Milrom Companies survived by performing renovations until around 2013 when the economy improved.
Today, Milrom Companies has the same price challenges faced by other construction outfits. "The rising cost of materials and labor," Milrom says. "When you enter a contract, for most of the items you are locked into the price. There are the tariffs on goods that are being imported from other countries so all this cost you have to absorb."
In addition, the low rate of unemployment makes it "a little bit more challenging" when it comes to hiring, Milrom says. "When demand for labor goes up, prices go up." Milrom Companies, however, has the advantage of having worked with a number of subcontractors for years. "I do get them to do the job when I need them," he says.
Main Street
In the near future, Milrom Companies will start converting a two-story commercial building on Main Street in South River, N.J., to a mix of retail and apartments. The ground floor will contain retail and light manufacturing and the second floor 17 large apartments. The conversion will be the first project in a planned redevelopment of the town's Main Street.
Milrom Companies continues to put its customers first on every project. "We customize to the customer's needs," Milrom says. "We are very hands-on and very accessible. We never say no to the customers. If they want something, we try to do it for them, especially when it comes to single-family homes. People want what they want – that's the difference between a custom builder and a tract builder."