Solid reputation
Having started life approximately ten years ago, as it stands in November 2020 Milis Flatwork is able to undertake any task in concrete construction, from foundations and flatwork to deck slabs and parking lot paving. "We offer the full concrete package from start to finish," agreed Dylan Milis, the company's Founder and Owner. "Our projects include multifamily, distribution, industrial, and paving projects, and we service a lot of property management companies."
The services from Milis Flatwork can be grouped under three broad headings – Agricultural Concrete, Commercial Concrete and Foundations. In the first sector, Milis Flatwork has years of experience in designing and building agriculture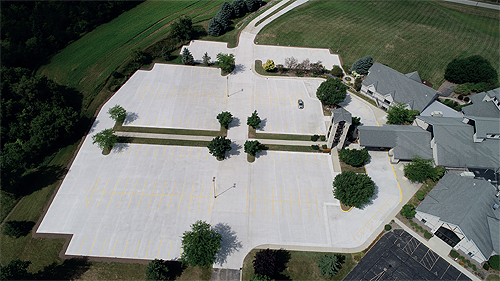 facilities. This means that the company is more than familiar with all of the DNR/NRCS regulations and design standards, and is well versed in creating working relationships with government officials and engineering firms. Within its repertoire of expertise, clients will find feed pads and bunkers, waste storage facilities, free stall barns, grain facilities, poultry facilities, machine shed and storage buildings.
Milis Flatwork's experience in agriculture also translates to the Commercial sector, where it is able to work on industrial, distribution/ transportation, parking lots, gas stations, commercial retail, multi-family/assisted living homes, super flat floors, and foundations. Indeed, in this last area, Foundations, Milis Flatwork has experience in setting up and pouring all sizes and complexities, including pouring walls from one to 30+ feet tall, using total stations for layout, and the option of multiple wall crews.
This latter point is actually something that Dylan credits as one of the cornerstones of Milis Flatwork's success. "Our large crew sizes allow us to come in and get the job done in record time," he asserted. "Furthermore, our crews are some of the most skilled flatwork finishers in the country, who are ACI Certified and who have years of experience and who take pride in their work. Thanks to this, the speed we are able to place and finish our concrete is really second to none."
Combining this speed of production with a drive to deliver quality, Milis Flatwork is able to offer its clients the ability to adhere to tight schedules and still get a superior product. "We are also equipped to handle all concrete projects from start to finish, which others usually can't," continued Dylan, explaining why Milis Flatwork is able to enjoy high levels of repeat business from its clients. "Additionally, we have an in-house engineer and possess the ability to general contract projects for certain clients."
As Milis Flatwork continues to grow, Dylan and his team are continually recruiting new members of staff, and are looking for hard- working people who have a passion for learning new skills, enjoy working within a close group, and want to be part of a family- focused concrete construction enterprise. "People are what help grow the company," Dylan confirmed. "Employees are the heart of keeping the company's wheels go around. We have a family culture here at Milis Flatwork, and by making everyone feel they are a part of the bigger picture we see them taking more pride in the work they do."
Milis Flatwork encourages new staff to join through generous employment packages that include features such as competitive pay, Per Diem, health and dental insurance, vision, life and short term disability insurance, 401K with company match, paid vacation and an anniversary program. Once staff are on board, there is also a continuing education program, which enables employees to get the hands-on training and certifications.
Having highly skilled crew members is an area in which Milis Flatwork takes great pride, and the business invests time and money in order to see everyone advance their career to the next level. For someone starting in a basic labor position that requires no experience, they can be confident that with the right amount of hard work and positive attitude, growth and advancement are real possibilities at the business.
This approach is backed up by what Dylan describes as 'the latest and greatest technology', which enables the business to provide a far better end-result. "We believe in having reliable and well maintained equipment and with that comes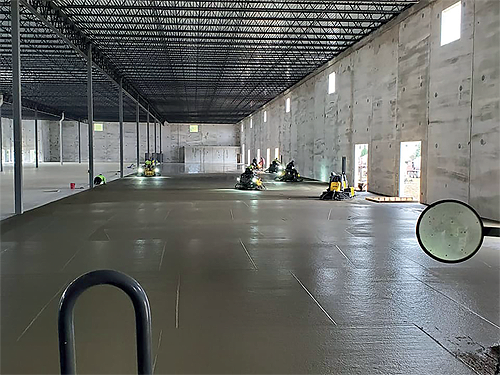 the determination to keep it up-to-date," Dylan stated. "We have three laser screeds that help in landing the accuracy and efficiency we speak of, and we have recently added another laser screed with 3D system to help with production. We have our own in-house pump trucks and conveyor truck that allow us to be self-sufficient and reliable. The whole process works much more smoothly when everyone is in sync with everyone else."
The business also recognizes that there are contractors out there who would like to take their quality to the next level or are working on longer projects where the production of a laser screed would be beneficial – but they can't justify the purchase of expensive new equipment. For these clients, Milis Flatwork offers laser screed rental services, with its 3D system available upon request.
Thanks to its successful business strategy, Milis Flatwork has a diverse portfolio of projects to refer back to and a team of staff that are hard-working and dedicated to finishing a quality job. Taking care of these loyal staff members is always a priority, but never more so than this year, with the outbreak of Covid-19 proving a challenge for the entire world. "We implemented a check- in process, so each day prior to arriving at the shop or jobsite there were a series of questions that were asked. If an employee responded yes to any of these questions, further action took place with that individual. The construction industry was fortunate to not take a huge hit due to the outdoor work and we had the ability to put in place safety measures with these check points at jobsites," Dylan explained, when sharing the particulars of how the business approached the pandemic.
Words can only describe to a certain extent the sheer scale and amount of labor intensive activities that the teams at Milis Flatwork undertake – to truly get a vision of what the crews can achieve, clients can visit the business' website – http://milisflatwork.com – where the videos of its past projects/contracts perfectly highlight what it can complete for customers. Today servicing all of the United States, with the majority of its work in the Midwest, Milis Flatwork plans to continue to expand going forward. "I think for our future outlook in three to five years' time, our aim will be to have multiple locations; nationwide established hubs throughout the United States," said Dylan.
"We have had a lot of milestones through the years, but two of our most significant achievements were completed in the first year of business, when we hit our first million sq ft and when we did our first 1000-yard pour. Nowadays we achieve over five million sq ft a year and pours of over 2000 yards regularly and have established a reputation for excellence across the sector."
Milis Flatwork has the ability to deliver projects with care and precise workmanship, and that can be on a 1000-sq. ft. addition or a new one million+ sq. ft. distribution facility. Prioritizing the needs of its customers through a professional partnership approach, delivering on customer satisfaction and exceeding the industry's standards, it is clear to see why Milis Flatwork describes itself as 'STRONG from start to finish'.
Milis Flatwork
http://milisflatwork.com/
Services: Concrete specialist