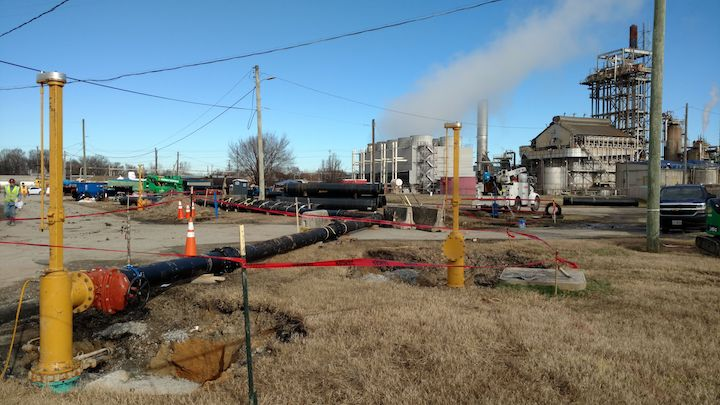 Midas is growing rapidly thanks to acquisitions and new markets.
In the past year alone, Midas Companies has acquired two firms and entered new markets. And it plans to keep growing.
Midas installs, rehabilitates and repairs underground utilities for water, wastewater, stormwater and industrial fluids. The company was founded in 1972 and focused on municipal work for decades, but since 2015 it has diversified into industrial settings and the federal government. "We have diversified our revenue streams, focused on smoothing out the market vacillations that occur in construction, making ourselves more valuable in the market," CEO Dan Cathell says.
Midas' flexibility was seen in a project that Cathell highlights as a proud moment: Last year, the American Geophysical Union in Washington, D.C., sought to reduce its carbon emissions to zero and, as part of that, the nonprofit wanted to create energy from the sewage flowing from its building.
"We went into 110-inch-diameter, 100-year-old pipe," Cathell explains. "We lined it with a geopolymer material to increase the laminar flow and, resultant fluid velocity, so it would have greater impact on a turbine and create more energy."
Growth & Acquisitions
In September 2018, Midas acquired Culy Contracting, an underground utilities company based in Winchester, Ind. Culy specializes in pipe infrastructure services related to water, stormwater and wastewater in both industrial and government settings.
"Culy was a longstanding company with a great operating history," Cathell says. "It expanded our geography further into the Midwest, where we didn't have a significant presence. We are now the No.1 manhole rehabilitation company in the nation. We were also able to cross-pollinate service offerings, with Culy gaining access to infrastructure services offered by Midas Companies. Midas was also able to gain access to a high value add, niche service, in Culy's line stopping and tapping, a service we will continue to expand throughout our territories."
Earlier in 2018, Midas announced it had acquired Jennings Engineering, an underground utilities solutions firm in Pompano and Miami Beach, Florida. Jennings specializes in manhole rehabilitation, lift station repair, CCTV, cleaning and excavation. With this acquisition, Midas gained existing Jennings contracts along with former owner Kevin Jennings, who runs the South region for Midas, Cathell says.
"Both Culy and Jennings have worked well for Midas," Cathell reports.
In July 2018, Midas announced its intention to enter the energy market after a customer sought their expertise moving water from site to site. "We use a lot of the same equipment and our crews who have previously performed this work so we already had in-house expertise," Cathell explains. "It's win-win when you can leverage existing assets to branch out into a new market."
Cathell started with the company in 2014 as chief financial officer and became CEO in 2017. Since he joined, the company has both quadrupled its number of clients and diversified its client base. With such rapid growth comes challenges that are "myriad and plentiful," Cathell says.
Topping his list is finding a qualified labor force. Since 2014, Midas has expanded from 80 employees to approximately 450 employees today. Recruiting so many employees has required Midas to get inventive such as hiring fairs, sign-on and referral bonuses, paying 100 percent of employee benefits, generous 401(k) packages and creating industry-leading maternity leave.
Another challenge is getting a handle on a much-larger company. "Midas is going from a mom and pop shop to a company requiring robust processes," Cathell says. Efforts include expanding human resources, accounting, finance and fleet management departments and strengthening internal training.
Safety First
Midas prides itself on its efforts to keep its employees safe while working on projects. "Safety drives the culture of our company," Cathell says.
Midas has four full-time safety employees, scrutinizes its safety programs, partners with its insurance company and ensures it consistently meets or exceeds OSHA and other safety standards. Employees are trained before ever entering a job site for Midas. This includes items such as confined space and forklift training among others. Midas also holds toolbox talks and daily safety meetings, and work crews create daily reminders of potential issues for the next shift. The company's commitment to safety even extends to its customers, such as Midas providing safety training for the city of Baltimore and its contractors. Subcontractors are also held to the same standards.
Midas also conducts group calls to analyze anything from a near miss to an accident. As CEO, Cathell takes part in those calls.
The idea behind all these efforts is to maintain accident-free worksites on its projects. "At the end of the day, if our employees aren't going home happy and healthy, Midas leadership needs to work harder," Cathell says.
The Future
The market for Midas' services continues to grow, Cathell says, adding that it can thank the Environmental Protection Agency for some of that growth. "The EPA is focused on tackling issues such as sewage runoff and there are now punitive fines for violations," he says. "As such, municipalities are highly motivated to rehabilitate and strengthen their underground utilities. Nothing is recession-proof, but this [business] is certainly recession-resistant."
In the meantime, Midas continues to integrate Culy into the company, bolstering its processes and putting in a new sales team. Cathell says the company plans to grow organically for now although he doesn't rule out acquiring other companies. "It's an exciting year for us and an exciting market," Cathell says. "We are in a year of change."