Meet the husband-and-wife team behind Quality Production Services' successful growth
We never thought in a million years that what we started 28 years ago in our garage, would be this huge, successful business with 50 people in the office and a further 300 in the field," begins Carla Kotoyantz, CEO of Quality Production Services (QPS). Accompanied by her husband, Archy Kotoyantz, Vice President of QPS, Carla founded the company in 1995 with just three employees.
"We started with offering basic metal stud framing and drywall tape finishing for commercial projects," Carla explains. "Over the years, we've done a few additional trades, such as plaster, fire proofing, and scaffolding, but the majority of the work we complete is still the same core work as when we began, it has just grown in complexity and type."
As Carla details, the company's core service is metal stud framing services, which include cold-formed structural and non-structural steel applications for various sectors, including commercial, stadiums, airports, senior living, and public facilities. It also provides standard or specialized drywall installation and finishing, often completing Level 5 finish quality for corporate offices, libraries, and other high-end projects that demand a superior, plaster-like surface.
Exceptional service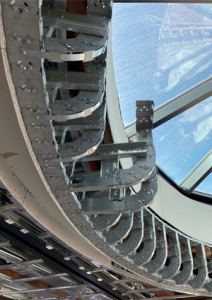 Within its drywall services, QPS is a certified installer of USG's Ensemble Acoustical Drywall Ceiling System, an innovative system that allows for seamless ceilings with a monolithic appearance, while retaining its acoustic properties or aesthetics. Requiring a higher level of precision to achieve the desired appearance, QPS is well positioned to complete such projects, which are increasingly popular among high profile spaces, such as executive board rooms, museums, and lecture halls.
Ten years after the company's inception, QPS joined the Carpenters' Union, enabling its product type to grow alongside its project capabilities, as it then completed larger projects and work for government bodies. Carla reflects: "We still love doing the jobs that we started with (tenant improvements and office buildings), but the complexity of what we do has grown, meaning that we do a lot more exterior work, so it's no longer just four walls in an office space, it's schools, hospitals, airports, sound studios, and hotels.
"We have been working with the same general contractors since we started the business, but we have also cultivated relationships with others over the years," she continues. "Usually, a long-term relationship starts with a smaller project, then the client sees the quality and efficiency of our performance, and this opens the door for larger projects. That is what creates the opportunity and ability to complete huge projects for the likes of Amazon, Spotify, Google, and Snapchat."
"The bottom line is consistency," Archy adds. "Clients remember exceptional service and as we continually perform to a high standard, we get more and more opportunities to complete the notable projects Carla mentioned."
One such project is Amazon's largest ever warehouse in Ontario, California, which is a whopping four million square feet. "It's the first of its kind – 93 acres of floor space and five stories high for a tilt-up distribution facility," Archy describes. "Then, on the topic of attention to detail, we have completed sound studios for Spotify, which are incredibly precise. To prevent sound from vibrating, the ceiling cannot be directly attached to the walls, and the layers of boards that form the walls must hit certain technical targets, to maintain Sound Transmission Class (STC) ratings."
Another successful market for QPS is airports. It has worked on projects for multiple airlines and most recently, completed the new Delta Airlines Sky Lounge located at Terminal 3 in Los Angeles International Airport (LAX). "Our airport work started with a small project in the Tom Bradley International Terminal at LAX in 2010 and it has grown from there," says Archy. "It takes a certain groove to get into airport work, but we've been successful in completing projects, maintaining relationships, and ultimately winning repeat business."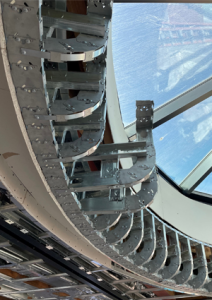 As a woman-owned business, Carla shares her thoughts on the construction industry, as well as her personal experience of setting up a business in a typically male-dominated field. She reflects: "As time goes on, I meet more and more women in our industry, whether they are project managers, estimators, or tradespeople, and women definitely have a stronger presence compared to when I started out.
"I never focus on whether something is male or female dominated," states Carla. "Instead, I concentrate on finding something I genuinely enjoy and do it the best of my ability, and I believe that if you enjoy something, you are much more likely to succeed, regardless of whether it is a male or female dominated activity or industry."
Turning to the people side of the business, QPS consistently nurtures employees, some of whom have remained with the company since its foundation in 1995. Carla continues: "We believe in surrounding ourselves with like-minded people and as we are looking to slow down in the next few years, our employees are going to be the group that will take over this company and steer it through the next generation."
Perfect partnership
You might find yourself wondering how Carla and Archy manage a business together, as well as cultivate a successful marriage, home, and family. "I think we have been very lucky," Carla laughs. On the other hand, Archy reflects: "It's been 28 years in business, and 28 years married, but there are genuinely still days that I see Carla all day at the office, but I get home missing her, thinking I haven't properly seen her. What that means is although I have physically seen her, I haven't emotionally seen her. We both prioritize the business in our work environment, but we communicate openly and ensure we have quality time together too."
Organic growth
"We complement each other and respect our differing opinions and responsibilities," Carla elaborates. "Our separation of duties at work means that I am the final call for the departments I manage and vice versa for the areas Archy manages – even if I don't agree with a decision! We must respect these boundaries to maintain the balance between personal and professional."
However, one thing the husband-and-wife team certainly agree on is the future of the company. "We are pleased with the company's continued organic growth," Carla says. "Our project complexity is only going to grow even more complicated, so we will continue to learn new, innovative techniques as they arise. We are developing and preparing our management team to take over the business one day."
"We would love for this business to go on for another 100 years, for people to take it over, perhaps our sons, and be there like we have been," Archy concludes. "For me it's all about the spirit of legacy, so it would give me a huge sense of pride to know that the next generation of the company has benefitted from our hard work."